Liverpool's FA Cup campaign started with a frustrating and error-strewn 2-2 home draw against Wolves as Cody Gakpo made his debut at Anfield.
Liverpool 2-2 Wolves
Anfield, FA Cup third round
Saturday 7 January, 2023
Goals: Nunez 44′, Salah 53′; Guedes 26′, Hwang 67′
Alisson Becker – 5 (out of 10)
Loathe to criticise him after basically being a one-man team for most of the season, but made the type of error that even a schoolboy would be disappointed by. Dismal attempted pass went straight to Guedes, who netted.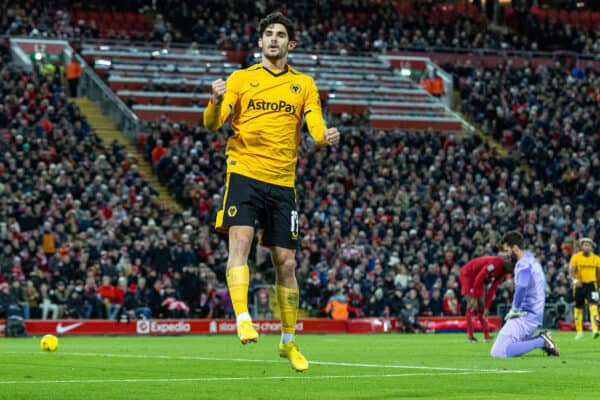 Made a good save soon after but there were still loose passes to follow and frustration on show.
After the break he made a huge save one-on-one and the Kop reacted accordingly, but he'd have been disappointed again with the second goal, albeit not an outright error.
If anyone has credit in the bank this year for a mistake, it's big Ali. Swept up well outside his box twice late on with Adama surging through.
Trent Alexander-Arnold – 7
In among a sea of red-shirted turds in the first half, the Scouser in our team was pretty darn good. Twice made excellent one-on-one tackles and set up the equaliser with a fine burst forward and swinging cross.
Two more brilliant deliveries were begging for a finish after the restart, but then he definitely should have done more to tackle or halt his man in the lead up to Wolves' equaliser.
Joel Matip – 5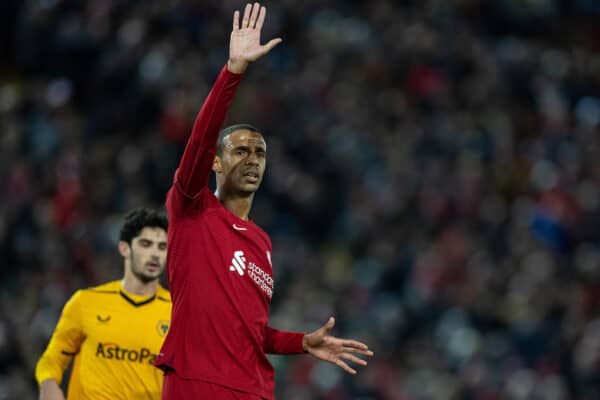 Got very fortunate early on when he was caught inside his own penalty box, but did enough to close out the resulting danger.
Looks well off his best, losing out in tackles and being turned far too easily when high upfield. Made a big block on Jimenez, to note the positives too.
Ibrahima Konate – 7
Looks set to take up the left-sided centre-back role in Van Dijk's absence over the next month.
Really strong against Jimenez on the deck and in the air and also did well to turn Adama Traore's pace wide at times too.
Cracking challenge on the hour mark to stop a dangerous attack – a good return to form after an own goal and error against Brentford. Much-needed too, considering Virgil is out.
Should still have done better with his challenge for 2-2, though there was obviously an element of misfortune after a ricochet.
Andy Robertson – 4
Caught out a number of times with fairly simple passes in behind him when he gambled on a pass going higher.
Played a few dangerous balls in of course, but the number of times he made the wrong call or wasn't in a position to make a recovery run was very unhelpful in truth.
Overran the ball and overhit passes too many times.
Fabinho – 6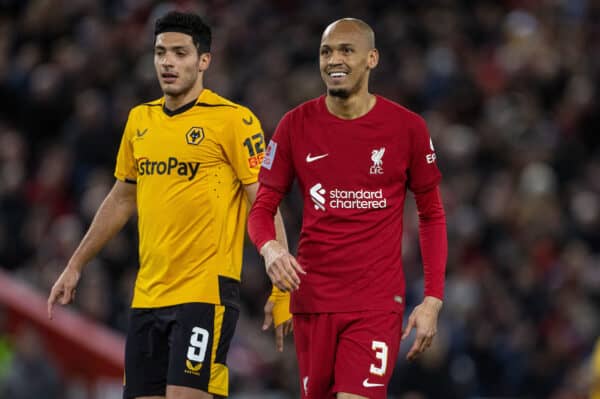 Between the early season awful form and the fairly decent improvement right after the World Cup, this was somewhere in the middle.
A few instances where he was bypassed too easily and turned away from with ease, but he also fired a few good passes forward and made some decent challenges. Still doesn't look at his best, but who does in this team right now? Especially in the heart of the pitch.
Jordan Henderson – 5
Back after concussion to captain the side. Made a good defensive recovery midway through the first half but then almost backed out of a tackle on the half-hour mark and ended up getting hurt.
Humped a couple of aimless balls straight out of play after getting into good areas down the right flank in the first half.
Improved a bit on the ball after the restart but basically another poor outing across the board and compounded it by completely leaving Hwang alone to equalise, before being subbed.
Thiago Alcantara – 6
Another who made errors on the ball first half, and though he did win it back after losing possession outside his own box, that same phase ultimately ended up in the net. Was also beaten in the tackle and raced pass far too often in the opening 45.
He was positive and forward-thinking with his passing as usual, if not creative and spell-binding, but to be honest big diagonals were about all the Reds had to offer at times. Not great.
Mohamed Salah – 7
Sent an early free-kick just over the bar and that was about it in the first 45 minutes.
It's a massive concern how little involvement our most creative forward and dangerous goalscorer has had in games of late.
Before his 52nd-minute goal – brilliantly taken – he'd had 19 touches of the ball. He deserves better service and, as his goal showed, he'll give us more if we give it to him.
Darwin Nunez – 8 – Man of the Match
Some fantastic link play in the final third, almost another assist for Salah from one run and cut-back and the non-stop work rate we've quickly become accustomed to seeing.
Should have buried a header off a corner, but most importantly after so many recent near-misses, this time he did finish one – and it was a beauty.
Perfectly controlled, composed and clinical, a left-footed finish on the volley to equalise right before half time.
Cody Gakpo – 7

Straight into the line-up for our new Dutch dynamo and he has a bright start, getting one on target and making a couple of good turns in dangerous areas.
However, he definitely faded as the Reds lost control during the first half, even if some ball-carrying was still exquisite to watch in short bursts.
Might be shocked by the type of team and atmosphere he's arrived into, this isn't Liverpool of last season.
Substitutes

Naby Keita (on for Henderson, 67′) – 7 – Rejuvenated and energised, big tackles and powerful runs. Could be an exciting couple of weeks until his next absence.
Harvey Elliott (on for Fabinho, 74′) – 6 – Mopped up some loose balls, nothing too dangerous.
Ben Doak (on for Salah, 84′) – 7 – Scooped an effort wide and carried the ball well. Lively cameo.
Alex Oxlade-Chamberlain (on for Gakpo, 84′) – 6 – Couple of neat touches around the edge of the box.
Joe Gomez (on for Alexander-Arnold, 84′) – 6 – Seems to now be our full-time second-choice right-back. Until the next centre-back injury hits.
Subs not used: Kelleher, Tsimikas, Phillips, Carvalho
Jurgen Klopp – 4

You only had to read the first name on the team sheet to see that the boss was going as strong as possible, with no thoughts of rotation for a domestic cup this time.
Probably, a week's gap between this fixture and the next influenced that decision – but so too must have the performance against Brentford, which was wretched, and the need to put into practice what the Reds have presumably been working on since.
That said, there was precious little evidence of anything new or improved in the first half. In both boxes, the Reds were diabolical for the most part, with individual errors seemingly now being added to strategic issues in midfield, or at least, defending play all over the pitch.
Presumably words were had at the interval because the Reds were definitely better thereafter, but with "better" did not come "control".
Not much in the way of changes to the side from the touchline or the bench, even if the Keita sub represented an improvement for a spell.
Is this enough from the coaching staff as a whole? Should the set up be altered by now, since the results aren't being? Yet more questions to answer and we're no closer to getting positive ones.
Now he has an FA Cup replay to navigate, and meaning neither of the two games that need to be re-arranged so far can be that week.