A strong XI still made for defensive frailties for Liverpool and the FA Cup defence now begs the question of if it is a distraction we could do without, with a replay now needed.
'Spirit of the FA Cup' and all that, the governing body's executive board, the television rights holders, and the competition's myriad official partners will have been delighted with the 90 minutes of football served up at Anfield.
For Liverpool supporters, it was another largely painful experience, though. Four goals, a couple of excellent finishes among them, errors aplenty, no shortage of talking points and bones of contention.
As an isolated event, this was a game that offered much to the casual Saturday night viewer, who could manage to drag themselves away from such enticing primetime fayre as 'The Masked Singer', 'That's My Jam', a night of Rod Stewart-related content, and the woeful 'Indiana Jones and the Kingdom of the Crystal Skull'.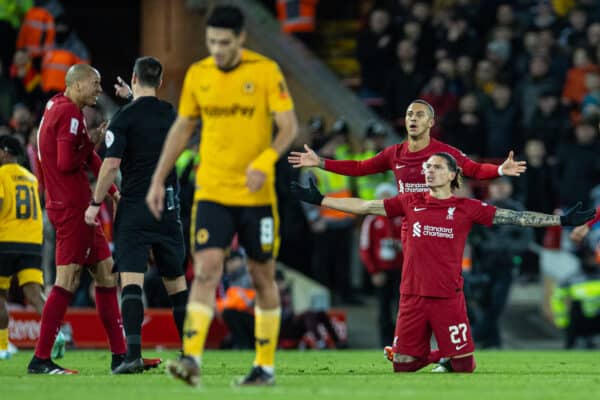 At Anfield, for those of us who ventured out, there initially seemed to be something in the air. The nice surprise of as full-strength a lineup as possible – one that included a fact-finding debut for Cody Gakpo – was lubricated by the lack of rush that surrounds a Saturday evening kick-off.
Pre-match beers were partaken and unrestricted convivial chat was shared around the pubs and bars.
I totally get why Saturday and Sunday evening football is so popular in Spain and Italy. The social aspect makes it a more laid-back event in theory, rather than the tried and tested earlier kick-off times that English football is more familiar with on a weekend. There are fewer personal plates to be spinning on a Saturday and Sunday night, less in the way of distractions, demands, and tangents to be drawn towards before getting off to the game.
Strong to 'weak'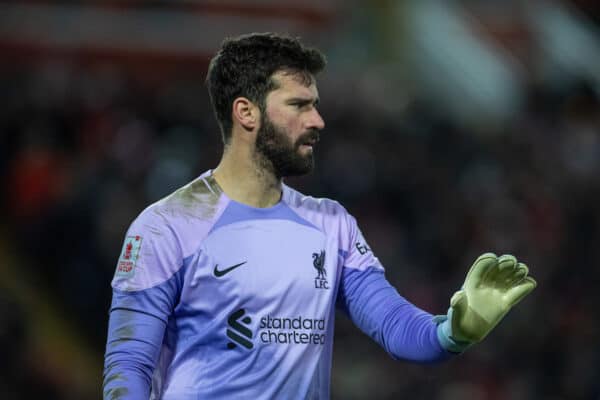 The general collective mood for the visit of Wolves in the FA Cup was a more upbeat one than it likely would have been had we faced a 12.30pm or 3pm kick-off fresh off the back of the dull thud of defeat at Brentford.
A night made for a spine of Caoimhin Kelleher, Nat Phillips, Naby Keita, and Fabio Carvalho, it was our visitors who instead rang the changes.
Then unfolded 25 minutes of fine movement outside the final third by those in red, but blunt endeavour in front of goal, which was then rudely interrupted by Thiago and Alisson combining in calamity to ensure Liverpool conceded yet another opening goal – number 14. It all felt so familiar.
With a starting lineup that piled on all the pressure on the home side, without a midweek game ahead of us and a point or two to prove off the back of Brentford, there was an undeniable method to Jurgen Klopp's approach to this one that made sense. It was bold and welcomingly unexpected, yet as halftime loomed it was without merit.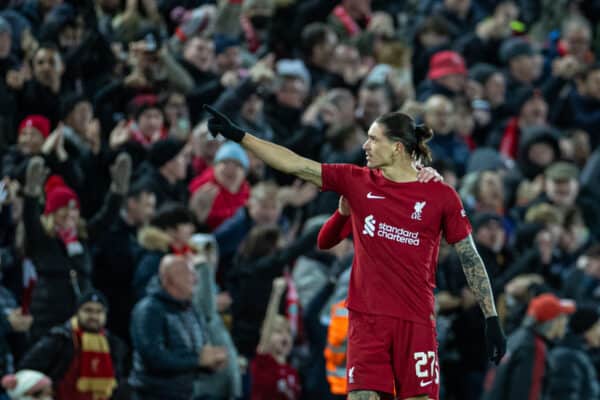 Then came the chaos theory. A gift to call our own from Nathan Collins, an incisive contribution from Trent Alexander-Arnold, and a magnificent finish from Darwin Nunez that didn't speak of a man low on confidence.
A sort of footballing Marcus Brody from the Indiana Jones series of movies, Nunez is capable of great misadventure, but also streaks of genius; he can alternate seamlessly between the inept and the inspired, a blessing and a curse rolled into one, a riddle, wrapped in a mystery, inside an enigma. Thoroughly likeable too.
At his best, he takes to the pitch with a two-day start on you, which is more than he needs. Nunez has friends in every town and village from here to the Sudan, he speaks a dozen languages, knows every local custom, he'll blend in, disappear, you'll never see him again. With any luck, he's got the Grail already.
Typically, he scored in a game when the wider imprint of his contribution was of a lesser impact than other occasions when he ended up without a goal.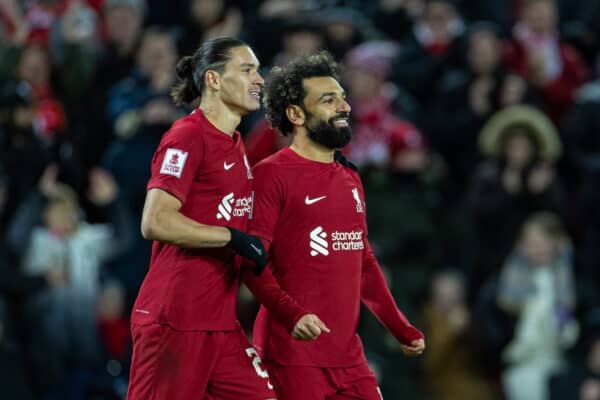 Prior to this, Wolves had had a couple of sniffs at procuring a second goal and when Mo Salah expertly guided Liverpool into a 2-1 lead during the early exchanges of the second half it should have been the beginning of the end for Wolves.
Instead, it was Liverpool that faded, to such an extent that Keita was the standout performer beyond his introduction, shortly after we had shipped that utterly careless equaliser.
Gifted a reprieve from conceding a prospective winning goal, it might still prove to be a temporary stay of elimination from this season's FA Cup, with surely a weaker lineup to take to the field at Molineux a week on Tuesday/Wednesday.
Team without cohesion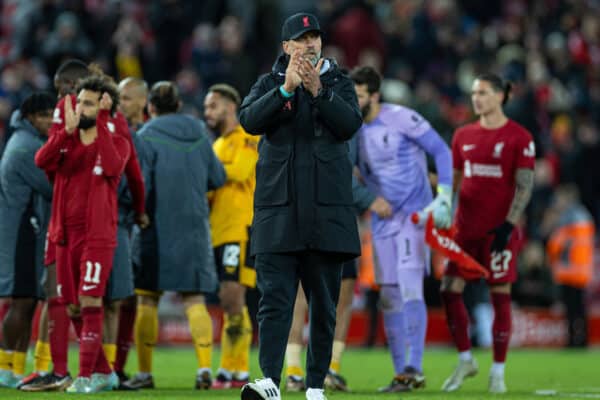 Plenty to be concerned about, as Klopp confessed after the game.
We were slow into our challenges on Saturday evening, and far too generous in the opportunities we allowed our opponents. Normally, you can detach an FA Cup third round tie from the wider January landscape, but not this one given the chosen XI.
This is still a Liverpool side with no shortage of talented individual components, but the struggle lays within fusing them into a cohesive, and confident collective, particularly in midfield, where nobody seems capable of taking the responsibility to lead by example.
Even Thiago is struggling to impose himself, far too often caught in possession in dangerous areas of the pitch. Consistently overrun in central areas, we at least need a formation that gives us an extra man in midfield.
An unwelcome replay ahead, the resumption of this tie will be sandwiched by two Premier League games of greater importance, away to an in-form Brighton, who are possible fourth-round opponents, and at home to the dysfunctional Chelsea, the spectres of Graham Potter past and present.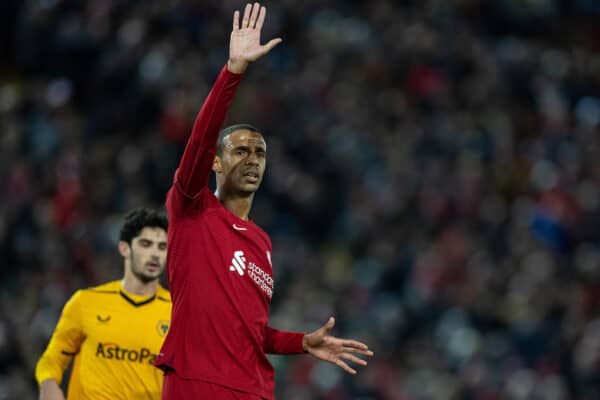 It might not have been entirely smooth running, but prior to the loss at Brentford, we were on a run of four successive league wins. We will need to fight for the basics to win the points.
As for the FA Cup this season, history dictates that it is going to be a trial by torture, no matter how long our defence may or may not last. Of the last six times we have entered the competition as holders, we have never reached the final, and have only made it beyond the fourth round once.
Right now, it is probably a distraction we can do without.