As bad as it gets, Liverpool's performance at Brighton had an unsettling sense of inevitability to it, writes Steven Scragg.
Fortunate to reach the interval on level terms, the Reds were blown away in the second half by opponents that offered hints of the Liverpool we used to be but still can be again.
Jurgen Klopp confessed his growing concern post-match and was humble, apologetic, and even vaguely sheepish in front of the travelling Reds as he made his exit from the pitch after his team's latest setback.
Need more than subtlety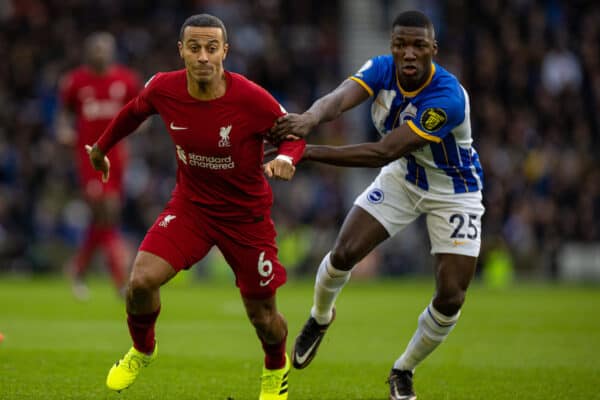 Once again, just as during our defeat at Brentford and for spells in the FA Cup draw at home to Wolves, Liverpool were utterly overrun in midfield, with Roberto De Zerbi's fluid 4-2-3-1 consistently affording Brighton two extra men in the duel for the centre ground, both when on the front foot and on the exceptionally rare occasions they felt the need to drop deep.
Fast of thought and movement, Brighton cut through Liverpool all too easily and Klopp's side were unable to heed the warnings of the first half and accept the gift of a clean slate for the second half.
Liverpool's current approach clearly isn't working; it can prevail again at some point further down the line, but there is now a desperate need for something markedly different rather than more, or just a subtle adaptation of the same.
The Klopp variation of 4-3-3 has always been fuelled by a brimming sense confidence that we simply do not currently possess. Right now, it's like asking moody teenagers to tidy up after themselves. There are indecipherable grunts and slumped shoulders all over the pitch.
Klopp was candid after the game, speaking of how he had attempted to alter his formation, musing that his players didn't seem to take to it. Given how badly they performed, any substantial change in pattern was all but imperceptible to the trained eye. There is an alarming lack of leadership.
Contrary to kneejerk reactions, however, these are not poor players. Eight months ago, they came to within two games of completing a quadruple. The drop-off has undeniably been unremittingly steep, but as unlikely as it seems right now, the peaks are there to be scaled again.
While not all these players will be part of those brighter days, plenty of them will be or at least should be.
Stomach for the fight?

Despite his distribution currently being all over the place, Liverpool are still in possession of an irreplaceable goalkeeper; regardless of the basic errors on display in central defence, and the over-exposure we suffer in full-back positions, we still have individual defensive elements that are the envy of the world.
Whether they are currently fit or unavailable, and despite their struggles in finding the back of the net, we have the most incredible collection of attacking talent that the club has ever had at its disposal.
Individuals are being hung out to dry by an increasingly despondent fanbase, and by media eager for blood in the water and a footballing kitchen sink drama through which to garner clicks for websites and sell newspapers to people who still buy them.
But it is as a collective that Klopp's Liverpool lives and dies. When you look at the sum of the parts available to Klopp, compared to the performances on the pitch and the results being garnered, then the landscape jars. Even with a midfield that is in need of a systematic overhaul and an injection of fresh thinking and impetus.

As rightfully questioned and derided as this midfield is, these are still players that should be able to function better than they do.
Where is Thiago's third-eye vision and passing? Where is the Jordan Henderson that seemed to rise to the World Cup occasion? Where is the Fabinho that counterbalanced our Champions League and Premier League winning vintages and that outlandish attempt at the quadruple?
Harvey Elliott, Curtis Jones, and Stefan Bajcetic all offer youth, while old enough to be their father, James Milner has all the experience in the world. Meanwhile, Naby Keita and Alex Oxlade-Chamberlain supply the continued frustration of unfulfilled greatness.
A long, long way from being perfect, it still makes for a cast of midfielders that should be able to fudge their way to a bare minimum of Champions League qualification. If handed the right to a sixth substitute, when all are fit, we have enough midfielders to rotate the entire midfield every half hour.

Conversely, even those Champions League and Premier League-winning vintages always felt like they were missing that little bit of genius in the middle of the park.
We have midfield options aplenty yet constantly stick to a formation that is always thin on the pitch in this department, so reliant they are on the full-backs pushing up. This is fine when we are on the crest of a wave, and bitingly painful when stuck in these cyclical ruts.
Aside from the need for the obvious midfield arrivals and departures, this is a battle against the vagaries of the mind, and it's something we've faced before.
We swing from the most dizzying heights to the most soul-destroying lows. As a football club, we are utterly bipolar. We just happen to be at the negative extreme of that sliding spectrum right now.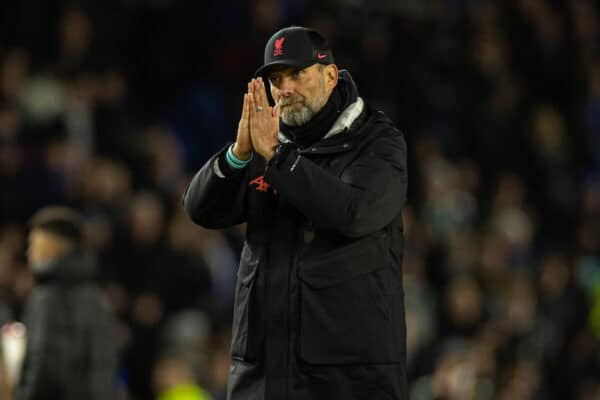 As an added trauma, we must contend with a fixture list that offers no obvious solace. Next up is an FA Cup replay at a rejuvenated Molineux, where the prize up for grabs is another trip to the Amex before we endure the visit of an equally dysfunctional Chelsea side that will click into gear sooner than later.
These engagements will bring January to a conclusion and lead us into a February that sends us back to Wolves, onward to an ebullient Newcastle, plus a trip to that regular graveyard of hopes and dreams, Selhurst Park. All this offset by Anfield missions in the Merseyside derby and against the Champions League bogeymen of Real Madrid.
There is going to be no easy route away from the rut we find ourselves in. We have a fight on our hands, just at a time when we appear to have no stomach for it.