Liverpool have hit rock bottom, or so it seems, but it didn't have to be like this, argues Joel Rabinowitz – and the problems stem back years, not the last eight months.
The thing about reaching rock bottom is that it assumes you can't go any lower. This season, Liverpool are showing an extraordinary capacity to plunge to new depths even when you think things can't get much worse.
After being humiliated by Brentford and fortuitously scraping a draw against a heavily rotated Wolves side at Anfield (with a significant helping hand from VAR), the prospect of facing Brighton away from home seemed like the ultimate doomsday scenario for Liverpool.
And so it proved. Every aspect of how Saturday's 3-0 annihilation played out was entirely predictable before a ball had been kicked.
From the first whistle, Roberto De Zerbi's side outplayed and outfought Liverpool in every part of the pitch. The chasm in class was no surprise, as Liverpool delivered yet another performance devoid of intensity, tactical cohesion and spirit. If anything, the scoreline didn't accurately reflect just how superior the hosts were.
Less than eight months on from being two wins away from becoming the first team in English football history to win the quadruple, Liverpool find themselves in a full-blown crisis of entirely their own making.
As things stand – and it's difficult to see how this changes – the notion of salvaging Champions League qualification from this dystopian campaign looks extremely remote. In truth, even a Europa League place feels optimistic right now.
Given what Liverpool achieved last season, and the general level of expectations going into this one, this may well be the quickest and most drastic decline of a great team in living memory. So, just how have things spiralled this badly in such a short space of time?
Negligent squad planning

The most painful aspect of Liverpool's current predicament is that it was completely avoidable.
Back in the summer of 2020, after winning the Premier League and the Champions League in consecutive seasons, Liverpool were arguably the most attractive project for prospective signings in world football.
After several years of meticulous planning on and off the pitch, they'd reached the pinnacle of the sport and had built themselves a platform to kick on and cement their status as a consistent challenger for the biggest honours.
In the forward department, Liverpool certainly can't be accused of resting on their laurels and allowing things to go stale. Since winning the league, Diogo Jota, Luis Diaz, Darwin Nunez and Cody Gakpo have been brought in as part of a major revamp of the front three, with Sadio Mane, Divock Origi and Takumi Minamino moving on.
In defence, Liverpool sourced themselves a credible understudy for Andy Robertson in Kostas Tsimikas and one of Europe's finest young centre-backs in Ibrahima Konate. Calvin Ramsay may yet prove to be a useful addition, too, but given his lack of game time it's impossible to make a firm judgement yet.
The arrival of Konate was perhaps a year too late, considering the mess that unfolded in 2020/21 when Liverpool went into the season with only three senior centre-backs and ended up losing all of them to injury, but the Frenchman emphatically proved his credentials in his debut season and has all the tools to be a long-term part of Liverpool's back line.
For whatever reason, however, Liverpool haven't followed the same approach in midfield – and now, we're finally seeing the outcome of that repeated transfer inactivity.
Rather than gradually replenishing the midfield with fresh talent, Liverpool have allowed the same group of players to age together while not adequately replacing formerly crucial players in Adam Lallana and Gini Wijnaldum. Since the summer of 2018, the only senior midfield arrival has been Thiago (not including the loan signing of Arthur Melo). That's one proper midfield signing in four-and-a-half years.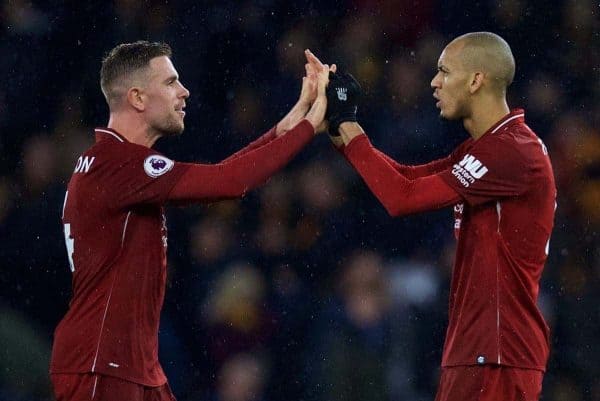 When you assess the makeup of Liverpool's midfield options today, there are problems almost everywhere you look. Quite clearly, Jordan Henderson's best days are behind him, while Fabinho's levels have nosedived dramatically. Curtis Jones hasn't kicked on (not helped by injuries), James Milner is 37 and edging towards retirement, while Naby Keita and Alex Oxlade-Chamberlain cannot be relied upon and are both out of contract in the summer.
Harvey Elliott, meanwhile, appears to lack many of the essential physical attributes and awareness in defensive situations to play at the level Liverpool need in central midfield. Then there's Thiago, who, while obviously a sublime technician, requires tireless runners around him in order to be at his most effective – which is something Liverpool simply do not have.
How many of these would you comfortably pick as a nailed-on starter next season? Maybe one, at best, and some would argue none at all.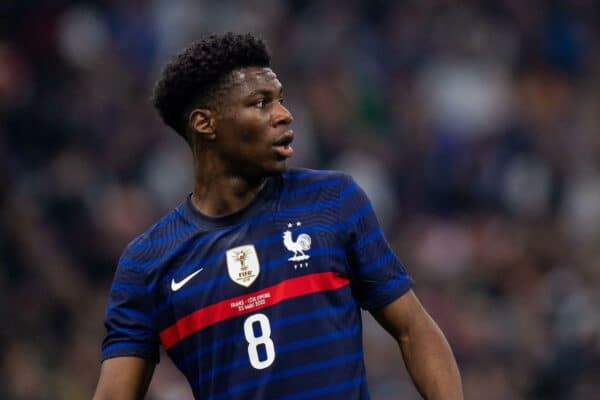 None of this can be solved by buying just one player, because Liverpool have allowed the midfield to go stale to a point whereby they need an overhaul.
Choosing not to bring one in after missing out on Aurelien Tchouameni (above) last summer was a mistake, and unless something significant happens in the next couple of weeks, it looks like Liverpool will be doubling down on that mistake by declining the opportunity to strengthen once again this month.
Whether that's down to Klopp's faith in his existing options or the owners not providing him with the funds he needs (or possibly a combination of the two), it's an act of continued negligence which has directly resulted in so many of the problems Liverpool have experienced this season.
This isn't a case of just signing any player for the sake of it – it's a necessity.
It's all well and good having top targets like Tchouameni and Jude Bellingham, but if you can't get them, having a comprehensive list of viable alternatives is a must. Wijnaldum, for instance, was by no means a big name signing when Liverpool signed him from Newcastle, but they saw he had the skills to be moulded into exactly what they needed.
While teams like Brighton and Newcastle have signed the likes of Moises Caicedo and Bruno Guimaraes – both of whom would walk into Liverpool's team right now – Liverpool have chosen to sit back and watch.
With some smarter planning and bolder moves in the transfer market, Liverpool could've kick-started the process of reshaping their midfield well before now. Instead, they opted to wait and are now paying the price on the pitch.
The gaping midfield problem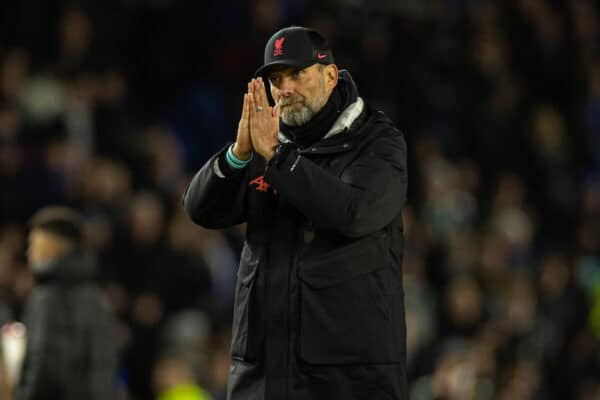 As much as Liverpool are in desperate need of reinforcements in midfield, it doesn't fully explain why so many of the performances this season have been quite so abysmal.
This is, after all, a squad full of players who have won everything there is to win in club football. Sure, some of them might be beyond their peak years and lack the dynamism they once had, but this is still indisputably a Liverpool squad with an abundance of quality and experience, yet they've become a team without an identity and one that's performing significantly below the sum of its individual parts.
Getting dismantled by Brentford and Brighton shouldn't be a formality, yet these results have been incredibly easy to predict.
Every time you think Liverpool might show some kind of reaction, you just don't see any improvement, which is where Klopp and the players must take a significant portion of the blame. Time and time again, opposition players are able to waltz through the heart of Liverpool's midfield and race through on goal without having to do anything remotely special.
Any team with any semblance of tactical cohesion and a willingness to make direct forward runs is capable of causing Liverpool all kinds of problems at the moment.
Kiernan Dewsbury-Hall's goal at Anfield was the prime example which neatly illustrated just how porous Liverpool have become, and how ludicrously easy they are to play through.
It's all the more concerning given the fact that Klopp and his coaching staff had a six-week break during the World Cup to identify the root causes of Liverpool's troubles and find effective solutions on the training pitch.
Since the Premier League has returned, there has been absolutely no sign whatsoever of any of those issues being addressed. In fact, they have arguably become even more frequent and acute in their occurrence.

When you think back to Liverpool at their very best under Klopp, everything they did was underpinned by a strong, intense, dynamic midfield unit who pressed and harried the life out of opponents, providing the solid platform for the front three and the full-backs to do the damage.
They were able to pin teams back to such an extent that they could barely even escape their own final third before surrendering possession and allowing Liverpool to build their next attack. It was a process of relentless suffocation, and it worked to brilliant effect.
What we see now, game after a game, is unrecognisable for a Klopp team.
The midfield is slow, lethargic, and consistently second best when it comes to winning 50-50 duels and picking up loose balls. They get bypassed without even making a challenge, and as a result, leave the defence brutally exposed – which is a big part of the reason why Liverpool have gone 1-0 down in well over half their games this season, and often fairly early on.

It's all well and good having individual quality at the back and up top, but when the midfield doesn't function properly, it destabilises the whole system and makes it harder for everyone to perform at their optimum level.
You also want to see more from the manager in terms of adaptation and mitigation given the limitations of the players he has available. If they aren't capable of playing the 4-3-3 system in the way he wants them to, why persist with a formula which is clearly broken?
In the short term, at least, there's a strong argument to try something totally different, which could be a temporary switch to five-at-the-back in order to steady the ship and at least mask some of the deficiencies of Liverpool's personnel.
Alternatively, another look at 4-2-3-1 might be viable, especially when you have players like Elliott and Fabio Carvalho who are too lightweight to play as part of a three-man midfield, but who can offer much more in an attacking midfield role with fewer defensive responsibilities and greater creative freedom.
A compact, deeper-lying double pivot might also reduce some of the gaping holes we see in Liverpool's standard three-man midfield, which is all too often stretched and disconnected from one another.
There's no guarantee that any of these potential tactical tweaks would be enough to stop the rot, but they can hardly make Liverpool worse than they are right now – and it's blatantly obvious that trying the same thing time and time again simply isn't working anymore.
That isn't to say that the midfield alone can be blamed for everything. Virgil van Dijk, for instance, clearly hasn't been anywhere near his best for the most part this season. Likewise, Darwin Nunez and Mohamed Salah, while still making plenty of important contributions, have spurned a huge amount of very presentable chances that they really ought to have buried. Neither Robertson or Alexander-Arnold have been performing at the levels we've become accustomed to, either. Having four forwards all injured simultaneously also doesn't help matters.
All of this has to be factored into the equation.
Squandering an advantage

In a wider sense, what's so galling about Liverpool's current plight is that they've squandered the advantage they'd built between themselves and so many of their nearest rivals.
In 2019/20, Liverpool finished 33 points ahead of Man United, 40 points ahead of Tottenham, and 43 ahead of Arsenal. Shrugging Man City off in the long run was never a realistic aim despite getting the better of them that season, but Liverpool had all the pieces in place to create a new golden era, adding several more titles to number 19.
Less than three years on, United and Arsenal haven't just closed that gap, but look to have left Liverpool behind.
At the time of writing, both teams have realistic ambitions of winning the league, and at the very least, look almost certain to finish in the top four. Things can change very quickly in football, but at this point it feels as though Liverpool are about as far away from being a title-challenging team as they have been at any stage since the very early days of the Klopp era.
The hardest thing to process about all of this is that the drop-off hasn't been a linear one, as Liverpool were still able to pick themselves up from a largely forgettable 2020/21 season to nearly go the distance in every competition last time out.
Had Aston Villa not capitulated late on at the Etihad and had Thibaut Courtois not been quite so immaculate in the Champions League final, 2021/22 would have unequivocally been the greatest campaign in Liverpool's history.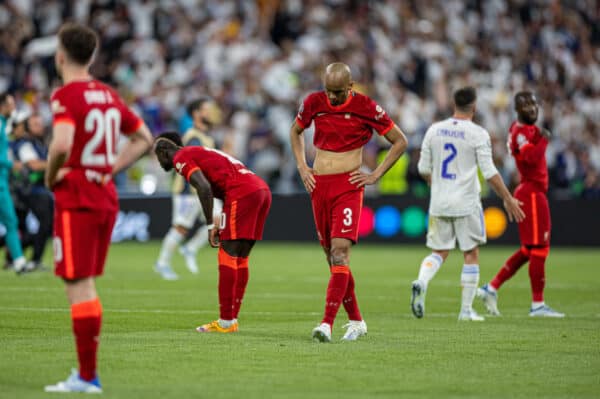 If we're being truthful, however, certain cracks were starting to appear towards the back end of last season as Liverpool limped over the finishing line. Most notably, the new and unwelcome trend of regularly going 1-0 down in games had already started, and rolled on into this season.
The mental toll of playing a 63-game season only to lose out on the two biggest prizes at the final hurdle will undoubtedly have had an effect as well.
After all, there's only so long you can keep asking the same players to go to the well without freshening things up, particularly when your entire modus operandi is based around physically intense, hard-running football that requires an abundance of energy in every single position.
Ultimately, the accumulated impact of continually neglecting the midfield over several transfer windows is the single biggest factor in why Liverpool are where they are. It just so happens that it has taken until now for that fact to be laid bare in the most brutal way imaginable.
Rather than capitalising on the chance to solidify their status at the top, Liverpool allowed themselves to fall back into the chasing pack and, this season, off a cliff. Quite how long it takes for them to haul themselves back – and whether the lack of spending may change depending on the outcome of a potential ownership takeover – remains to be seen.
For now, it's difficult to see a clear way out of this storm any time soon.