Jurgen Klopp discussed Ibrahima Konate's fitness and "changes" that will be made at Liverpool this summer in his pre-Crystal Palace press conference.
Here are four key things from Klopp's pre-match press conference…
"A lot of things are back, but not stable yet"
There has been a lot of doom and glom since Tuesday's defeat to Real Madrid, but Klopp insists there were some positives.
The Liverpool boss says a lot of Liverpool's best attributes "are back", but says they are not "stable" yet.
"There was some good stuff which I didn't see for a long, long time and I was really happy about that, so let's try and keep that in our game," he said.
"All the games from now on are Champions League qualifiers"
Liverpool's aims for the rest of the season are now clear. A top four finish is the priority.
With two wins from their next two matches, Liverpool will go level on points with fifth placed Newcastle ahead of their next league game at Man City.
And the boss says all of the Reds' remaining league matches are "Champions League qualifiers.
Konate fitness and team changes

Ibrahima Konate is closing in on a return to action, but Klopp is keen to not rush him, or anyone, back into action too soon. He also revealed that Liverpool "have to and will" make changes to the team against Palace.
"Ibou is near but had two sessions with us after a long injury," he said.
"We're not sure if all the boys could play again after Madrid because of some knocks here and there, so we have to make changes, we want to make changes and we will make changes anyway."
"We have to do something in the summer"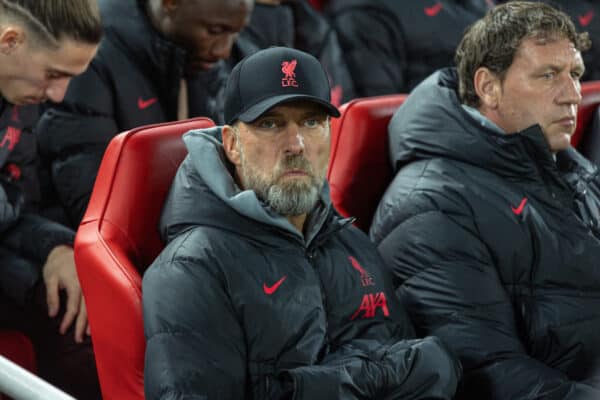 Klopp's last answer was his most interesting, and it was a long one.
Asked to elaborate on an earlier comment about "changes" being made in the upcoming summer window, Klopp said the club may have to "adapt" in the future given the financial might of their competitors.
"We know we have to improve, we know we have to change things, and we will," he said.
"We cannot do that now, but it's already clear that we have to do something in the summer…
"It worked out so far, we have to see if it will still work out or if we have to adapt, but that's something for us in the offices when we're not on the training pitches and for my conversations with the owners and all these kind of things."
---
* Remember to subscribe to This Is Anfield on YouTube to watch every LFC press conference in full.