There appears to have been little explanation for Fabinho's drop in form and consistency, but one eye-opening stat may explain the toll on his body.
It is one of the mysteries that has plagued this dreadful season: what exactly has happened to Fabinho?
For so long the rock at the base of Jurgen Klopp's midfield, known by Pepijn Lijnders as "the lighthouse" and compared to Inspector Gadget by Virgil van Dijk, the Brazilian has now dropped off massively.
That was no more so than with a six-minute cameo in the 2-1 loss to Brighton in the fourth round of the FA Cup.
Sluggish as soon as he replaced Stefan Bajcetic in the second half, the PGMOL have now admitted VAR should have ordered a red card for his nasty tackle on Evan Ferguson.
So why has Fabinho suddenly lost his mojo?
Well, it turns out that even before he turned 28 at the start of last season, the midfielder had clocked more minutes on the pitch than the average 34-year-old.
Thought this might be a fun little viz idea, actual time on the pitch is an area that sometimes gets a bit neglected imo. pic.twitter.com/uPP91MRAKt

— Rahul (@exceedingxpuns) June 10, 2022
An interesting graphic from @exceedingxpuns back in June shows the actual number of senior club career minutes for a variety of players correlated to an average for a player of a certain age.
It shows an 18-year-old Jude Bellingham to have already played as much as an average 24-year-old, and suggests Youri Tielemans' playing age was really 33, as opposed to 24.
By now, at 29, Fabinho will have played more than a 35-year-old.
While it is not an exact measure – and does not factor in international minutes, for which Fabinho will rank fairly low as a squad player for Brazil – it is certainly interesting.
Towards the end of Wayne Rooney's top-level career, for example, it was often argued that due to his exposure at such a young age, his body was a decade older than he actually was.
Advances in sports science are working towards extended careers into the late 30s and even 40s for some players.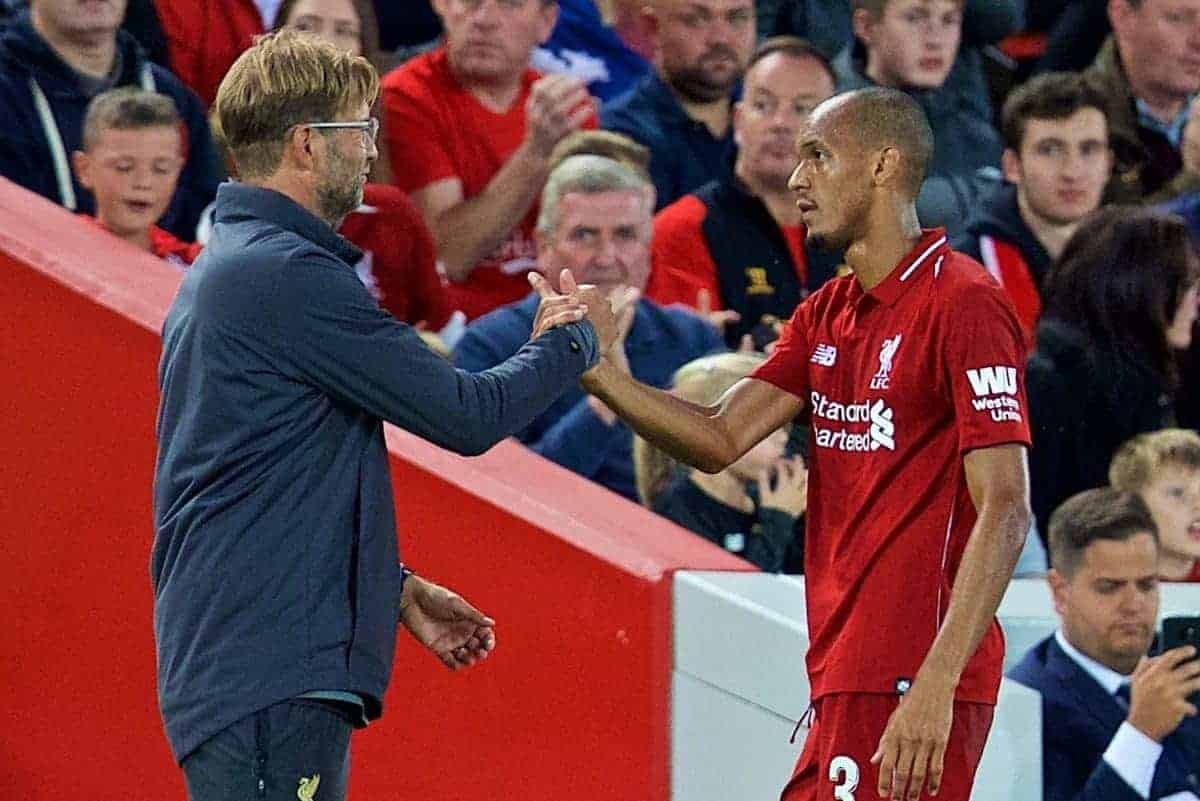 But another consideration for Fabinho is that he has, since 2018, been a vital cog in a relentless midfield machine under Klopp.
He has been a first-choice starter for over four years now, and the demands of operating in Klopp's system are clearly higher than they would be under other managers.
His next outing will be his 200th for Klopp, and he ranks in the 11 most-used players by the German since he took over in 2015.
The hope is that Fabinho can reclaim his form and this decline is temporary, rather than permanent, but the numbers are worrying to say the least.