After ten successive starts, Thiago could now miss Liverpool's next seven games, if not more, due to a hip injury that is expected to keep him sidelined for four weeks.
It really is that kind of season for Liverpool.
The Spaniard has been one of the more consistent performers for Jurgen Klopp this season as part of a midfield unit that has had its fair share of woes.
Since the World Cup break, Thiago has started each of Liverpool's last ten games, featuring for 826 of the last 900 minutes, a run of games that were not taken for granted.
But the fear had long existed that an injury issue would arise for the 31-year-old and on Friday, Klopp revealed that Thiago had a problem with his hip flexor.
The Telegraph's Sam Wallace now reports that Thiago "could be out for another four weeks," but it "not clear how quickly" he could return if "the injury is as bad as first feared."
That doesn't make for promising reading.
Games Thiago would miss if out for 4 weeks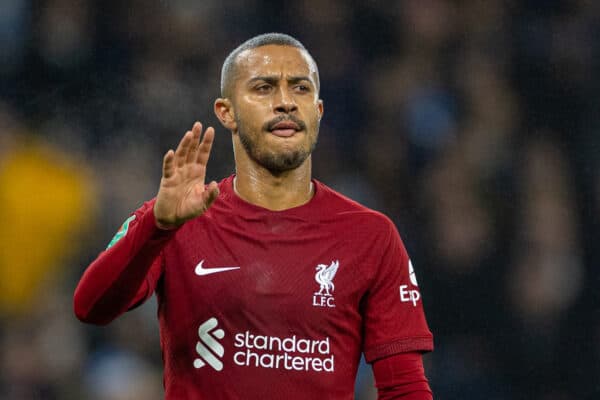 Everton (H) – Monday, February 13
Newcastle (A) – Saturday, February 18
Real Madrid (H) – Tuesday, February 21
Crystal Palace (A) – Saturday, February 25
Wolves (H) – Wednesday, March 1
Man United (H) – Sunday, March 5
Bournemouth (A) – Saturday, March 11
An absence of four weeks would see Thiago miss at least seven games, including the Champions League last 16 first leg against Real Madrid, plus the visit of Man United on March 5.
The trip to the Bernabeu on March 15 will then be touch and go, sitting on the cusp of a four-week return.
Thiago's absence will see Jordan Henderson and Fabinho come back into contention after starting from the bench in the last three matches.
The No. 6 is not the only one hit by fresh injury, though, as Wallace also reports that Calvin Ramsay has suffered a long-term injury, he has only featured two times this season.
It never rains, it pours.