A Champions League six-pointer won away at Newcastle United, if Liverpool do attain their target of a top four finish in the Premier League this season then we will look back to this one as the game that the mission pivoted upon.
Liverpool were on the back foot from the beginning on Saturday, Eddie Howe and his players opting for an early offensive, as if they were haunted by which of the myriad of varying parallel Premier League universes would be their destiny by 7.30pm, this being a game as it was which came with a set of clearly defined differences in potential diverging paths for the rest of the season.
It was an admiral approach for a team that seemed eager to prove that they hadn't got their minds on the upcoming League Cup final. Certainly, Nick Pope seemed to completely forget that Wembley was looming.
An impressively bright start from the hosts, but a seven-minute span won us the game before 20 minutes had elapsed, Darwin Nunez and Cody Gakpo with the goals, Trent Alexander-Arnold and Mohamed Salah with the assists.
Amid it all, Alisson's performance was key to the outcome. An early save from Miguel Almiron was simultaneously a warning to Liverpool, and a statement of intent from our goalkeeper, as we were far too generous with space in central defensive areas.
The concerningly out-of-step Joe Gomez dropped too deep and was dragged to his right, while the rest of the Liverpool defensive line was strung out diagonally. It would have been a goal if we had a lesser goalkeeper.
When Nunez scored the opener, it was undeniably against the run of play, but it was also an open invitation from Newcastle as they came on to us. This was like a boxer dominating the early exchanges, only to walk on to a beautifully timed and weighted punch that he just didn't see coming.
Confidence will be everything across the next three months and Alisson wasn't alone in standing tall on Saturday; the much-improved Fabinho was a joy, and along with the reawakening Salah they both played a part in creating the time and space for Alexander-Arnold to pick out Nunez with that magnificent pass, Newcastle undone by a stylistic form of route one that was born of an intricate four-act passing movement out of defence.
Nunez swept the ball home with far from subtle Alan Shearer overtones. Shit Andy Carroll and all that though…

The great thing about his finish was that he had the presence of mind to allow the ball one more bounce, so it sat up perfectly for him. For a man who has spent a lot of the campaign under the microscope you wouldn't have blamed him had he lashed out at the ball at the first opportunity.
Hosts disorientated, soon enough it was 2-0. This was a 'that' goal of the highest order. We had 'that turn' from Stefan Bajcetic, followed by 'that clipped ball' from Salah, and finally 'that control with the inside of his right foot' from Gakpo, before he kept his cool with the finish.
A goal of supreme confidence, Bajcetic doesn't pull off that turn without his head being in the right place, nor does he carry the ball into the opposing half. Fabinho doesn't position himself as high as he does if he is still shrouded in mental frailties. The two of them have linked together in a wonderfully unexpected way.
All in the head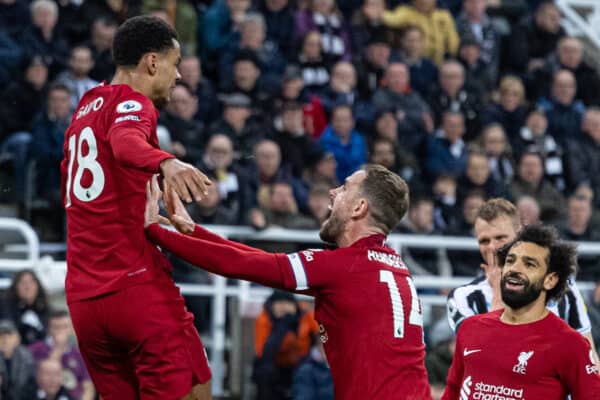 I've insisted for weeks – maybe months – that Liverpool's problems have been in the head all along, and the more the shackles fall away the more convinced I am. It will continue to be a gradual rehabilitation process.
You can see signs of it though. Gakpo and Salah do not convert the second goal if their heads aren't in it. The latter was vision incarnate, while the former drifted into position to receive the ball beautifully undetected, having already played a part in the build-up. It was a truly magnificent goal.
We won this game within a wild 12-minute stretch between Nunez taking on that pass from Alexander-Arnold, and Pope's hypnotic piece of brain fartery.
Liverpool spent the first ten minutes of this game trying to put their tent up in the Tyneside wind, while for the remaining three quarters of the game we leaned toward the well-worn adage that it's often harder to play against ten men than it is against 11, with Allan Saint-Maximin being a persistent danger.
Reaching for the self-destruct button within five minutes of Liverpool doubling their lead, Pope indulged in his moment of comedic madness. He exits his penalty area to meet the oncoming threat of Salah, is caught between options, elects to go with a diving header, without doing the dive part properly, momentarily traps the ball with his face, then drags it back with his hand, before jumping to his feet and cutting one of his teammates off at the knees, when then lashing out.
Salah denied a goal, Alisson denied an assist, it was a clear red card which sets in motion a set of surreal events that means Loris Karius might get a game in the League Cup final next Sunday, Newcastle's opponents at Wembley having cup tied their back-up goalkeeper for them.
All of a sudden no time-wasting

It's a reassuring situation that no matter how much blood money Newcastle now have at their disposal, they are still going to be capable of pulling off the most Newcastley things imaginable.
It made the remainder of the game a disjointed, if fascinating one from a Liverpool perspective, as Alisson and the frame of the goal saved us repeatedly. Newcastle, having idly burned as much gameplay time as humanly possible when they came to Anfield in September, were forced to go the opposite end of the time management spectrum.
Down to ten men for 68 minutes plus injury time, any Newcastle player who went down injured was quickly compelled to be back on his feet, so as not to reduce their numbers to nine when being ushered to the touchline by the referee, this being the case even with potential head injuries. It made for a very different landscape to the one we encountered in the reverse fixture.
Newcastle understandably gifted us more space in the latter stages, and we could have feasibly departed St James' Park with five or six goals, inclusive of a Diogo Jota hat-trick. It made for a strange game, where Howe's team could have clawed their way back into it, yet we also could have won by a huge margin.
This was not the perfect performance by any means, but it was one in which there were outbursts of our old confidence. It represented three crucial points and another step forward, and we now go into Tuesday night against Real Madrid in a better frame of mind than we were a week and a half ago, while at six points behind Newcastle with a game in hand, we have something to chase in the Premier League.
We will play twice in the league before Newcastle do again, and their next fixture beyond the League Cup final will take them to Man City. The door to the top four is open now, but it's up to us to take ourselves through it.