There are no Liverpool players in the Brazil squad for the first time since 2021, with Ederson left "surprised" by the decision to omit Alisson.
The last time there was a Brazil squad without a Liverpool player was in September 2021, when Covid travel restrictions blocked call-ups from Anfield.
Before that, you would have to go back to November 2015, when none of Philippe Coutinho, Roberto Firmino or Lucas Leiva were called up for World Cup qualifiers.
Alisson was part of that squad, however, having long contended for the No. 1 shirt for his country – but this month, none of him, Firmino, Fabinho or Arthur are included.
Brazil are currently led by interim manager Ramon Menezes, who will take charge of a friendly against Morocco on Saturday, with his squad comprised of both familiar faces and young hopefuls.
Man City goalkeeper Ederson is expected to start at the weekend, and took press conference duties on Tuesday, when he expressed "surprise" not to be joined by Alisson.
"The first moment I saw the list I was surprised, but it is the coach's decision," he told reporters including Globo.
"They are choices. I thought he would be on the list, but he wasn't, I don't know why, [maybe] it's a matter of opportunities for younger players.
"But we have to work, do our best, every day there is a good new player who can take on that responsibility too."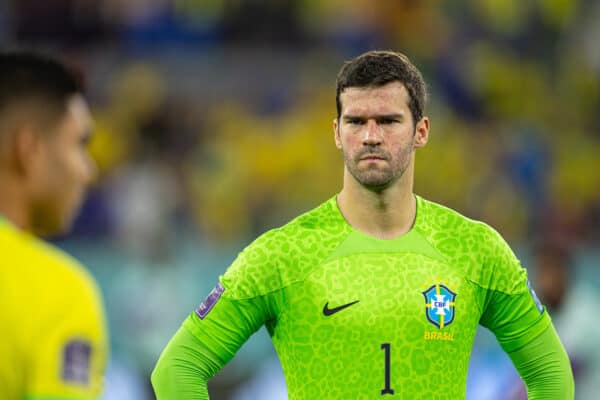 Elsewhere in his press conference, Ederson addressed speculation that Carlo Ancelotti could become the next Brazil manager, and answered a question on his chances as first-choice goalkeeper.
"I think it's too early for that," he replied.
"Of course it's always important to start a cycle, for me it's no different and I hope to start in the best possible way.
"But we know it's a long cycle, many things can happen, you can experience many phases during this period.
"You have to work as hard as you can, maintain consistency in order to be here as many times as possible."
Unlike the out-of-form Fabinho and the only recently fit Firmino, there appears no real explanation for Alisson being left out of Menezes' squad.
He has, after all, been Liverpool's best and most consistent player this season – without him, statistics show they would have conceded 10 goals more in the Premier League.