Stefan Bajcetic is now settled in the first team at Liverpool, just over two years after joining, but he had his choice of clubs before leaving Celta Vigo.
"When I heard that Liverpool wanted to sign me, there was nobody else to decide on," he told the Times' Paul Joyce this week.
"This was the only one [for me]."
In a report on the breakthrough talent, Joyce explains how not only Man United but also Real Madrid, RB Leipzig, Wolves and Everton had all pursued a deal back in 2020.
The agreement with Celta Vigo was for just £224,000 and was pushed through just before the deadline for Brexit, after which clubs in England are no longer able to sign overseas players until they turn 18.
A 16-year-old Bajcetic opted for Liverpool following the efforts of head of senior academy recruitment Matt Newbury and scout Kiko Espinar, with a private jet flying the teenager and his parents to Merseyside.

It is an impressive transfer, considering Bajcetic is now a regular starter and, after two new Liverpool contracts in quick succession, on the cusp of a senior call-up for Spain.
Throughout Joyce's interview with the youngster it is clear that he is not taking his opportunity for granted and is relishing the challenge.
"I'm just trying to help the team and at the same time, I'm trying to learn as well," he explained.
"I need to keep working hard. I want to stay here [in the team].
"I'm smiling because I wasn't expecting it to happen this quick or this early in my life. But I am taking it – 100 percent, I'm taking it!"
The standing ovation he received from the dressing room following his goal against Aston Villa on Boxing Day is a marker of his popularity within the squad.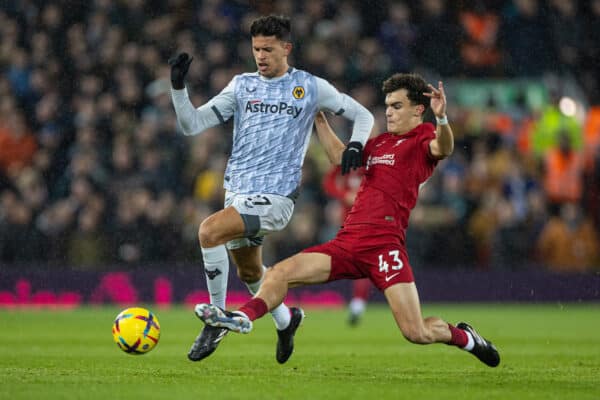 But more than the goal, this is perhaps best summed up by his attitude to losing the ball – encapsulating the "intensity" he says has caught Klopp's eye.
"When I do that, I try to win it back as fast as I can," he detailed.
"I run and I run. When I lose the ball, I have to react as soon as I can."
It is an approach that could see Bajcetic trusted again when his former suitors, Man United, arrive at Anfield on Sunday – another chance to prove that £224,000 a modern-day bargain.