Liverpool head to Man City for a daunting Premier League encounter this weekend, with confidence coming from the blue half of Manchester.
Jurgen Klopp's side have had a 16-day absence from action since the 1-0 defeat to Real Madrid, potentially allowing some players to rest up.
Liverpool certainly aren't being eased back in, with a trip to reigning champions City coming their way on Saturday lunchtime.
It promises to be a huge test, with victory essential for both in their respective title and top-four battles – the hosts are eight points adrift of Arsenal with one game in hand, and the matches are ticking by.
Ahead of what could be another ferocious meeting between City and Liverpool, we spoke to regular TIA contributor Simon Curtis (@bifana_bifana) to get the lowdown on his side, the Reds' season and much more.
We're nearing the end of the season – how happy are you?

Pretty good so far, despite it being a very different one for Man City.
We are chasing a confident-looking Arsenal down for the title, still cruising in the FA Cup and nicely placed in the Champions League.
Erling Haaland has given the season a different tilt, so nobody's complaining.
How would you assess Haaland's first season?

It's certainly different with him up top. I think we've adapted pretty well, despite the obvious changes needed to work to his strengths.
Any decent side will create plenty of chances, and with a player like him in front of goal the majority are going to go in.
It often looks like we're not getting him properly involved but then he'll stick in three goals in 10 minutes and you have to just shut up, watch and learn.
Which other City players have stood out this season?

There have been some sterling performances and I would single out Nathan Ake as an unsung star of the season so far.
He isn't always first on the teamsheet, but is so neat in everything he does, decisive in the tackle, sharp with his passing and available to go forward.
Phil Foden was coming into some really promising form just before he needed an appendix operation, while Ilkay Gundogan has been superb in bursts too in what looks like his last season with City.
By contrast, Kevin De Bruyne has been erratic; mainly out of sorts but occasionally sublime.
A real mixed bag from him.
As for Liverpool, how do you assess their campaign?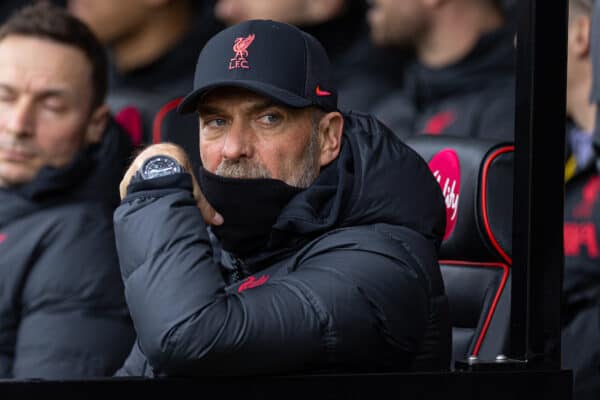 Poor really.
Jurgen Klopp clearly deserves a lot of praise for what he has done at Anfield, but it looks like he has dropped a bit of a bollock letting so many of the squad age at the same time.
That particularly applies in midfield, which was such an exciting focal point of what he wanted the side to do and is now looking pretty clapped out.
Liverpool were operating with a midfield three of Jordan Henderson, Fabinho and James Milner at one point recently!
The unnecessarily big outlay on Darwin Nunez; the drop off from Roberto Firmino, Virgil van Dijk and Mohamed Salah; the wobbly central defence; the lack of the 'usual' energy from the full-backs – it all seems to have gone pear-shaped at the same time.
Despite this, the Man United result showed that you can't write Liverpool off just yet.
Where do you think both sides will finish?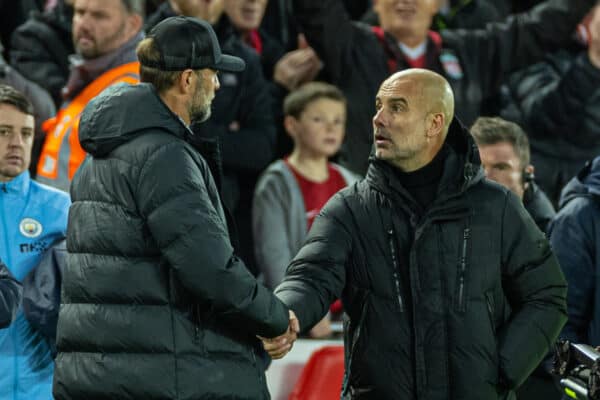 I have been happy to say City will catch and overtake Arsenal for months now, but we are beginning to run out of games and they seem to have called in some prodigious luck over the last few weeks – the kind of luck that does actually win you stuff.
Fair do's to them, they are holding up well, but I am still looking at the possibility of a wheel coming off.
If it does, I'm not sure they have the temperament to hold it together.
For Liverpool, it looks like fifth or sixth place, but beware of a push from Brighton or Brentford that could remove you from the European places altogether – a far cry from pre-season expectations.
Do you think Liverpool will be 'back' next season?

Liverpool need a very good close season and to make judicious signings on a budget that will not be unlimited.
Chasing City takes a lot of effort, sustained quality and sharp-eyed succession planning, and this has not happened and has to be righted, which will not be easy.
Contenders are coming through in the shape of Newcastle, and others who are waking up from lengthy slumbers like Arsenal and United, so if Liverpool want a top-four place, they will need to play the transfer market cleverly.
Looking to Saturday, where are the key battles?

We saw in Scotland's defeat of Spain in midweek that if you stifle possession and stay limpet-close to the passers, the machine breaks down.
Given space and time, Rodri will dictate pace and movement coming out of defence and through midfield, meaning Liverpool will need to get close to him to start with.
On the face of it, missing Foden and Haaland looks like a plus for you, but having Jack Grealish, Riyah Mahrez and Bernardo Silva to compensate, and Julian Alvarez keen as mustard up front, is not too much of a reduction in either quality or efficacy.
Stop Grealish and Mahrez cutting inside and don't leave Bernardo with the space to twist and turn.
Finally, what's your prediction?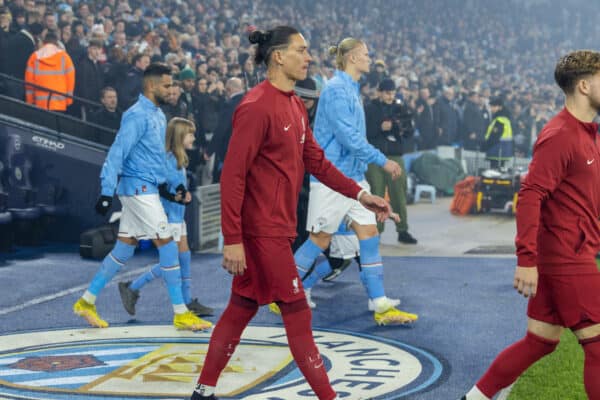 Man City 3-1 Liverpool.