Liverpool and Chelsea have played out as many 0-0s in their past four games as they had in the previous 26 years. Brad Walker recounts their highest-scoring tie of the 21st century.
To say recent fixtures between Liverpool and Chelsea have been tough to watch would be an understatement.
Two 0-0 draws in the league this season, the second of which came earlier this month in west London, provided the latest depressing chapter in what was once a fierce and flourishing rivalry among two of the country's top sides.
Both also met in two Wembley cup finals last season but failed to produce a single goal in either match, before Liverpool thankfully prevailed on both occasions via penalties.
The two teams are now left planning a route back to the summit of English and European football as they ponder around midtable in the Premier League.
Fourteen years ago, however, the two sides were in a much healthier position and produced a Champions League classic in the second leg at the quarter-final stage.
Chelsea 4-4 Liverpool (7-5 on agg)
Champions League Quarter-Final Second Leg, Stamford Bridge
April 14, 2009
Goals: Drogba 51′, Alex 57′, Lampard 76′ 89′; Aurelio 19′, Alonso 28′, Lucas 81′, Kuyt 83;
---
Liverpool: Reina; Arbeloa (Babel 85′), Carragher, Skrtel, Aurelio; Mascherano (Riera 69′), Lucas, Alonso; Kuyt, Benayoun, Torres (N'Gog 80′)
Subs not used: Cavalieri, Hyypia, Agger, Dossena
The pair had been drawn against each other in four of the last five years, with Liverpool prevailing at the semi-final stage in both 2004/05 and 2006/07 before John Arne Riise's late own goal sent the Blues through to the final in Moscow in 2007/08.
Fast-forward to April 2009 and the Reds headed to Stamford Bridge knowing they needed to win by three clear goals if they were to meet Pep Guardiola's Barcelona in the semi-finals.
Six days earlier, Fernando Torres – who would eventually join Chelsea two years later – sent the home crowd into raptures just six minutes in, before a Branislav Ivanovic double and Didier Drogba third left the 2008 runners-up with one leg in the semis.
Despite ending the Blues' 86-game unbeaten home run earlier in the season, chances of Rafael Benitez's side progressing were slim against Guus Hiddink's in-form Chelsea.
Drama at Stamford Bridge

The tie was poised after a 3-1 defeat at Anfield, with captains Steven Gerrard (injured) and John Terry (suspended) for either side.
An ingenious Fabio Aurelio free-kick 19 minutes into the encounter perked the Reds' hopes, however, as the Brazilian left-back magnificently curled the ball past a wrong-footed Petr Cech and into the right-hand side of the net.
Nine minutes later, Xabi Alonso coolly slotted in from the penalty spot after he was held by Ivanovic in the area to hand the Reds an early 2-0 lead.
The travelling Kop began to dream of another historic comeback in Europe before Pepe Reina somehow bundled Drogba's tame effort into the net seven minutes after the break.
Brazil centre-back Alex levelled the scores on the night with a thunderous free-kick five minutes later, before talisman Frank Lampard added a third in the 71st minute to surely seal Chelsea's spot in the final four.
Liverpool were not done yet, however, when a third Brazilian got their name on the scoresheet – as Lucas Leiva's deflected effort from the edge of the box flew past Cech to give the away section a glimmer of hope nine minutes from time.

The travelling Liverpool fans were handed more reason for optimism a minute later when Dirk Kuyt headed in Albert Riera's cross, meaning one more away goal would remarkably see the Reds progress to the final four.
Despite a resilient Liverpool effort on the night, Lampard claimed his second goal of the game in the 89th minute to reassure a relieved home crowd and put an end to Liverpool's comeback hopes once and for all.
The Reds had pushed Chelsea further than most expected on the night, given the result in the first leg, as attention turned back to their ongoing battle for the Premier League title on the domestic front.
Sir Alex Ferguson's Man United led the Reds by a single point after 32 games (United had only played 31).
What happened next?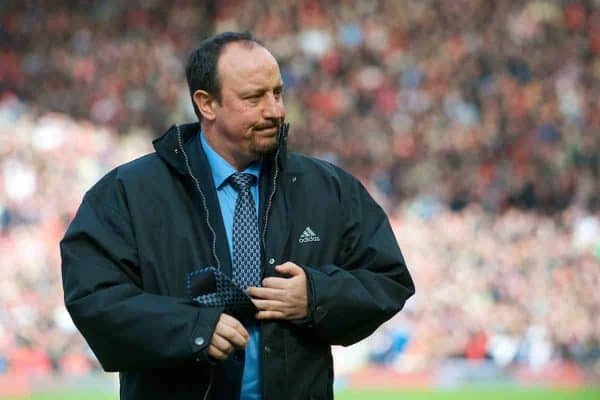 After remarkably fighting to another entertaining 4-4 draw – this time at home to Arsenal – one week after the second leg in London, Liverpool were unable to catch bitter rivals United, who would claim their 18th league title in May.
A rollercoaster season, which saw a league double over Chelsea and United – including a historic 4-1 drubbing of the latter at Old Trafford – as well as a sensation 5-0 aggregate win over Real Madrid, meant another frustrating, trophyless campaign for Benitez's team.
Chelsea's European dream also came to an abrupt ending following their defeat of Liverpool, as Andres Iniesta scored a stoppage-time equaliser to send Barcelona through to the final in Moscow on away goals at Stamford Bridge.
The Blues were, however, able to defeat Everton at Wembley in May to claim their fifth FA Cup.
---
* This is a guest article for This Is Anfield by Brad Walker. Follow Brad on Twitter, @brad_TWalker.