Following incidents of abuse at both recent games against Man City and Chelsea, Jurgen Klopp has called for the end of tragedy chanting.
During Liverpool's trips to the Etihad and Stamford Bridge over the past nine days, thousands of home supporters chanted abuse linked to Hillsborough.
There were also the sadly usual references to poverty and 'murderers' chants, with both Man City and Chelsea forced to issue statements condemning their fans.
Liverpool have also backed the Premier League in their initiative, along with the likes of the FA, the EFL and the Football Supporters' Association, in contacting the police to tackle the ongoing issue.
And with the club marking the 34th anniversary of Hillsborough during the meeting with Arsenal on Saturday, Klopp used his programme notes to speak against tragedy chanting.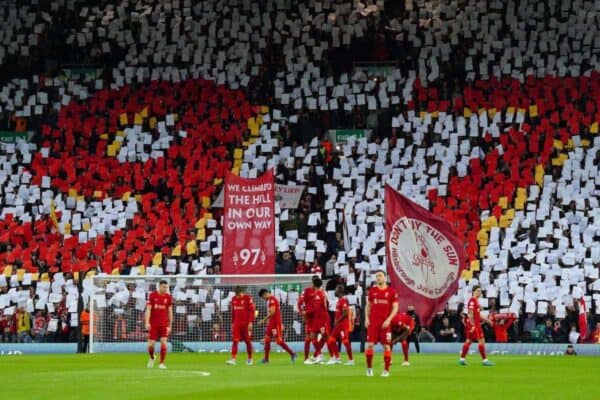 "It makes no sense that there are still chants relating to tragedies including Hillsborough. This needs to stop," he insisted.
"Not because I say so or the police say so or whoever. It needs to stop because the people who continue to suffer – including families of those who died and survivors – tell us how much these songs hurt them.
"We should listen to them and act accordingly. There is no room for debate.
"On this and all other matters, the families and survivors have our full support and solidarity."
Our thoughts are with our friends at Liverpool FC and all the families of the victims of the Hillsborough disaster – April 15, 1989. pic.twitter.com/d5vRMYK7WX

— Arsenal (@Arsenal) April 8, 2023
Arsenal manager Mikel Arteta and captain Martin Odegaard laid wreaths at the Hillsborough Memorial on Saturday to pay their respects to the 97, with a minute's silence to be held at Anfield before kickoff on Sunday.
A mosaic featuring the Eternal Flames and a tribute to those who lost their lives will be displayed on the Kop, while players will wear black armbands during the game.
"It is always a privilege for the players, staff and myself to do this alongside our supporters," Klopp added.
"Although all of us would prefer for it not to be necessary because even after all these years it still makes no sense that 97 people could go to a football match and not come home."
Liverpool vs. Arsenal kicks off at 4.30pm on Sunday, with the visitors currently top of the Premier League.