After sharing the news that Roberto Firmino has picked up a muscle injury, Jurgen Klopp admitted that he "really hopes" the Brazilian will be able to play again this season.
In his pre-Nottingham Forst press conference, the manager told the media that the 31-year-old had "unfortunately" sustained a muscle injury that will keep him on the sidelines for at least the next three games.
It throws open the possibility that we might have seen the last of Firmino in a Liverpool shirt, given that he will depart the club upon the expiry of his contract this summer.
But Klopp was optimistic that fans will get the chance to see the forward between now and the end of the campaign, despite a timeline for his return currently remaining uncertain.
Speaking in Friday's extended press conference, the manager responded to a question about whether Firmino is likely to feature again this season by saying: "I really, really, really hope so, and I think so as well."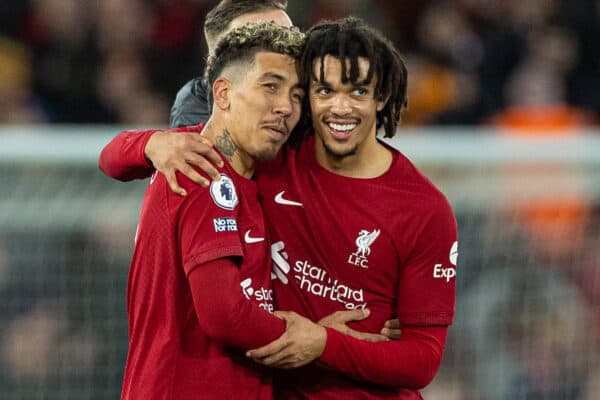 Earlier, Klopp told reporters that it is "impossible" for Liverpool's No. 9 to be involved again this month, with West Ham and Tottenham still to come after the weekend's clash with Forest.
"Unfortunately, Bobby picked up a muscle issue a little bit. We will see how long that takes," he admitted.
"It's not too serious, but he's definitely out for tomorrow. And next week, we have two more games, I would say they are impossible as well."
Supporters know only too well that players can take longer to return from injuries than first communicated, with Thiago and Luis Diaz providing recent examples of this.
The boss' injury update was accompanied by immense praise for Firmino's contribution after being asked about whether the departing striker could "influence" Cody Gakpo in his role moving forwards.
"I think Bobby in this role is an inspiration for pretty much every player in a similar position," stated Klopp.
"It's not like we have to do it exactly because nobody can do it like Bobby, because nobody is Bobby, and that means you have to find your own way and I think that's much more important and that's where Cody is up to."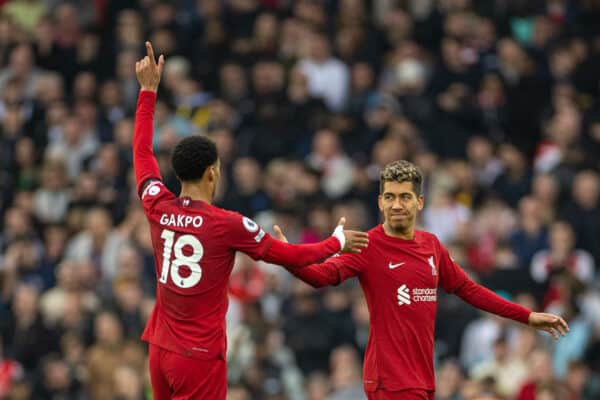 Liverpool fans will be hoping to give Firmino a fitting send-off to end a glittering eight-year Anfield career, but his injury casts doubt over the involvement he will have between now and the end of the season.
The Reds' last home game of 2022/23 takes place on May 20 against Aston Villa, with a trip to Southampton coming eight days later.
Firmino will be hoping to play some part in both of those fixtures as he bids an emotional farewell to a club at which he has had so much success.