Liverpool contributed to an entertaining game but one in which they will be disappointed to only come away with a point.
Liverpool 2-2 Arsenal
Premier League (29), Anfield
April 9, 2023
Goals: Salah 42′, Firmino 87'; Martinelli 8′, Gabriel Jesus 28'
Mixing it with the best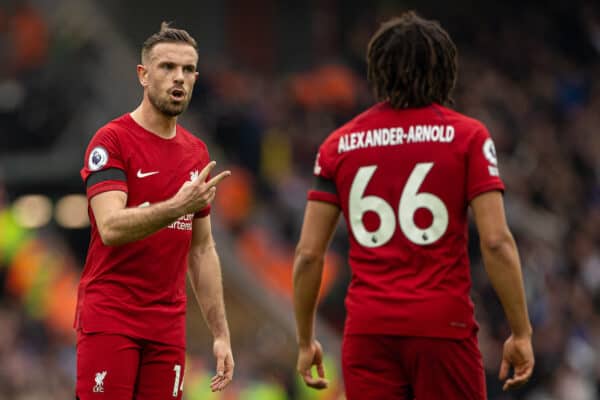 Liverpool were 29 points behind Arsenal going into this game, sat in 8th place, 13 points off the Champions League places.
Prior to the defeat against Man City, the Reds had the best record in head-to-head games between the top six, but as the business end of the season has approached, they have struggled.
During the games against Real Madrid in the Champions League, there was never really a feeling that they would be able to defeat Carlo Ancelotti's side, and despite previous comeback powers, there was never any sign of such a turnaround in the second leg.
They also struggled in the recent meeting with Man City, ending up on the wrong end of a 4-1 scoreline.
After a poor opening half an hour, this game was a bit more of a return to form for Liverpool, who should have won the game.
There was a missed penalty and some poor finishing that for a while made it look like they might not even get a point, but Trent Alexander-Arnold and substitute Roberto Firmino combined for a late, well-deserved equaliser.
The chances created and the mentality shown once behind was more like the old Liverpool, who can mix it with the best.
Trent in midfield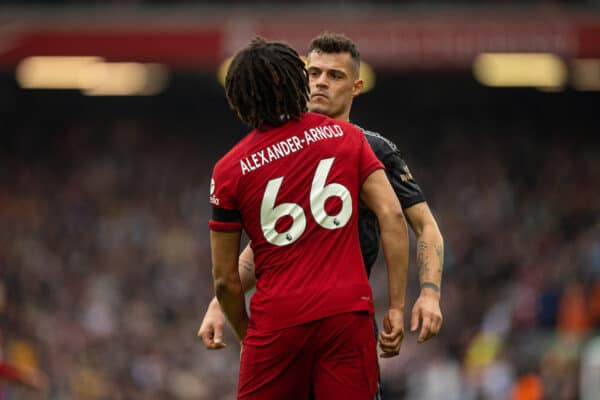 Alexander-Arnold has occasionally been seen drifting into midfield during games, but it hasn't been as pronounced as this before.
Even in defence, he would sometimes remain in this central area, only occasionally dropping into the back four.
One effect it had was that Ibrahima Konate knew the area he had to cover, rather than thinking there might be a chance Trent would recover as would be the case when he plays as a more orthodox right-back.
Trent Alexander-Arnold in midfield during Liverpool's build-up play. pic.twitter.com/Hpa5EGOZA8

— James Nalton (@JDNalton) April 9, 2023
At times, Trent's presence in midfield did little more than give Arsenal another player they could easily bypass, but as the game went on this role became increasingly useful.
His passing ability in the middle gave the team a slightly different use for this attacking weapon and was an extra player on hand to recover second balls. Jordan Henderson also improved as Trent did and it looked like this could be beneficial to both players going forward.
All kicking off

The temperature may have dropped thanks to a swirling cold wind inside Anfield but the temperature on the pitch was raised following numerous clashes.
A coming together between Alexander-Arnold and Granit Xhaka really lit the touchpaper and lifted the atmosphere inside Anfield. It appeared to rattle the Arsenal players.
Gabriel Jesus regularly found himself on the floor as Ibrahima Konate made his presence felt.
There was plenty of gamesmanship, breaking up the play, but overall this added spice seemed to work in Liverpool's favour.
Perhaps the most bizarre moment was Andy Robertson getting booked at halftime for protesting to the referee having been elbowed by the linesman!
Thiago is back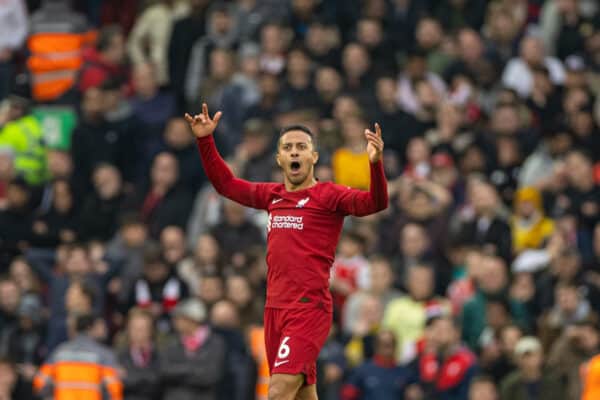 Thiago made his return to the Liverpool side having been out since early February.
It goes without saying that the team have missed his quality in midfield, and his guile in attacking areas.
He was a very handy substitute to have in a game that was starting to lack control for both sides.
He hadn't been on the pitch long before he played a neat pass with the outside of his boot into the path of Gakpo.
The touch was instant and the extra safe option on the ball in midfield was useful as Liverpool eked their way back into the game and were the better team in the second half.
Top 4 chance?

This is the last of Liverpool's difficult (on paper) run of games, having faced Arsenal, Man City, and Chelsea (OK, maybe not all that difficult) in their last three.
The only other member of the top six they have to play before the end of the season is Tottenham, and that could be important as both battle for various European places.
The rest are games they would expect to win, usually – but has we have seen throughout the season there are no easy games for Liverpool anymore.
If they can take the energy and mentality from the last hour of this Arsenal game with them into the remainder of the season there's a chance they could collect enough points to at least worry the top four, if not catch them.
Having Thiago back, and Luis Diaz from next week, could be crucial.
But there have been so many false dawns the Jurgen Klopp and his players this season that you would have to say top four looks unlikely now.