Four substitutions at once, but only 17 minutes after Man City made it 3-1. Jurgen Klopp's changes have been scrutinised throughout the season, and they were again on Saturday.
The international break lulled us into a false sense of security, but another humbling defeat has reminded us all of the shortfalls in this Liverpool side.
At half-time, with the scoreboard reading 1-1 there was every reason to think the Reds were in the contest, but that was snuffed out within the first seven minutes of the second half.
Two goals for City and no response from Liverpool on the pitch or from Klopp on the touchline.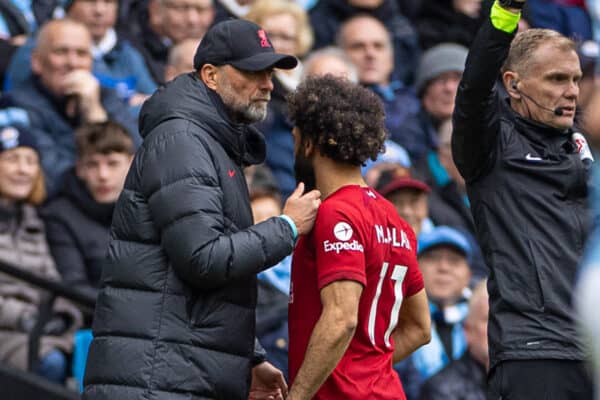 In fact, it was not until the 70th minute, after City were 3-1 up for 17 minutes, that four changes were made at once.
Kostas Tsimikas, Alex Oxlade-Chamberlain, Darwin Nunez and Roberto Firmino for Andy Robertson, Harvey Elliott, Mo Salah and Diogo Jota – too little, too late.
Bizarre in-game management, again, from Klopp, who then replaced Cody Gakpo with James Milner with eight minutes remaining – and it did not escape the attention of fans:
Man City went 3-1 up in the 53rd minute. Took another 17 minutes to make any changes.

Bizarre.

— Jack Lusby (@LusbyJack) April 1, 2023
Why wait until the 70th minute to make changes? ? https://t.co/1vp3qaRadq

— Sam McGuire (@SamMcGuire90) April 1, 2023
Fine with Klopp calling out the players' approach because it's deserved, with several of them. But would also quite like Klopp's in-game substitutions and pre-game messaging to be called out just as much. Because they're both absolute shite.

— Kristian Walsh (@Kristian_Walsh) April 1, 2023
Wonder how we have to be playing for Klopp to think a sub might be an idea?

— SimonBrundish (@SimonBrundish) April 1, 2023
Has Klopp forgotten you could make subs and try to change things up during the match or…?

— Jax (@LFCKV) April 1, 2023
Hahahaha Klopp might have the worst game management around https://t.co/52jv6S5BgS

— Waheed (@Wxheed) April 1, 2023
Liverpool end the game with Ox, Milner, Fabinho and Henderson in midfield, the same four who started the season for Rafa Benitez in 2004.

— Josh Williams (@DistanceCovered) April 1, 2023
3-1 down and he's not making any subs.

I'm sorry but Klopp is making some horrific decisions lately, tactically

— Charlotte (@Charl_H79) April 1, 2023
Liverpool having to bring on Tsimikas, Firmino, Nunez and Oxlade-Chamberlain sums up their problems. Awful subs when chasing a game. #LFC #MCFC #MCILIV

— Alex Batt (@AlexBatt) April 1, 2023
I haven't understood a single substitution/ decision from Klopp this season

— Jordan (@rocker3001) April 1, 2023
Liverpool super brittle. Desperate for a red for Rodri, constant fouling themselves, no answer after the City second, absolute resignation from Klopp in his subs. Lucky City couldn't be arsed scoring any more

— slbsn (@slbsn) April 1, 2023
---
Klopp explained post-match that "City could do what they wanted," and Liverpool "didn't challenge," so the question is why did the decision to make any changes come so late?
"It's super difficult coming on in a game like this… They didn't change the game, that's true, but that's it," Klopp said of his substitutes.
The damage was done, yes, but heads had clearly dropped and energy evaporated not long after the third goal, the trigger had to be pulled sooner.
It is not the first time Klopp has been criticised for his choice and timing of substitutes, questionable in-game management which becomes more pronounced when Liverpool are not flying.
One issue of many currently plaguing the season.