Liverpool's 4-4 draw at Southampton provided plenty of talking points, with fans also looking ahead to a busy summer transfer window.
An afternoon that started at a relaxed pace turned into a crazy game at St Mary's.
With the sun beating down, Liverpool scored twice before surrendering four goals in succession, only to produce a comeback of their own in the latter stages.
Here, Sam Millne (@sam_millne), Tom Eves (@TomEvesJourno) and Joanna Durkan (@JoannaDurkan_) discuss Liverpool's rollercoaster ride against Southampton and look ahead to what is to come this summer.
So, are you glad the season is finally over?

Tom: I am relieved the season is over now.
It's easily been our worst campaign under Jurgen Klopp and it felt like it would never end.
Joanna: Absolutely, I think we've all long awaited this day.
The season just seems to have dragged on and I'll be glad for the break and, hopefully, the optimism to come in a couple of months' time!
Klopp said after the match that "there were moments during the season when you thought 'the season will be four years long'," and I could not agree more. It was exhausting.
I've been ready to put a line through it for some time now so happy to be able to do just that.
Sam: Agreed. There's been little to celebrate throughout the campaign, but I think we'll be better next season with a refreshed squad and more time on the training ground.
That's not to say we'll be back competing with Man City, though.
Can we learn anything from the match?

Joanna: Not what to do next season!
I mean, I know the match meant nothing but we conceded four goals against the 20th-placed side and surrendered a two-goal lead – we have to learn to stop doing that.
And, away from the match itself, I was reminded how painful it can be to follow your team when they are not live on TV – thankfully it was a dead rubber.
Tom: I think we've learnt that, despite our unbeaten run, we are still nowhere near back to our best and Sunday was was an indication that serious adjustments need to be made to that squad.
Conceding four to an already-relegated side is not good enough.
What did you make of Kelleher's performance?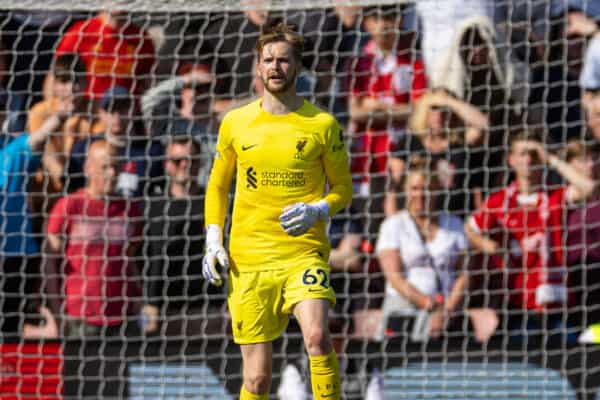 Sam: I think it is always difficult for a backup goalkeeper to come in, out of the cold.
Having said that, I would have still expected better from Caoimhin Kelleher given the ability we know he possesses.
Fortunately, a stint in the early rounds in the Europa League should do him good.
Tom: He definitely struggled, it was the worst I've seen him play for us in all honesty.
Joanna: Perhaps he doesn't want a move away in the summer?
It was not his finest hour, far from it. His performance actually highlighted how imperative Alisson has been for us this season.
The frequency and quality of chances we concede has required special saves and Kelleher was not able to manage that.
There's the obvious caveat that this was his first league start of the season and his first appearance since mid-January, thus he was bound to be below his best.
I think he has a bright future ahead and the talent to be a No. 1 somewhere – let's just hope some of his suitors were not able to find a stream of the match!
Did anybody stand out to you on Sunday?

Sam: It was a pretty poor performance across the board, in all honesty.
Diogo Jota showed, though, that he still has the ability to score from nothing and be clinical when Liverpool need him most. He was probably our standout player on Sunday.
Elsewhere, Trent Alexander-Arnold influenced things but will be disappointed not to have scored with one of his shots on goal.
Roberto Firmino and Mo Salah were also bright at times, but the latter, especially, failed to provide the end product needed to score.
Joanna: It wasn't quite the day for it but I was happy to see Jota hit the scoreboard twice to close out the season on a positive note, after injury wreaked havoc for him.
The summer is going to be vital amid the competition on the left with Diaz and, to a degree, Nunez.
Trent was probably the other that caught the eye again, he was the only one seemingly interested in getting us up the pitch for the most part.
His new role has breathed new life into him and I'm excited to see how it will develop with a full pre-season.
Tom: I'd say Jota also stood out to me. It is nice to see him bagging frequently for us after the slow return he had from his injury, I think he'll shine next season.
Realistically, and not Bellingham, who would be your dream signing?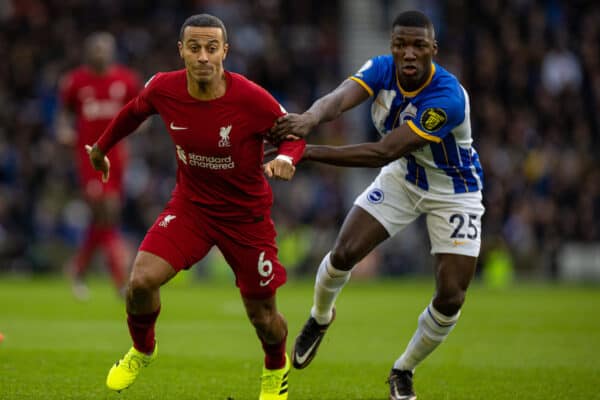 Joanna: It has to be a midfielder and I think I'm going to say Brighton's Moises Caicedo. I think he just has an incredibly high ceiling and we need that kind of ball-winner with fresh legs.
His fee would be the issue, with competition to only drive it up further. And, with Alexis Mac Allister looking destined for Anfield, I doubt Brighton would be eager to do business over two players.
For me, though, it is more about Liverpool nailing the entire window rather than one dream signing, so I'm interested to see how the club go about the window.
Tom: I would love Nicolo Barella, I think he is a great player.
I know the midfield is the glaring issue, but another centre-half is also needed especially given how poor Joe Gomez and Joel Matip looked on Sunday.
I think Jurrien Timber would be a good addition as he can play centre-back, defensive midfield and can push Trent for a right-back spot. His versatility would be useful.
Sam: Personally, I think Alexis Mac Allister is probably a good option for Liverpool.
He has got the right personality and motivation to play under Klopp and has shown for Argentina that he is capable of getting forward, as well as being disciplined with his pressing.
The Argentine would be ideal for the position on the right side of midfield.
He is far from the only addition Liverpool need, though.