Jurgen Klopp has warned there is "a lot more" to come from Darwin Nunez at Liverpool, arguing even Mo Salah and Erling Haaland had similar issues.
"The most difficult thing for a striker is coming into a team which is not clicking," Klopp told reporters ahead of Liverpool's trip to Leicester.
That, he believes, was the situation planted at Nunez's feet upon his move from Benfica for a fee of up to £85 million.
With Liverpool no longer the all-firing force they were the season before, the club-record signing had to find his feet in a side losing their identity.
In his extended press conference on Friday, though, it was put to the manager that his No. 27 had still scored 15 times in 42 games so far, and was asked if he saw more to come.
"A lot more. That's clear," he replied.
"You need time to settle. The most difficult thing for a striker is coming into a team which is not clicking, that's the most difficult thing.
"Then scoring 15 goals…imagine we would have, for us and our standards, had a normal season, a good season, an 80-or-more-point season.
"He would have scored 20-odd goals. Definitely, definitely.
"But each situation we created, if you miss it it's much more of a highlight.
"Mo Salah in his best season with 40-odd goals, whatever, missed chances – that's normal. Erling Haaland missed chances. That's how it is.
"But they had much more than we created in this period. That's what we have to do."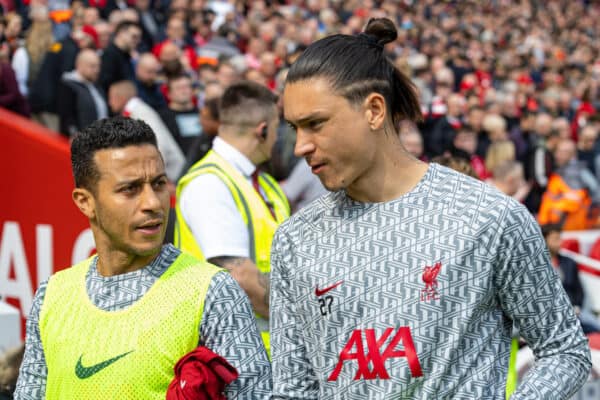 As he continued, Klopp reiterated that Nunez would need to quickly get up to speed with his English lessons, with Thiago recently spotted providing touchline instructions before the striker was subbed on at Anfield.
But a pre-season which the German is hopeful will be more straightforward than the last could be invaluable, as he and his staff "work on everything" with Nunez.
"Fifteen goals is absolutely, absolutely fine. Still three games to go, so he can possibly increase that number as well," Klopp continued.
"But we spoke about it, he needs time to adapt.
"He had that at Benfica as well, if you want, and there was no language issue – or less, at least, of a language issue than is here.
"So we work on everything with him. We try to help him so he can help us even more than he did already."