Jurgen Klopp described the ovation Roberto Firmino received on Monday night as "so cool," while revealing his chances of playing vs. Aston Villa.
As Liverpool surged to a 3-0 win over Leicester at the King Power, the travelling Kop serenaded Firmino with an extended version of 'Sim Senhor'.
After the game, the striker's team-mates embraced him and pushed him towards the away supporters, who were applauded for chants that lasted almost 20 minutes.
In his post-match press conference, Klopp was asked about the reception his No. 9 – who was not part of the squad due to injury – was given.
"That's so cool!" he replied.
The manager was then questioned on Firmino's chances of featuring against Villa on Saturday, with it being his last chance to play at Anfield as a Liverpool player.
"I think so," Klopp said.
"So, we drive home, tomorrow will be a day off, not for him but for the others, then Wednesday he will be in for team training.
"That's my information. So now we have to see."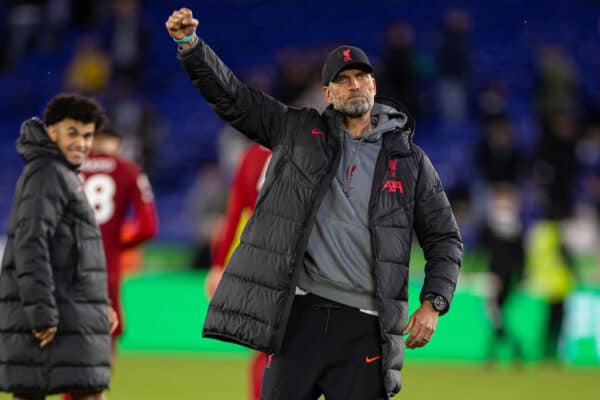 With Liverpool still fighting for a top-four finish as they aim to win their final two games and make it nine victories in a row, there can be no room for sentiment at Anfield.
That makes Klopp's position more difficult when it comes to not only Firmino, but also the likes of James Milner, Alex Oxlade-Chamberlain and others who will depart this summer.
In the past, Gini Wijnaldum and Divock Origi have been given a guard of honour by their team-mates, however this time around the manager is clearly eager to avoid the afternoon becoming a sideshow.
"Saturday's game is a super-difficult game for a variety of reasons," he said.

"[It will] probably be a farewell around the game for a few players, and then playing for absolutely everything against the second or third-best team in the Premier League for the second part of the season.
"That's super challenging, so we have to see.
"In the middle of everything, we have to win the game, we have to go for it.
"Around that, we want to show, really, the respect, appreciation and the love we feel for not only Bobby – Bobby as well – but for all the boys who will leave in the summer.
"It will be a special day with a difficult game. In between or around or whatever, we have to make sure that we can do both."