The media were pleased to see the back of Liverpool's 2022/23 season, following a 4-4 draw with Southampton that summed up their campaign.
Jurgen Klopp's men had nothing to play for at St Mary's on Sunday and it showed, with the match almost resembling a training session at times.
Diogo Jota and Roberto Firmino fired Liverpool into a 2-0 lead, but some awful defending saw Saints lead 4-2 soon after the break.
The Reds did at least battle their way to a final-day point, with Cody Gakpo and Jota both scoring, but it wasn't exactly a result to be proud of.
Here's how the media reacted to Liverpool's performance, as a wretched campaign comes to a close.
There weren't exactly positive reviews on show for the Reds…

Mark Jones of the Mirror wasn't enamoured by some of the defending at St Mary's:
"The sun was out on the south coast, and so defending on both sides decided to start the summer early.

"The phrase 'all at sea' might well have been invented for the manner in which Southampton conceded the opening two goals to Jota and Firmino, before Liverpool then replied in kind with some horrendous defending to let the hosts back in it.

"It was hardly the most serious of occasions."
Taking to Twitter, This Is Anfield's's Matt Ladson was under no illusions when it came to assessing a terrible campaign:
14 defeats, 5th place, lowest points under Klopp, out both domestic cups in 4th round, out CL in 1st knockout round.

An unmitigated failure of a season for Liverpool. Didn't achieve even close to any of the pre-season targets or expectations.

A massive summer needed.

— Matt Ladson (@mattladson) May 28, 2023
Some departing heroes had to be touched upon…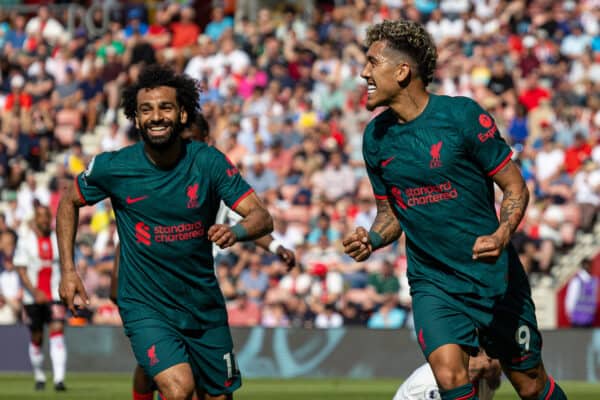 This Is Anfield's Mark Delgado focused on James Milner and Firmino, on an emotional day for both:
"Roberto Firmino and James Milner were handed a final Liverpool start before leaving on frees this summer.

"It didn't take long for the Brazilian to make his mark, a wonderfully composed solo goal coming inside a quarter of an hour to double the Reds' lead, but pre-game the acclaim for our departing vice-captain was on show too.

"A banner in the away end paid tribute to him, but it was far from a classic departure as he was somewhat bypassed in the centre and ended up at full-back."
The Mail's Isaan Khan felt the duo's farewell was more important than the actual result:
"The Reds eventually levelled, but for them it was largely all about the two men signing off one last time.

"James Milner donned the captain's armband on a record-equalling 16th Premier League final-day appearance; Firmino was handed his 362nd appearance.

"The pair are adored by these supporters, and rightly so, having put in shifts across an eight-year period since joining the club in 2015.

"Their trophy haul includes the Premier League, Champions League, FA Cup, League Cup, UEFA Super Cup and FIFA Club World Cup."
Jones did admit the fact that Milner and Firmino started, along with other fringe players, played a part in a crazy scoreline:
"A week on from their farewells in front of the Kop, there were final starts for James Milner and Firmino in a Liverpool shirt – the rarely seen dark green one they should have sported more often this season.

"The presence of both, plus the shuffling of the pack elsewhere, indicated that this really was a final day to get out of the way for Liverpool, who looked much more interested in the summer than on planning for the future.

"Caoimhin Kelleher, Joe Gomez, Joel Matip and Kostas Tsimikas also got starts too, with the future of all four in question as the summer overhaul begins.

"It is no wonder the game went wild."
This is a season we all want to forget in a hurry…

On Twitter, Joel Rabinowitz looked ahead to a vital summer at Anfield:
First time since 2014/15 I've been hugely relieved for the season to be over. Massive summer ahead – Liverpool simply cannot afford to waste another transfer window failing to address key parts of the squad. Insufficient investment a key factor in missing out on CL football.

— Joel Rabinowitz (@joel_archie) May 28, 2023
Finally, Delgado tried to look ahead positively to next term:
"What happens now is obvious: fans start to fume within the next 48 hours that five signings haven't been completed yet, or, if they are, they'll spend all August fuming that another five aren't getting done on top of them.

"On a more serious note, the planning starts quickly even as the players begin to go on their summer breaks.

"Hopefully the limited international action – some have qualifiers of course, but no tournaments – means a long and much-required rest for some who have looked well off the pace for too long, including some of the coaching staff maybe.

"And then, we'll be back with pre-season and the Europa League. We'll see if it's used as a proving ground for kids, a runaround for backups or a competition to take seriously – or more probably one which changes priorities the deeper we manage to go.

"Enjoy the summer off, Reds, and let's hope we don't see another 10 months like these any time soon."