Luis Diaz knows "just how good a player" Darwin Nunez is, joking that he and the Liverpool striker spend "every second" together at the club.
Two of the most high-profile signings of Jurgen Klopp's new era at Anfield, Diaz and Nunez have both struggled with the language barrier since arriving.
In his early days, after joining from Porto last January, Diaz somehow struck up close relationships with Curtis Jones and Harvey Elliott despite not understanding them.
Meanwhile, Nunez has slotted in comfortably within the squad, but of late Klopp has admitted his lack of English has been a problem.
Six months out with two serious knee injuries saw Diaz accelerate his lessons, while the Mail's Dominic King reported in January that he and his Uruguayan team-mate were learning together at the AXA Training Centre.
"Right now, we are really close," Diaz told LiverpoolFC.com this week.
"We spend almost every second together from the moment we get into training to the minute we leave!
"It's really cool having him as a team-mate now and I'm really proud to be playing alongside him.
"Because I know just how good a player he is, and his ability and quality offers us so much as a team."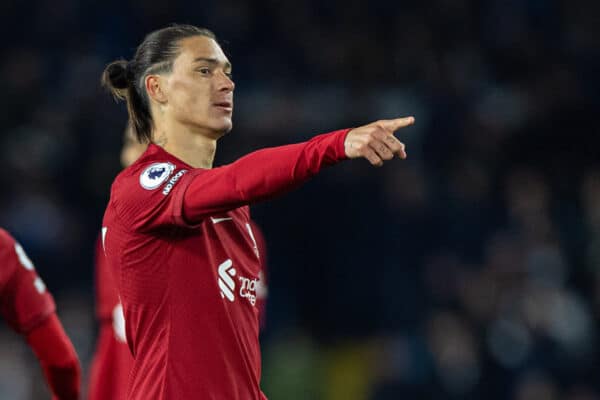 Diaz's comments come at a time when Nunez's position in the squad is being questioned, with the No. 27 having only started once in the last seven games.
Diogo Jota has been a mainstay in his stead, while Klopp turned to Diaz on the left in Sunday's clash with Tottenham, the winger making his first start since October.
The Colombian believes Nunez can "contribute massively" at Liverpool, as he "knows very well just what qualities he can bring to the party."
As Diaz continued on his own integration at the club – which began 16 months ago now – there was a message that will likely ring true for Nunez.
"My team-mates have helped me with getting used to the football and with the language and made me feel comfortable and at ease," he explained.
"They've made me feel at home in every single training session, and these were all important factors in my settling in much more quickly."