Alex Oxlade-Chamberlain has put it out to clubs questioning if they fancy "a bit of the Ox" as he looks for the fourth club of his career.
Soon after the curtain closed on the midfielder's Anfield career he had already spoken of a possible return, only as part of the away side.
He did not know then, nor now, which club that may be with but he already had a goal in mind – that being to dribble past Virgil van Dijk for the first time, to which we wish him good luck!
Although his future remains up in the air, Oxlade-Chamberlain is ready "to seize" the opportunity once the right one comes along, and he is not shy in promoting himself.
"It's a new experience for me so there's a bit of hesitation and a bit of uncertainty and not knowing. But it is still exciting," he said of his free agent status to the Mirror.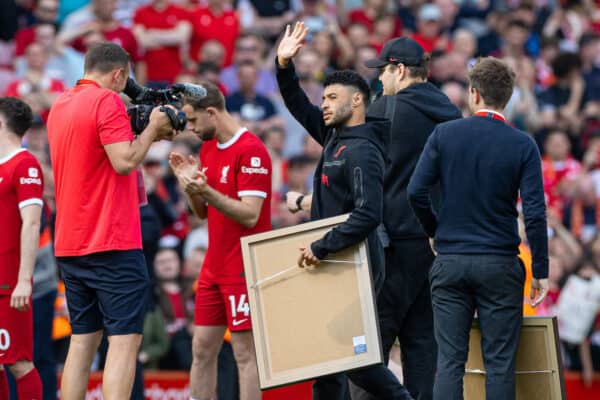 "The only thing I can focus on is expecting something to come up and be ready to seize that opportunity when it comes.
"That's the thing I'm focusing on, focusing on staying fit, being ready and seeing who still fancies a bit of the Ox!"
The 29-year-old's six years with Liverpool were full of 'what if' moments after injury derailed and robbed him of the chance to become an integral member of Jurgen Klopp's squad.
It has not quenched his thirst for success, quite the opposite, but it has left him with a desire to prove a point, which has been a familiar theme of his career.
"I still want success, I've had a taste of it here, they've been the best years ever," Oxlade-Chamberlain reflected on his time at Liverpool.
"So, if by any chance, I can have another sniff of achieving anything like that again then I'd bite your hand off.
"I think I need to go and play somewhere as consistently as possible. They say you're coming into your peak at 29, so I want to go and test myself, play consistently somewhere.
"I'm still hungry, I still feel I have a lot of games left in me and a lot of energy left in me. I don't like to say a point to prove, but that's always been my attitude.
"From when I went to Arsenal, I felt like that. When I went to Liverpool, that's how I felt. When I walked through the door, I felt like I needed to do that. It's the same again.
"To prove myself and to prove the people out there to show what I'm capable of still doing."
There have been reports of interest from Premier League clubs but nothing concrete has yet arisen for Oxlade-Chamberlain.