Scoring late is arguably the best way to win a football match – and Liverpool do it more than most! Here, we look back at Liverpool's 10 best stoppage-time winners under Jurgen Klopp.
When the ball strikes the net, you lose control.
Whether you know them or not, you embrace the person to your right and left as you leap for joy.
The feeling is unparalleled and thankfully, Liverpool have provided that experience more than anyone else in the Premier League era.
No team has scored more stoppage-time winners (41) than Liverpool since the Premier League began, and over 30 percent (13) of those have come during Klopp's tenure at Anfield.
When Diogo Jota netted at the death against Tottenham, it was the sixth time Klopp has brought on a substitute who went on to score a last-minute winner in a league match.
In fact, no manager has done so more times in the Premier League. Way to give us all a complex, Jurgen!
Here is a list of Liverpool's 10 best stoppage-time winners since Klopp arrived on Merseyside.
10. Klavan vs. Burnley – 2017/18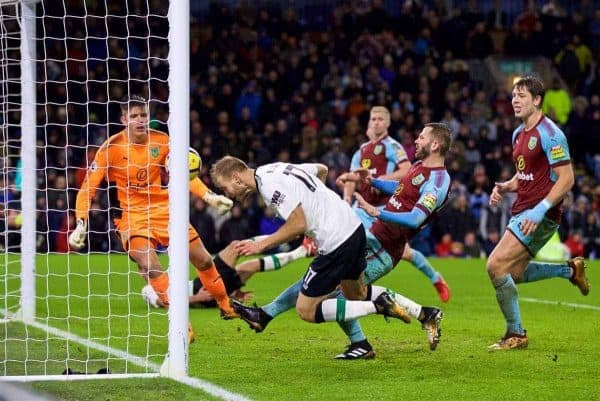 New Year's Day 2018 brought an unlikely hero as Ragnar Klavan sent the away end wild at Turf Moor.
A notoriously tough place to visit, Sean Dyche's Burnley made Liverpool scrap for the win after equalising late – the Reds love a bit of drama, almost too much.
And as we all know, Liverpool were not done yet.
Dejan Lovren nodded the ball down into the six-yard box from a free-kick and instinctively Klavan scrambled the ball over the line, sending the away end into bedlam with a mix of relief and euphoria.
9. Alderweireld OG. vs. Tottenham – 2018/19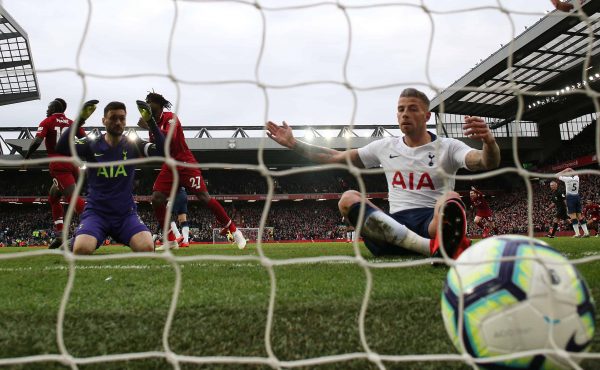 This moment was made all the better when the camera behind the goal captured the range of emotions exhibited across the faces of the Spurs players as the ball crossed the line.
Toby Alderweireld was the one with the final touch after some lovely work by Trent Alexander-Arnold and Salah, another reminder that Spurs will always be Spurs.
8. Jota vs. Tottenham – 2022/23

OK, so there may be some recency bias in this choice, but why not relive Jota's dramatic winner again?
It should never have got to the point of needing a last-minute winner but these are the moments that keep you coming back for more.
Anfield rightly erupted, and watching Richarlison celebrate as though it was his crowning moment to only 99 seconds later have his strike cancelled out was the cherry on the top.
Unlucky!
7. Lallana vs. Norwich – 2015/16

Most clubs would have this at the top of their list, but Liverpool are not 'most clubs' so it is only seventh on ours.
"It's 5-4" cried the commentator as Adam Lallana bundled the ball into the back of the net, putting the finishing touches on a rollercoaster match that had it all.
There were six second-half goals shared between the two teams but Lallana's was the only one that mattered.
That it was, in part, created by defender-turned-forward Steven Caulker only added to the bizarre nature of the whole experience.
The goal was made even more memorable by the celebration, which saw the midfielder whip his top off and jump into Klopp's arms before Cristian Benteke broke the manager's glasses in the wild scenes.
Still brings a smile all these years later.
6. Origi vs. Wolves – 2021/22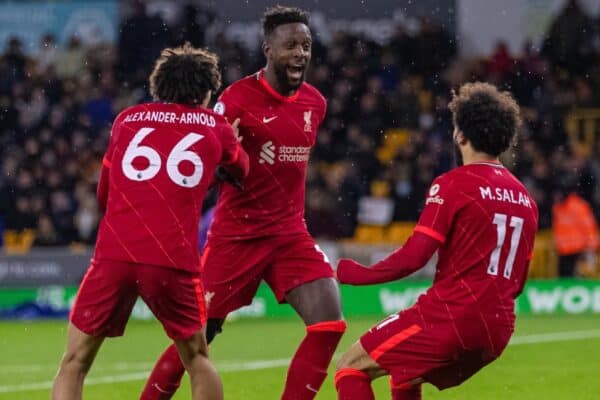 This won't be the last time you see Divock Origi's name pop up on this list.
Another goalscorer off the bench who made the world of difference, winning the game off his own boot in one of the highs of a season that had its fair share of memorable moments.
It was an excruciating game to watch as Liverpool just could not find the net and we all know if you're in a title race with Man City, you can't afford dropped points.
The reaction of his teammates to the goal said it all, as did the travelling Reds who had long come to expect anything and everything from the enigma that was our No. 27.
5. Mane vs. Aston Villa – 2019/20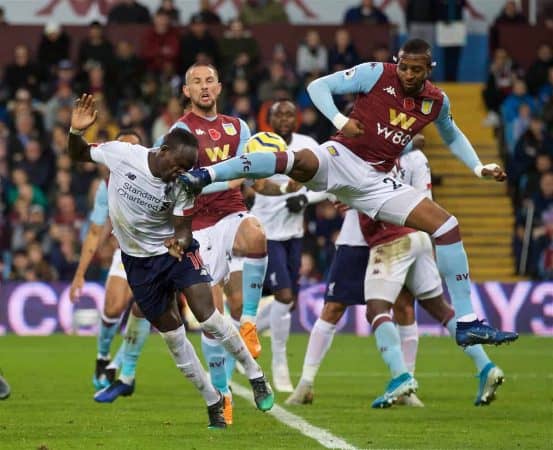 For many, this was the moment they knew Liverpool could win their first league title for 30 years.
The Reds found themselves 1-0 down with less than five minutes left on the clock, but they never gave up.
It personified the mentality giants that Klopp had built from the ground up, Andy Robertson striking first before Mane showed incredible bravery for the winner.
His header was perfectly executed but let's not forget he received a kick to the face at the same time as he was making contact, and there was hardly a reaction from the former No. 10.
The travelling supporters were euphoric as Liverpool's players wheeled away to celebrate in front of them. From dispair to exhilaration, no one does it quite like Klopp's Reds.
4. Mane vs. Everton – 2016/17

Another game, another Mane winner next to the away end.
The image of the Senegalese forward bursting through the smoke of a nearby flare will be forever etched in our minds.
When Daniel Sturridge's strike across goal hit the base of the post, everyone let out a sigh.
That was everyone except Mane, who read the direction of the ball and sprinted in to tap home for a last-gasp derby winner with the clock reading 90+4'.
Merry Christmas, Everton!
3. Lovren vs. Borussia Dortmund – 2015/16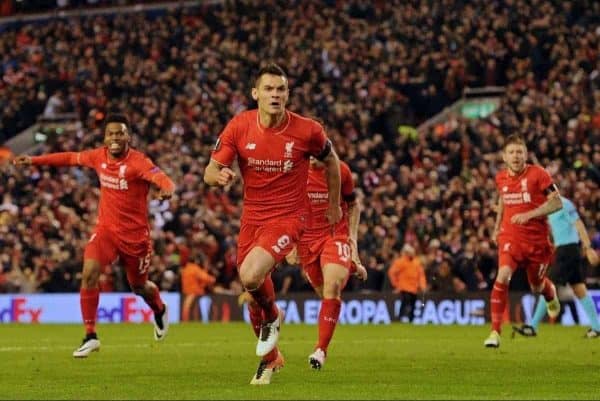 Dejan Lovren divided opinion during his time at Anfield, but fans were united in jubilation when this late winner went in.
Anfield is known for playing host to some special nights of European football and this one was right up there.
Liverpool needed three without reply on the night after surrendering three goals to Dortmund, and Lovren was the final piece of the puzzle that we, excruciatingly, had to wait until stoppage time for.
It was more than worth it, though. The header was emphatic and it led to tears being shed in the stands, the cries of disbelief and pure adrenaline. This was Klopp's Liverpool in Europe, only a taste of things to come.
2. Alisson vs. West Brom – 2020/21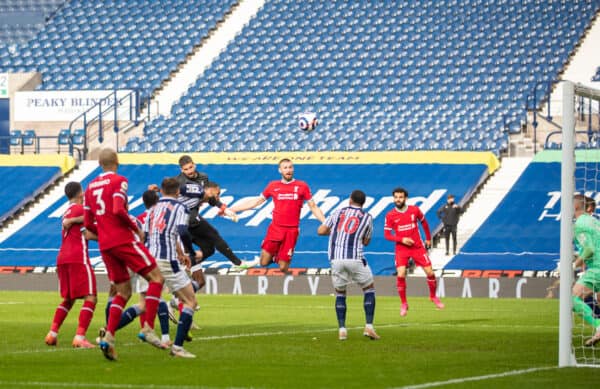 Do you still find yourself seeking this out to sneak a few watches? Wouldn't blame you if you did!
While there were no supporters able to witness the moment in person, Alisson's header will go down in history for its sheer incredulity.
We all saw him make the run up to the penalty box, no one picked him up and yet even after making contact and wheeling away, it still did not feel real.
It was a header any world-class striker would be proud of and it breathed life back into the team as they surged towards a third-place finish. Liverpool's Mr Reliable in both boxes it turned out.
We still can't believe it!
1. Origi vs. Everton – 2018/19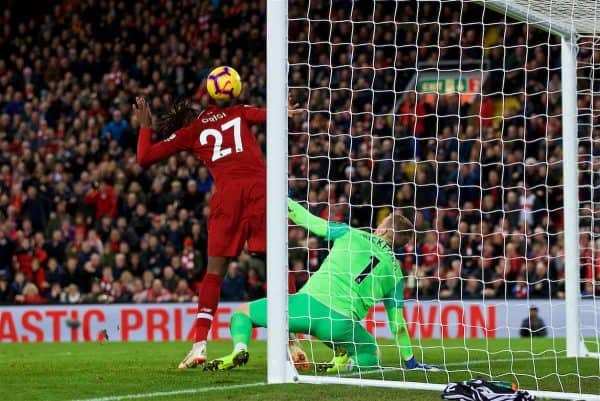 Oh Everton, we're all laughing at you.
Just when you thought one stoppage-time winner was enough ammunition against the Blues, another was only around the corner.
And the best thing was, Origi had not even seemed to realise he had scored the winner!
Jordan Pickford flapped at it, Origi gambled and it sent Klopp sprinting into the arms of Alisson and propelled Anfield to its feet in delirium.
If only you could bottle up that feeling – not sure we'll have the chance of too many more in the near future if Everton fail to avoid relegation.