We were never able to celebrate the Premier League title the way it deserved in 2020, but Jurgen Klopp's squad made the most of the moment when they realised the trophy was theirs.
On June 25, 2020, Liverpool had hit the 31-game mark and had 86 points to their name. A tally that proved unassailable later that day to see the Reds crowned champions of England.
Man City delivered the decisive moment, or should we say Chelsea, as Pep Guardiola's men fell to defeat at Stamford Bridge to see the title head to Anfield.
With the world in lockdown due to the pandemic, celebrations would look a lot different to what we had all imagined when the 30-year wait came to an end.
But the Liverpool players did enjoy a sense of normalcy as they all congregated at the team hotel to ensure they would be together for the crowning moment.
Here are five things you may not remember from the night or may just want to relive!
The countdown to the title
The Reds were glued to the television as they watched Man City's trip to Chelsea and their countdown to the final whistle is something we will never grow tired of watching.
Not wanting to miss out on sharing the moment as a squad, they all congregated at the team hotel for a barbecue and watching party, a decision they would live to cherish.
The suspense, the excitement and the outpouring of emotion as the ultimate goal was finally attained. 'Campione Campione Ole Ole Ole' rightly rang out, but the celebrations were only just starting.
Van Dijk's interview interrupted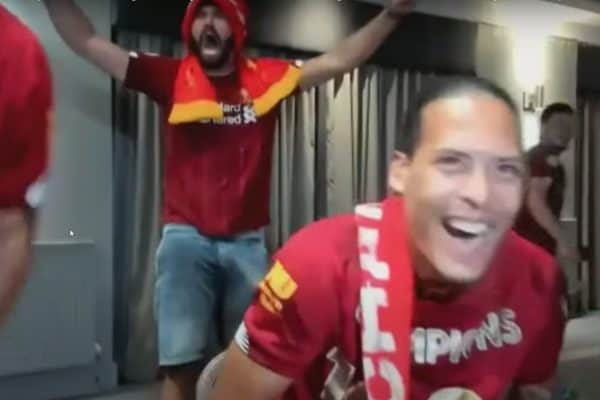 For such a historic moment there was, of course, media rounds aplenty for Klopp and his squad but that did not mean they couldn't have a bit of fun at the same time.
Virgil van Dijk swiftly saw his interview with BT Sport interrupted by his teammates as they delivered an impassioned rendition of 'Campione Campione Ole Ole Ole'.
Alisson was clearly enjoying his evening!
Klopp sheds a tear
The moment itself was emotional for all but if you had not shed a tear up until this point, you certainly did after seeing Klopp and hearing what he had to say.
"I have no words, it's unbelievable," he said in his interview, with the emotion on his face saying it all.
"It's much more than I ever thought would be possible, becoming champion with this club is absolutely incredible."
You cannot help but love Jurgen.
Reds hit the dance floor
These videos show you all you need to know about the celebrations that went long into the night – we cannot forget about the matching 'Champions 19-20' kits though!
Championssss!!!! ?? #YNWA pic.twitter.com/uqcEenccRR

— Trent Alexander-Arnold (@TrentAA) June 26, 2020
I only came down for breakfast…!!! @LFC pic.twitter.com/uJbbj9acFU

— Andy Robertson (@andrewrobertso5) June 26, 2020
With lockdown still in effect, this bubble proved a rare but valuable chance to be together and celebrate, and they made the most of every minute.
Klopp shows off his moves
Klopp. ? pic.twitter.com/WVveenNubu

— LFC Photo (@LFCphoto) June 26, 2020
The manager once said: "When there is a party for a reason I am in it, 100 percent, I do not have 20 percent parties."
Well, we certainly saw 100 percent effort with his dance moves – his footwork, the engagement with the crowd, just look at him go!
These are the things we want to see more of in the future.