With Liverpool's first deal of the summer complete, what comes next? It may not have seemed a priority at first, but there's no surprise a left-sided centre-back appears to be on the wishlist…
Josko Gvardiol. Levi Colwill. Jarrad Brainthwaite. Goncalo Inacio. Micky van de Ven. All Liverpool targets, all centre-backs – and all left-footed.
The left-footed centre-back has become an increasingly prized asset in the modern game.
But what is so valuable about being left-footed, and why are Liverpool now following the trend?
Angles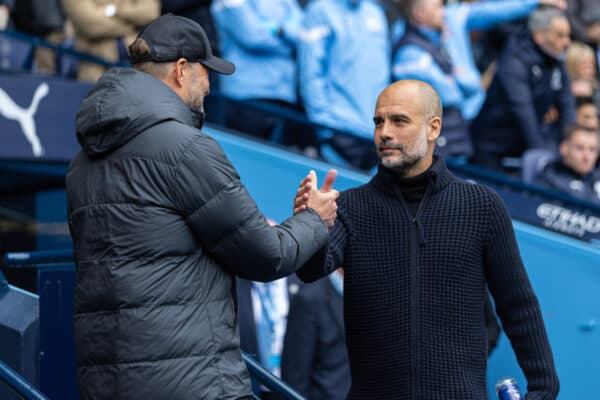 Pep Guardiola lauded the contribution of Nathan Ake for Man City in the season just gone. Newcastle had the best defence in the league after adding Sven Botman to the back line. Arsenal signed Jakub Kiwior in the middle of their title push.
Why are these managers so keen on southpaws at centre-back?
Besides a general sense of balance, having a left-footed player on the left side creates better passing angles to retain and progress the ball.
Consider this moment from the 2-0 win over Everton. Joe Gomez controls the ball and assesses his options.

With the classic Virgil van Dijk diagonal blocked off, he looks left. But the angle of the pass brings it closer to the opposition marker…

…putting the receiver under immediate pressure and forcing the ball backwards.

Imagine Gomez was left-footed. He could allow the ball to roll across his body, before playing the pass out to the left-back on a convex angle.
The ball would arc away from the marker before curving back inside to the receiver.

The angle makes it harder for the opponent to press that ball, in turn giving the receiver more time to control it and make their next move.
Beating the press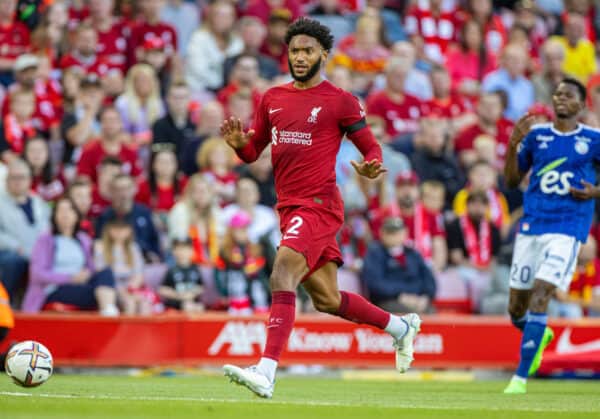 Another detail from the previous example is worth circling back to: how a left-footed player receives the ball.
Gomez could theoretically pass with the outside of his boot, creating that convex angle. But controlling the ball with his right stops the momentum of the ball and brings it inside.
He then has to shift his hips to play the pass. All of which gives the opponent time to push up and put Liverpool under pressure.
A left-footed player can allow the ball to roll across their body, play a one-touch pass out wide, and speed up the play.

Even if they take a touch, the ball will end up out of their left foot, creating a yard of space to go short or hook a big diagonal out to the right.
Not only do they have more options, it's also harder for the opponent to get close enough to pressure or intercept.
Here's an example from Man United vs. Everton. Lisandro Martinez repeatedly offered an escape from the aggressive forward press when building out.

This gradually discouraged Everton from committing to the press, giving Martinez time and space…

…to pick out a decisive pass.
You can't make those mistakes at Old Trafford…

Marcus Rashford pounces on Seamus Coleman's error, setting up Anthony Martial to score. pic.twitter.com/m2EDYw62yh

— Football on BT Sport (@btsportfootball) April 8, 2023
With teams becoming more and more adept at disrupting buildup with the press, left-footed defenders have been used more and more to beat it.
Incision

Since switching to a 3-2-5 buildup shape, Jurgen Klopp has used Andy Robertson as his left-footed centre-back.
The Scot got off to a rocky start in the role vs. Arsenal, in a moment that demonstrated the value of building out with a player's strong foot.
The natural angle of Ben White's through ball allows Bukayo Saka to run onto it…

…forcing Robertson to change direction suddenly. He slips…

…allowing Saka to tee up the opening goal.
Robertson had earlier demonstrated his ability to play these passes during the 7-0 win over Man United.
Spotting the run of Cody Gakpo, Robertson played a quick through ball. The angle of the left-footed pass took the ball away from Fred before curving back into Gakpo's path for him to finish.
WHAT A FINISH FROM CODY GAKPO ?? pic.twitter.com/FsymQuFObF

— Sky Sports Premier League (@SkySportsPL) March 5, 2023
Liverpool's league goals scored fell from 94 to 75 in the last two seasons, with counter-attacking goals rising from five to seven.
One way the Reds can control play better and score more goals from buildup is to open up more incisive passing from the left.
Tall order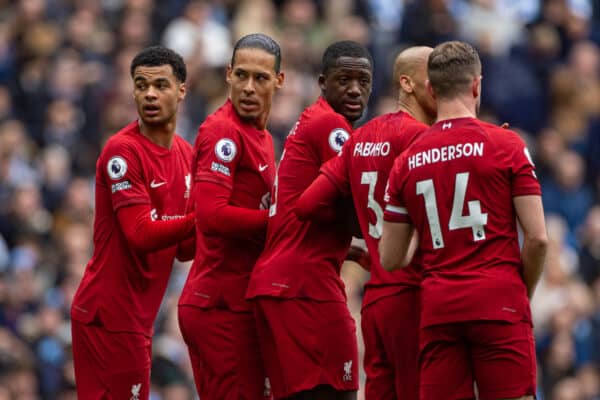 Why doesn't Klopp just stick with Robertson in the role?
Perhaps he will. But here is where Guardiola's assessment becomes relevant:
"The big step this season was having proper, proper defenders in the back four. Win your duels in our box."
Speaking after lifting the Premier League title, the problem Guardiola was solving was that, after a generation of attacking players fashioned into full-backs, coaches have begun targeting these players.

For Liverpool, both Alexander-Arnold and Robertson have been isolated one-on-one against tricky wingers, but they've also been targeted with crosses to the far post.
Robertson is a very good, tenacious defender, but there's no getting around his height.
Liverpool may therefore be seeking a technically sound, 6'4″ lump (see: Micky Van de Ven) to combat certain opponents.
Liverpool's left centre-back targets

Levi Colwill, 20 (Chelsea) – 6'2″
Micky van de Ven, 22 (Wolfsburg) – 6'4″
Josko Gvardiol, 21 (RB Leipzig) – 6'1″
Goncalo Inacio, 21 (Sporting CP) – 6'1″
Nayef Aguerd, 27 (West Ham) – 6'3″
Jarrad Branthwaite, 20 (Everton) – 6'5″
Marc Guehi, 22 (Crystal Palace) – 6'0″
Whether Liverpool continue with a back three or revert to a back four, having the option of a left-footed centre-back will help them build up more effectively, beat the press and defend more robustly in the coming season.
With centre-back widely acknowledged to be a target area for recruitment this summer, it appears Liverpool are taking the opportunity not just to refresh, but also to evolve.