With Trent Alexander-Arnold deployed in midfield for England, inspired by his hybrid role at Liverpool, right-back Conor Bradley has spotted a gap.
It seems unlikely that Alexander-Arnold will be shifted to midfield at Anfield, with the disguise of his current role in Jurgen Klopp's new 3-4-3 part of its beauty.
But a successful night operating as a roving No. 8 as England beat Malta 4-0 on Friday further fuelled the argument that he should change positions full time.
If that were the case, youngster Bradley – who will return from a loan spell at Bolton eager to make a mark in pre-season – believes he could play alongside Alexander-Arnold.
"Yeah," he told the Belfast Telegraph, when asked if he could see him and the No. 66 in the same team.
"Obviously it's down to the gaffer, whatever he decides.
"Trent is a special talent, he's one of a kind, he's a brilliant footballer.
"We'll just have to wait and see, see how I do in pre-season, and then we go from there."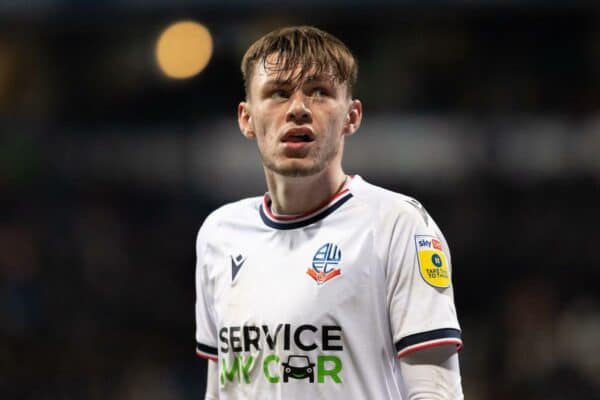 There has been some misunderstanding over Alexander-Arnold's new hybrid role, of course, leading to calls for Liverpool to sign a new first-choice right-back.
In all likelihood, Klopp will either stick with his new 3-4-3 setup – which sees the right-back shift inside next to Fabinho in a box midfield in possession – or revert to his 4-3-3 next season.
Either way, there is a chance Bradley can carve out a role, having excelled as an attacking wing-back at Bolton, scoring seven goals and assisting six in 53 games.
The manager is yet to divulge whether the 19-year-old will stay as part of his senior squad next season or head out on loan again, but the decision to send Calvin Ramsay to Preston has boosted his chances.
It seems, though, that much still hinges on what he shows during pre-season.
"I do pre-season with Liverpool, which I'm really looking forward to, and we'll see what happens," Bradley added.
"We haven't spoken about what exactly is going to happen but obviously it's a big one for me so I'm looking forward to it."