Off the back of nearly making history after a quadruple chase, Liverpool's 2022 summer activity is one that proved lacking as only one player will remain for next season.
Calvin Ramsay, Fabio Carvalho, Darwin Nunez and Arthur.
Four senior signings arrived in the summer of 2022. Two teenagers (at the time), a record signing and a loan move wreaking of desperation and ill planning.
Fast forward nearly 12 months and both Ramsay and Carvalho will spend next season on loan, Arthur played a measly 13 minutes and Nunez has plenty of promise but still has a point to prove.
After being only two victories away from a historic quadruple, Liverpool again failed to build from a position of strength and instead left themselves with mounting pressure to turn the tide.
Four for the price of £102.8m

Let's rewind to last summer.
A riveting yet exhausting 63-game season came to a close with European Cup heartbreak and yet optimism remained for what could lay ahead, despite another two low blows in the league and cup.
Liverpool's transfer aficionado, Michael Edwards, left his role as sporting director and passed on his responsibilities to successor Julian Ward, who has now also departed.
A significant change that Liverpool will have hoped would be seamless.
There were calls even then for a midfielder but word was the eggs were put in Jude Bellingham's basket for the following year – it would later prove we had egg on our faces.
Jurgen Klopp spoke firmly in support of his existing midfield options, questioning "Where is the need for a midfielder?"

Just 52 days later, the club acted quickly in the face of growing injury concerns in midfield by signing Arthur, an emergency stop-gap that could have been avoided.
It was not as if Liverpool had failed to target a midfielder at the start of the summer, with Aurelien Tchouameni at the top of their wish list before Real Madrid pounced.
It was then radio silence on that front with supporters informed that the big move would be in 2023. Need I remind you of the eggs?
In the end, the Reds committed a combined £99 million for Ramsay, Carvalho and Nunez, plus a £3.8 million fee for Arthur's loan spell – it equated to £292,308 per minute played for the Brazilian.

The Scottish right-back played 93 minutes after a season besieged by injury and will spend next season on loan at Preston, Carvalho totalled 638 minutes, is not in Klopp's plans and will also go out on loan.
Nunez injected chaos and spark into the team and has obvious raw potential, but the Uruguayan has yet to answer lingering questions over his suitability to Klopp, which saw him move to all but fifth choice in the forward line by season's end.
An expensive long-term project that we can only hope time will prove was worth every penny.
This is not to say Ramsay, Carvalho nor Nunez cannot be resounding successes in the years to come, whether it be for a sell-on fee or at Anfield, but for a team that had only just seen a quadruple agonisingly pass them by, it was a weak and damaging transfer window.
Learning from mistakes

We all know Liverpool cannot afford to make mistakes in the transfer window, the self-sustaining ways under FSG do not allow for it.
It means the club have to be savvy and shrewd, but as I wrote not too long after it was confirmed Liverpool had pulled out of the hunt for Bellingham, we look foolish when suddenly the fees start adding up, we pull out and the ship has sailed on alternative targets.
Too much time has been wasted, the season gone was sacrificed for a player who is now at Real Madrid and it left it all to do this summer – and this time we are not building from a position of strength.
Mistakes were made and they need to be rectified. All eyes are on them to do so.
Alexis Mac Allister is the ideal start, but it is just that. A start. The Argentine will not solve all the issues on his own and ideally, he will be joined by two more midfielders and a defender.
Klopp insisted "we will spend in the summer" and despite being eager for swift signings he knows "it's always possible that things don't go as quick as you want."

He added: "If we get the new players in tomorrow or in six, seven weeks, it's not a game-changer for me."
Of course, patience may be a virtue not shared among some supporters – especially with last summer in mind, we have seen what panicking can lead to.
There are holes in the squad to address, a rebuild cannot wait another year and as Neil Jones reported for This Is Anfield, Liverpool have more than Plan A in motion.
But the ghosts of last summer and that immediately following the European Cup win in 2018/19 leads to plenty of caution as the Reds are running the serious risk of falling even further behind their rivals.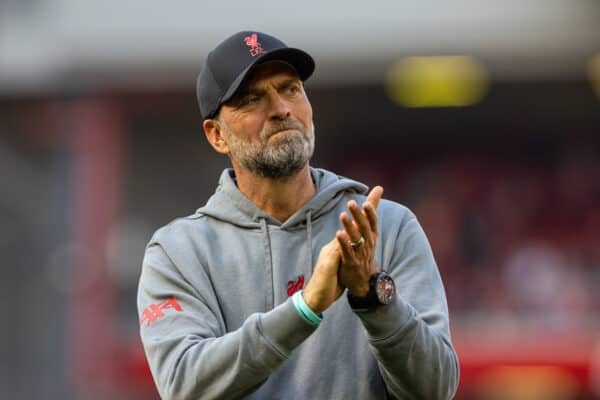 We did not need hindsight to see the four additions last summer was a catastrophe from a Liverpool perspective, leaving them with growing gaps in the squad and, no doubt, a strict budget to operate within in which to fill them.
Liverpool cannot allow the same to be said of this summer.
Klopp, Jorg Schmadtke and Mike Gordon have their work cut out for them and everyone they come into contact with will know just that – but they have the opportunity to turn the tide at Anfield and ensure those splattered eggs are a distant memory.