Legendary producer Dr Dre posed with Curtis Jones during the midfielder's time in the United States, but it wasn't his first brush with Liverpool.
Dr Dre, famous for being part of NWA, his solo albums The Chronic and 2001, and with work with Eminem, Snoop Dogg, 50 Cent and countless others, is a global name.
That made his meeting with Jones in California, shared on the 22-year-old's Instagram story, a surprising one.
But speaking to Liverpool's official website back in 2001, the rap legend revealed he was, in fact, a Reds supporter.
"They're the team I always look out for when I'm at home," he claimed.
"Back in 1988 I was in London on a promotional tour with NWA, and one night we were watching TV and these cool cats in red came on the box.
"They whupped some poor dudes four or five zip."
At the time, Liverpool were enjoying major success under Kenny Dalglish, winning the First Division title in 1987/88 as well as reaching the FA Cup final.
Liverpool did thrash Nottingham Forest 5-0 towards the end of that campaign, so perhaps that is the game that got Dr Dre hooked.
Asked if he remembered any players from that night, he replied: "John Barnes. He was bad.
"Kinda reminded me of Magic Johnson. I'm from LA and dig the Lakers, especially when Magic was there, and Barnes was like him, in that he made the ball talk. The cat was cool."
In a surreal interview held 22 years ago, Dr Dre described Michael Owen as the Reds' "most famous player in the States," as well as name-checking Robbie Fowler, Jamie Redknapp and "the guy with the long hair."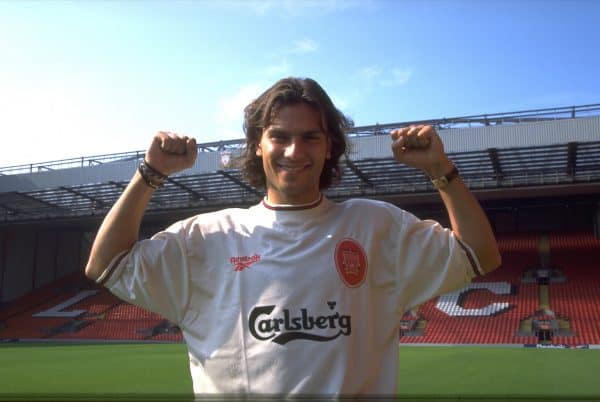 Reminded of Patrik Berger's name, he replied: "Bingo! He's the bomb!"
Years later, in 2021, Dr Dre's business partner Jimmy Iovine, who he co-founded Interscope Records and Beats Electronics with, entered into a partnership with Fenway Sports Group.
Iovine is now listed among 32 FSG partners, also including John W. Henry and his wife Linda Pizzuti Henry, Liverpool chairman Tom Werner, president Mike Gordon and NBA icon LeBron James.
Whether Dr Dre brought up his love for Liverpool when he linked up with Jones, though, could remain a mystery.