Liverpool have made contact with Southampton over a possible deal for midfielder Romeo Lavia, so what could he offer if he made the move?
Lavia, the 19-year-old Belgian, is among Liverpool's transfer targets as Jurgen Klopp rebuilds his midfield ranks this summer.
Having only arrived from Man City last summer, interest in the teenager comes on the back of a standout first campaign as a senior player in which he made 35 appearances.
Liverpool are reported to have enquired over the possibility of a deal with relegated Southampton, while they also consider moves for other midfielders.
Though he was a regular throughout the Premier League season, Lavia may still be a relative unknown for many supporters on Merseyside.
So if he were to join Liverpool this summer, what do we need to know?
To hear more about Lavia and his ability as a player, This Is Anfield spoke to Fraser Spinney (@FraserSpinney21), Southampton writer for Analytics United.
Firstly, what type of midfielder is Romeo Lavia?
Lavia is a defensive midfield player who has done his best work as a lone pivot/No. 6.
He is a combative midfielder who likes to get stuck in, as shown by his nine yellow cards last season, very quick across the ground and makes a lot of challenges.
He's also very good in buildup and comfortable taking the ball under pressure, always making himself an option to receive a pass.
When he has got further forward he hasn't looked out of place at all, and scored a very good goal against Chelsea from the edge of the box last season.
What are his strengths?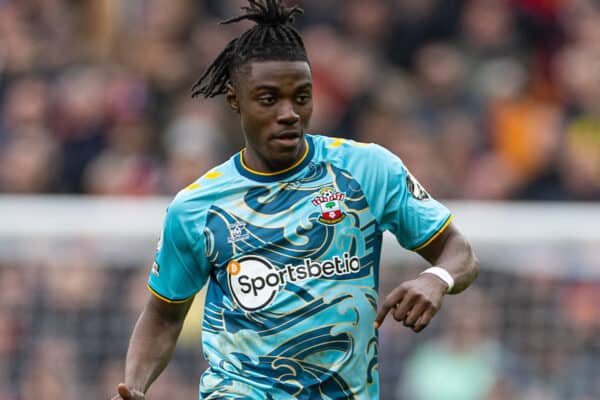 Arguably, his biggest strength is that he is incredibly press-resistant.
As mentioned, he is very good in the buildup phase and helping his team build through the thirds of the pitch.
Such was his performance in this function last season that a number of opponents man-marked him when Southampton had the ball at the back – as teams identified if you stop the supply line of passes to Lavia, you restrict their ability to pass out.
Considering last season was Lavia's first as a senior player his composure and maturity were quite remarkable, as well as his consistency in performance.
Why do Arsenal, Chelsea and Liverpool want to sign Roméo Lavia? ?#SquawkaScout pic.twitter.com/L4kStHD6N2

— Squawka (@Squawka) June 29, 2023
He is a good passer and rarely loses the ball, and one of his key strengths is one-on-one duels both defensively and offensively, beating his marker with a drop of the shoulder or sharp turn.
Whilst his short passing is very good, he is also talented at progressing the ball through his dribbling or more direct forward passing.
He has a great burst of pace and his positioning rarely lets him down.
Have there been any weaknesses in his game?

He's young so he will mistakes at times, although I would say I can't remember seeing a midfielder as composed and mature as him at his age.
The opener in the final-day 4-4 draw between Liverpool and Southampton was a good example of those errors, as Lavia misplaced a pass in his own box and Jota scored as a direct result.
One of his biggest assets is that he is prepared to take risks and responsibility despite his age, but this can also be costly if the ball is lost, particularly given he is often operating at the base of the midfield.
He is also not the best aerially, but can make up for this with his positioning to some extent.
Not a weakness per se, but he did miss six weeks early on last season with a hamstring injury.
Ralph Hasenhuttl admitted at the time that perhaps Southampton had overused him so early in his career, having never made a senior competitive appearance prior to last season.
Who would you compare him to as a midfielder?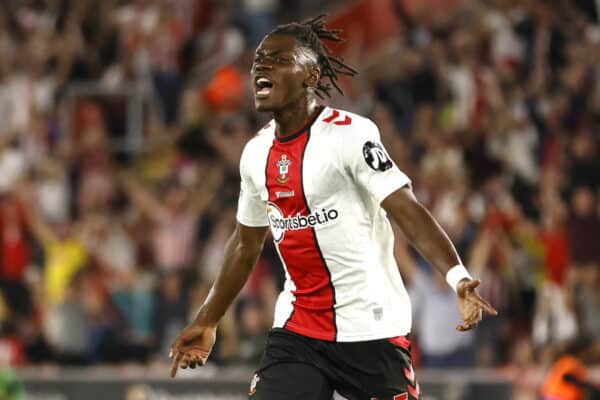 It is quite hard to pinpoint which players Lavia resembles in playing style, as he is relatively unique in his attributes.
They're very different in stature, but there's an air of ex-Tottenham midfielder Moussa Dembele about him in the way he glides past challenges and manages to wriggle his way out of tight areas, despite the fact they play in areas where you're often in trouble if you lose the ball.
His footwork is reminiscent of the likes of Paul Pogba and ex-Saint Mario Lemina in the way he uses trickery and his body to evade challenges, although it must be said his performances are far more consistent than Lemina's.
He is very good at keeping possession with his passing but also looks to break the lines when the time is right, which makes him a useful player in transition and when sprinting for counter-attacks.
The way he covers ground defensively and his ability to smell danger are N'Golo Kante-esque at times, although he has a long way to go before he reaches the effectiveness defensively of Kante in his prime.
Could you see him fitting into Liverpool's system, either in a 3-box-3 or a 4-3-3?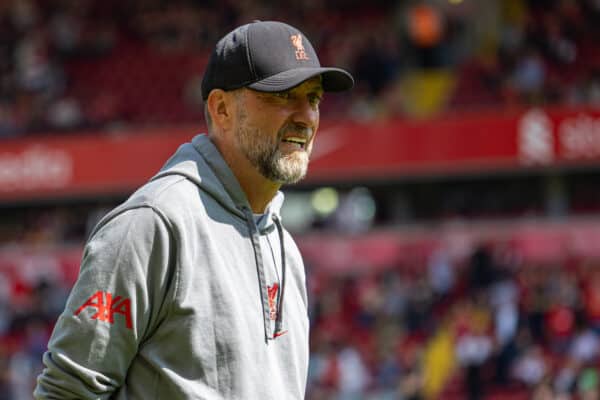 Whilst given his age he may not get into the team instantly, he could comfortably play as No. 6 or No. 8 – though he is so good as the lone pivot role it would almost be a waste to use him anywhere else.
I can see him taking over from Fabinho, or at least giving Jurgen Klopp a real decision to make there.
It is difficult to envisage him lining up alongside Fabinho very often given their similar skillsets and the way Liverpool play.
In a 3-box-3 alongside Trent Alexander-Arnold stepping into midfield they could form a very effective duo.
Could he make the step up to Liverpool next season?
One-hundred percent he could.
He is still very young and has only played one season of senior football but he really does have the makings of a world-class midfielder.
His energy, ability to read the game and his composure are incredible and he will only get better.
---
* Thanks again to Fraser Spinney for the lowdown on Romeo Lavia. Follow Fraser on Twitter @FraserSpinney21.