Twelve months into his Liverpool career, Darwin Nunez remains something of an enigma for Jurgen Klopp.
Not a problem, necessarily. Not yet anyway. But certainly a puzzle to be solved, another question to be answered, in a team which has plenty to prove going forward.
Mixed, would be the best way to describe Nunez's first year at Anfield, you'd say. Enough promise to convince the optimists, for sure, but equally enough difficulty to give the pessimists something to cling to.
An expensive flop, an Andy Carroll regen, or a 24-year-old with big talent and big potential, but also big flaws to iron out? You decide.
Klopp's opinion, of course, is the one that counts, and while it is fair to say the Reds boss is aware of the need to extract more from the Uruguayan, and to find an attacking system which suits him, it is also clear that his faith in Nunez is undiminished.
"He's a real handful, a machine," Klopp said, bullishly, in May. "He will score a lot of goals." Hard to argue really, given Nunez managed 15 in only 26 starts last season.

He may have had his difficulties, but he scored against Manchester City and Manchester United, against Arsenal and Newcastle, and against Napoli and Real Madrid.
He set up four goals, all for Mohamed Salah, and impacted plenty of games with his speed, power and movement.
The question now, though, is whether he is in Liverpool's 'best' front three going forward, and if so where?
How staff saw Nunez's first season

He was signed as a No. 9, but a lot of his best work last season came playing from out-to-in off the left. His performance away to Tottenham in November, in particular, was a terrific example of quick, direct wing play, attacking space and asking questions of defenders through physicality and smart, diagonal runs.
Those who scouted and recruited him did so with the belief that he would play as a centre-forward, and that is still the plan as far as Klopp and his coaches are concerned.
Staff at Kirkby believe Nunez's movement, in particular his timing against the last line and his subtle, almost imperceptible shifts inside the penalty area, are of an elite level.
His ability to recognise where the space is, and to manufacture it when it doesn't exist, was a key feature of his development at Almeria and Benfica, and is what enabled him to rack up a remarkably high volume of shots and chances (as well as a healthy xG tally) during his maiden campaign on Merseyside.
He gets in constantly, and when you get in constantly, you're doing a lot of things right.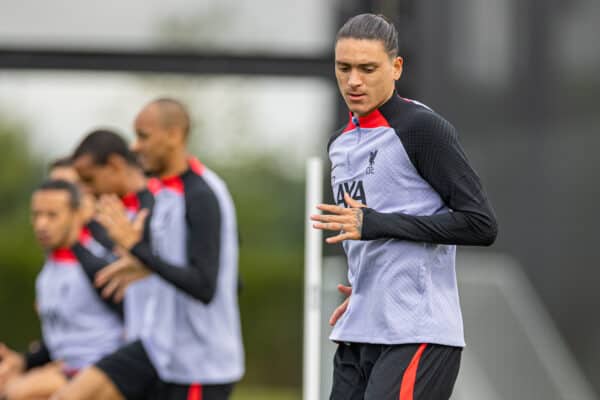 There is a feeling within the club that it won't take much before Nunez starts scoring at the kind of rate seen during his last season at Benfica, when he managed 34 goals in 41 appearances.
But there is also an acceptance that his composure and finishing technique can both improve significantly too. In particular, coaches at Kirkby have urged him to work on his balance and head control, keeping his standing foot away from the ball when striking, particularly across goal.
Nunez, unquestionably, looks more comfortable when able to open up his body on his right foot coming in from the left, or when hitting the ball first-time, especially on the volley.
The language barrier

Klopp spoke towards the back end of last season about Nunez's difficulties learning English, and there is no doubt that has impacted his ability to perform consistently at Liverpool so far.
This is a team, and a manager, which requires a high-level of tactical understanding, particularly against the ball, and so any uncertainty in that regard will stand out.
It certainly did at times last season. Nunez's work rate cannot be faulted, but there was often a lack of smartness to his pressing, charging after players without a clear idea on how to win the ball back.
"A racehorse," Klopp called him after the win over Fulham in May, and he wasn't being particularly complimentary.
In terms of language, there have been big efforts made to get Nunez up to speed in recent months, and it is hoped that by the time he reports for pre-season training this weekend, the progress will be clear to see, or rather hear.
Ammunition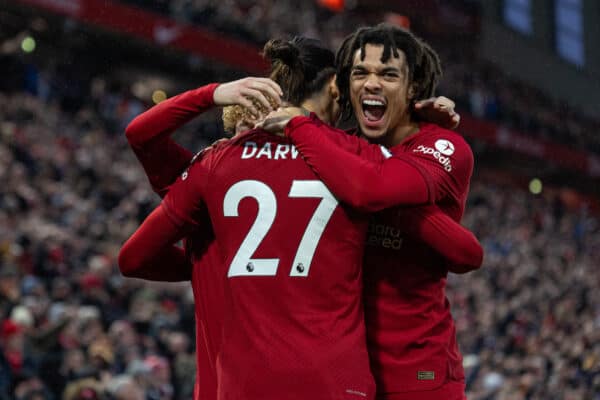 He should also benefit as much as anyone from Liverpool's summer recruitment. The arrivals of Alexis Mac Allister and Dominik Szoboszlai may have fans buzzing but Nunez, too, will be licking his lips.
Both Mac Allister and Szoboszlai are known for their ability to play the last pass, as well as for their set-piece prowess, and for a player who runs in behind for fun and who loves to attack crosses, they represent super additions to Liverpool's squad.
If the Trent Alexander-Arnold midfield experiment is to continue, Nunez could suddenly find himself with three or four creators behind him, players capable of both seeing and finding his runs.
He has already struck up an understanding with Alexander-Arnold, the best passer in the Liverpool side, and it would be no surprise if he and Szoboszlai, in particular, were to click too.
A big part of the Hungarian's appeal as a signing, This is Anfield understands, was his ability to play through balls and deliver dangerous, whipped crosses from the half-space on the right (the Trent/De Bruyne zone) – two areas Nunez thrives on at his best.
First of all, though, he has to get into the team and stay there.
The challenge ahead

Not as easy as it sounds, given the presence of a fit-again Luis Diaz, Diogo Jota's late-season resurgence and the form of Cody Gakpo since his arrival in January.
By the end of last season, Nunez had clearly fallen behind Gakpo in the battle to play No. 9, and had seen Diaz move ahead of him in terms of left flank options. He finished the season having made 42 appearances in all competitions, but only three of his last nine were starts and he scored only once in his last 11 outings.
Finding a way to get him back firing will be high on Klopp's to-do list in pre-season.
"Darwin has a different skillset to our other forwards," the manager has said, and that is what makes him such a fascinating option going forward.
He does not dribble from the left like Diaz or press from the front like Jota, he's not as ruthless as Salah nor as reliable with his touch as Gakpo.
He does, however, have the potential to be a huge player for Liverpool. And after a year finding his feet – and his voice – on Merseyside, now is the time for the £64 million man to really start proving his worth.