Twelve minutes was all it took for Liverpool to turn the game on its head, an Alisson masterclass and a Darwin Nunez double – it's no wonder Jurgen Klopp "never had a game like this."
A rollercoaster was what Liverpool strapped us onto on Sunday, a ride that first made your stomach sink before making your heart soar.
For the second week in a row, Liverpool had to play with 10 men, only this time it was for more than 60 minutes. And yet…
Newcastle dominated possession and consistently peppered Alisson's goal, but, in the end, it wasn't about the number of attempts it was the quality of the finish, which Nunez duly provided.
With our hearts now back in rhythm, we can take a look at a number of standout stats from the victory with the help of FotMob.
Record high for Liverpool's No. 1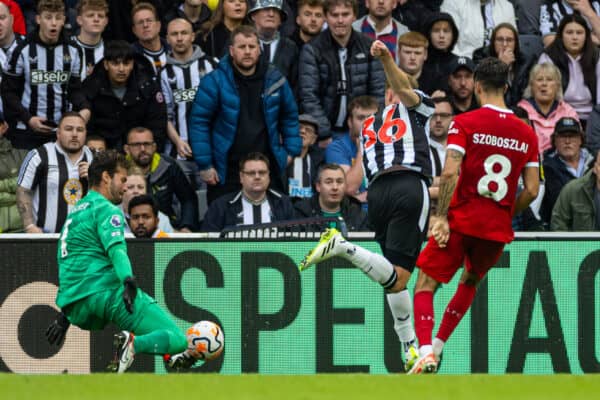 He's simply the best, there's no other way to say it.
The comeback wouldn't have been possible if not for Alisson, who made his record number of Premier League saves in a single match (7).
"I'm here for that. That is part of my job. I'm there to help the team," he coolly said post-match.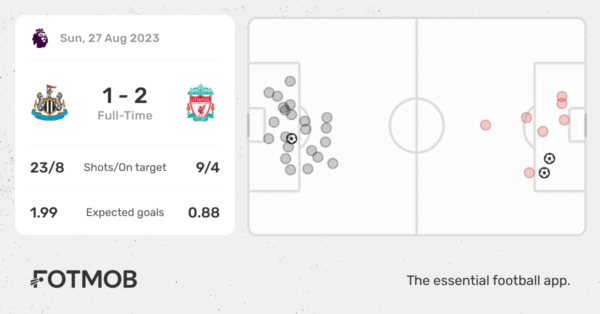 Typically understated, but his performance is worthy of applause and adulation.
Eddie Howe described his save for Almiron's shot as "the best I've ever seen in my life." We'd be hard pressed to disagree.
What a goalkeeper.
100% accuracy for Nunez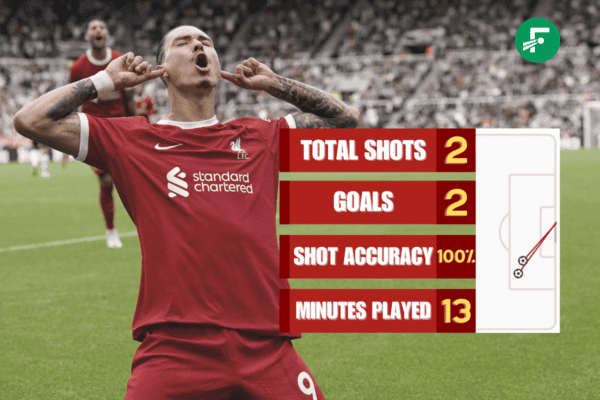 The man of the moment.
Nunez has yet to start this season, and he used that bottled up emotion to devastating effect, with his only two shots of the game nestling into the back of the net.
Two shots, two goals. 100 percent accuracy.
But as you can see from FotMob's shot map (above), the strikes were not from easy angles and, in fact, he scored his two goals from an xG of 0.43 – clinical.
A match-winning 13-minute cameo from a man that injects unpredictability into the team, and the emotion in his celebrations spoke volumes.
More please!
Bodies on the line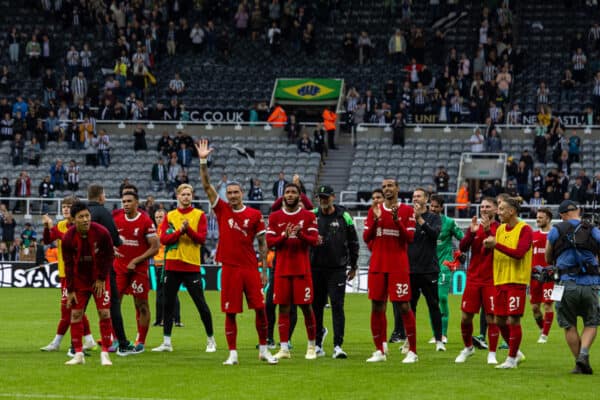 It was not the day for Liverpool to dominate possession (60 percent vs. 40 in Newcastle's favour), expected goals (1.99 vs. 0.88), or total shots (23 vs. 9).
But it was a day for the Reds to throw their bodies on the line, they had to be accountable with 10 men and they led interceptions (eight vs. five), blocks (four vs. two) and clearances (19 vs. 15).
Dominik Szoboszlai was a workhorse, involved in 20 ground duels – he had a 45 percent success rate – while no player on the pitch had more interceptions than Alexis Mac Allister (four).
It all provided the platform for Nunez to score after the 90th-minute, Liverpool's 42nd winner after 90 minutes in the Premier League, as per Opta – which is more than any other team.
Klopp 11, Howe 0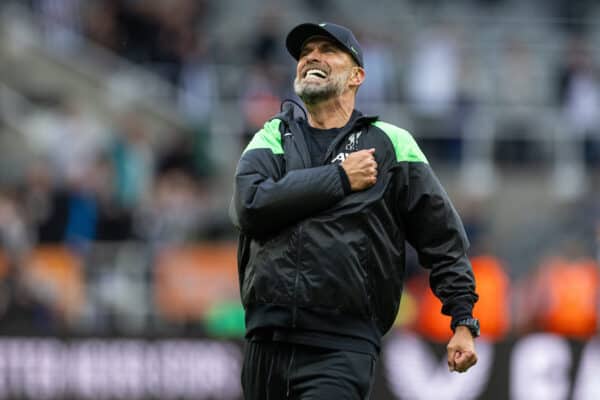 Jason Tindall isn't quite shushing Klopp now, is he? Karma.
He might think he's the main man but, in fact, that title is Howe's – a manager who has now tasted 11 consecutive Premier League defeats against Klopp's Liverpool.
No wonder he is a little sour towards us!
Klopp is the first manager in Premier League history to reach that figure over another manager, and it is a run that dates back to December 2017, when Howe was at Bournemouth.
In that time, Liverpool have scored 29 whilst Howe's side have managed only four goals.
---
FotMob is an essential app for any fan to keep up with their team or follow football worldwide, it has everything you could want and you can download the FotMob App here.