Where would Liverpool be without Alisson? It's a question that is continually asked such is his sheer brilliance, which we saw again at Newcastle with another world-class save.
Liverpool's No. 1 has saved his team time and time again and his efforts do not go unnoticed by his manager, his teammates or the fans.
His sheer brilliance makes goalkeeping look effortless but there is no escaping the world-class qualities Alisson has in his locker.
Newcastle was case in point and it was not the first time he has proved to be the difference-maker.
Here, we take a look at seven of his best saves in a Liverpool shirt – not in any particular order as it's like choosing your favourite child they're all that good!
Newcastle – August 2023
Well, well where else to start than the most recent? What a save.
Miguel Almiron struck with serious power from 15 yards and Alisson provided one of those astonishing moments when you're stuck for words to describe him.
To get enough behind the ball to prevent it from going in is seriously impressive. Most goalkeepers would struggle to get a touch to the ball never mind stop it.
Wrists of steel.
Norwich – August 2021
Not one, not two but three saves in the space of just four seconds.
His one-on-one abilities are out of this world and we're not talking about long-range strikes with time to make decisions here, these shots came at him from one or two yards away.
Alisson's reaction time is second to none and his ability to make his body big and make follow-up movements is a joy to watch.
Is there a cloning machine we could get our hands on by chance?
Crystal Palace – January 2022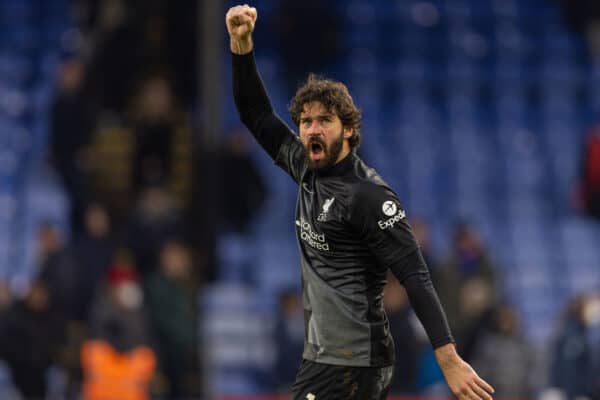 It wasn't the only save he had to make that day at Selhurst Park, but it was the most difficult.
From just six yards away, Jean-Philippe Mateta fired the ball first-time at goal, only to see Alisson stick out an arm and save.
The speed at which Alisson reacted was almost instantaneous, and the fact his arm was strong enough to keep the ball out is astonishing too. It was pure instinct.
Norwich – February 2020
Another game against Norwich, another magnificent save, but this stop is special for different reason.
A long ball over the top found Lukas Rupp who could either finish or square to Teemu Pukki. Unfortunately for the pair, Alisson was alert to this and did his best to cover both angles.
For any young 'keepers reading, this is a prime example of staying on your feet for as long as possible. Outstanding.
Burnley – December 2018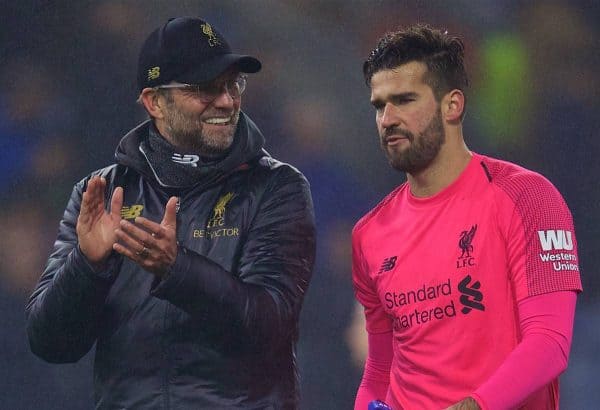 But could he do it on a cold, wet night at Burnley? There were no doubts about it.
On first glance you could've been excused for thinking Ben Mee's header clips the upright, but it is, in fact, Alisson's fingertips that steer the ball away from the top corner.
It is utterly brilliant in its execution, and he showed that is only one tool in his arsenal, as the same passage of play saw him leap into the air to keep the ball in play and set a third goal in motion.
The question still stands, what would we do without the big Brazilian?
Wolves – December 2021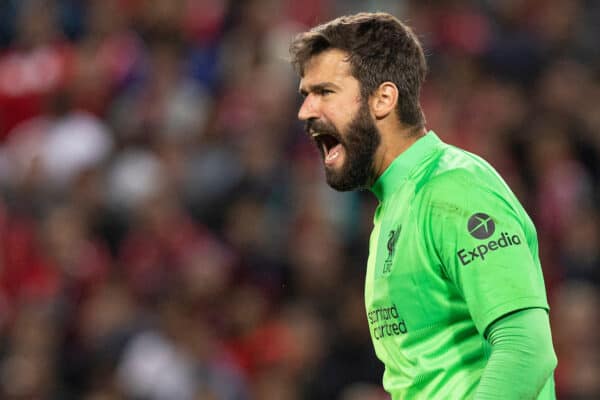 If you managed to take your eyes off Joel Matip's amusing antics for a moment, this save was a real demonstration of just why Alisson is so good.
Liverpool's goalkeeper makes difficult saves look easy through clever positioning and brilliant catching ability that make it seem like he's got glue on his hands!
Leander Dendoncker hit this one smoothly and precisely, but Alisson claimed it with amazing calmness.
Napoli – December 2018
It was not only match-defining, it was history defining. And we don't say that lightly.
Time felt like it stood still at Anfield as Arkadiusz Milik snuck around the back and held our Champions League fate in his hands – until Alisson entered the scene.
Alert to the danger, he threw his body into ball's path and was the most composed man on the pitch at a time when anxiety was rolling off the crowds in waves.
That night in Madrid would not have happened without this save and that he made it look so effortless spoke volumes of his immense talent.