Conor Bradley's injury is not minor, as previously claimed, with the Liverpool right-back an "extreme doubt" for games through November.
After featuring in the opening friendlies of Liverpool's pre-season, Bradley was omitted from the squad for Singapore and meetings with Leicester and Bayern Munich.
The club described his issue as minor, but the 20-year-old is yet to return to training over a month on and has now been left out of Northern Ireland duty for September.
It now transpires that Bradley suffered a stress fracture in his back, with an initial recovery time of eight to 12 weeks.
Northern Ireland manager Michael O'Neill has, however, also claimed the right-back would be an "extreme doubt" for the remainder of their Euro 2024 qualifiers – which conclude on November 20.
"Those are injuries that sometimes occur in young players," O'Neill told the Belfast Telegraph.
"He is coming off the back of playing a lot of games last season. With that type of injury you have to be very careful particularly with a young player so we have to be patient.
"I think he had a four-week rest period and he is now back at Liverpool. He has started his rehab and I have kept in touch with him."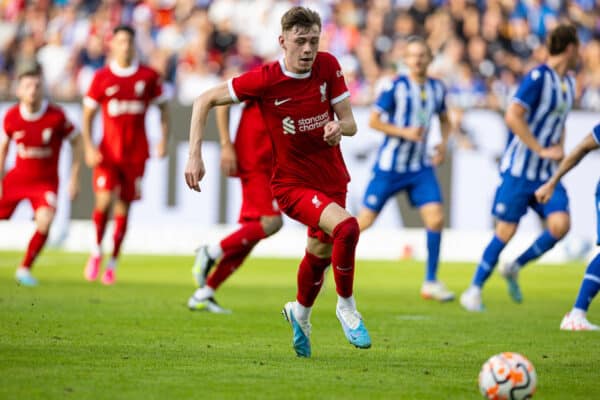 As O'Neill explained, stress fractures are common for young players whose workloads increase with exposure at first-team level.
Last season alone saw Curtis Jones and Stefan Bajcetic sidelined for extended periods with similar issues, while Calvin Ramsay arrived from Aberdeen with the same injury as Bradley.
The Ramsay situation highlights how serious this setback must be treated, with Bradley's fellow right-back missing three months of action due to his back.
While O'Neill added that he "hopes [Bradley] would be back" for Northern Ireland's qualifiers against Finland and Denmark in November, he "wouldn't want to commit too much to that."

It comes as a big blow to both Bradley and Liverpool, with an expectation that he would be given opportunities as Trent Alexander-Arnold's backup this season.
"He is a player that was having a good pre-season at Liverpool and some of the decisions that clubs make in relation to other players gives you an indication of where the likes of Conor is in their thinking," O'Neill said.
"He just has to make sure he is fit and healthy and get himself back to play and then I think Liverpool will reassess his situation in January."
Bradley, who spent last season on loan at Bolton in League One, played more minutes than any other teenager in world football throughout 2022/23.