Liverpool have made a solid start to their Premier League campaign, but does more need to be done on the training ground to solidify at the back?
Jurgen Klopp has earned himself godlike status among supporters during his eight years at Anfield, taking the side from mid-table obscurity back to the big-time.
Liverpool's recent change in shape has however sparked some concerns about how easy it is to expose the back line following Trent Alexander-Arnold's move into a hybrid role.
The Reds went on a seven-game winning run towards the end of 2022/23 but often found themselves susceptible to balls over the top, a trend that continued throughout pre-season.
The topic was discussed on This Is Anfield's brand-new 'Live at 5' show with Paul Cope and Gareth Roberts from The Late Challenge Podcast.
"[Klopp] has been unbelievable and the job he's done has been phenomenal, off the charts with the money he's had to spend," said Cope of Klopp's time at the club.
"But there is a coaching issue at our club and that comes down to the manager.
"At the end of last season if you'd said to anyone who watched Liverpool 'what's the weakness in Liverpool?' everyone goes 'you just drop a ball over the right-sided centre-half and expose where Trent is and you're in.
"From a coaching perspective and a set-up perspective, you need to solve that problem."
Roberts added that the new system is "detracting" from the attributes of the likes of Andy Robertson, who has been forced to focus more on his defensive duties with his fellow full-back becoming more progressive.
"This seems to be detracting from the skills of some, so since we've been playing this system and Trent's stepping into midfield, Robertson hasn't been as good," Roberts chipped in.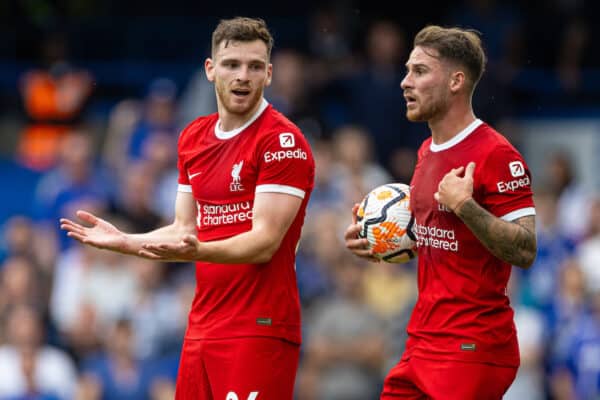 "He's still getting forward and putting the crosses in and he's still being that 100mph man but it looks like he's sort of tethered a bit more because he's worried about things coming back the other way."
The Reds conceded four to Southampton on an eventful final day of last season and have failed to keep a clean sheet in their last four Premier League fixtures that span over the summer break.
While there is an embarrassment of riches up front in the squad, the defensive issues continue to be a cause for concern among supporters with the campaign underway.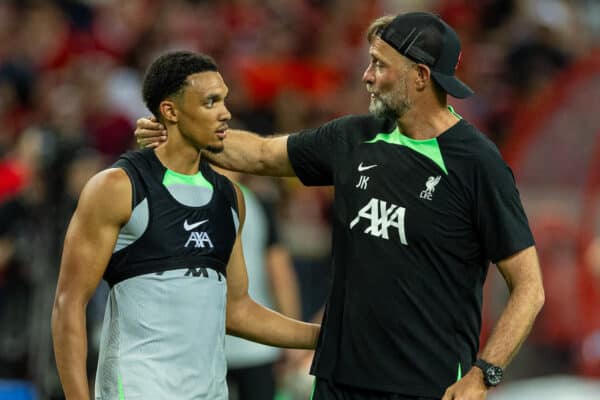 The lack of a recognised No. 6 within the squad was finally rectified with the signing of Wataru Endo just over 24 hours before the clash with Bournemouth.
But there have been calls for further reinforcement in that area of the pitch despite reports suggesting that there are no plans to bring in another defensive midfielder.
Do you believe the Reds' defensive frailties stem from coaching issues or is it simply a byproduct of the new shape that we'll have to get used to?
Let us know in the comments below and join us live on YouTube at 5pm next Monday for more!
---
'Live At 5' is a new show from This Is Anfield The Late Challenge Podcast, with Gareth Roberts and Paul Cope.
The live show will air each Monday at 5pm (UK) on This Is Anfield YouTube, with another show each Wednesday at 11am (UK).
You can also listen as an audio show, here.