Jurgen Klopp has described the latest iteration of his squad as "Liverpool FC reloaded" when discussing a summer of movement at Anfield.
It has been a busy few months for the Reds, with a number of established players making way for the arrivals of Alexis Mac Allister, Dominik Szoboszlai and Moises Caicedo looking set to follow.
In his pre-Chelsea press conference, the manager was asked about whether the overall personality of the squad is likely to be different this season following the departures of numerous key figures.
"We have to grow into [the changes], it didn't happen seven or eight years ago with Hendo or whenever it was and it will not happen now," the boss explained to the media.
"We don't always have to say 'but Millie would have said that, Hendo would have said that and Hendo would have shouted here.'
"We have this kind of new start with this 'Liverpool FC reloaded' if you want, and it's an exciting thing."
A number of Liverpool's senior players have moved on this summer, leading to the appointment of Virgil van Dijk as captain and Trent Alexander-Arnold as vice-captain from the start of 2023/24.
Klopp acknowledged that changes needed to happen and he is relishing the challenges that come with starting with so many differences within the playing staff.
"So everybody was asking for changes, rightly so because we were together for a long time and things went really well and then not that well any more and timing for a change is always one of the biggest challenges in life," he continued.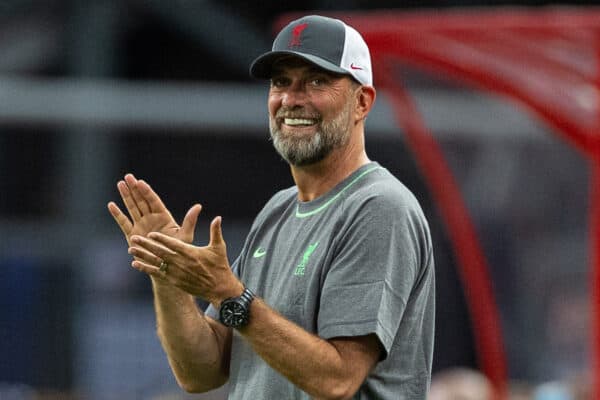 "Did it happen at exactly the right moment? It's difficult to answer but now it happened and that's good. It's a new chance for everybody, everybody has to step up, the new leadership group and not only them."
The Reds kick off their Premier League campaign at Chelsea this weekend hoping for a fast start to right the wrongs of last season.
Liverpool dropped out of the Champions League spots for the first time since 2016 and require a positive first few weeks if they are to keep up with the pacesetters from day one.