Liverpool finally look to be edging towards a deal for Romeo Lavia – but not signing another midfielder after the Belgian would be an enormous risk.
Following official confirmation of Jordan Henderson and Fabinho's departures, one would expect Liverpool to accelerate their attempts to make Lavia their third signing of the summer.
Should the deal go through, it remains to be seen whether Lavia will be ready to start the opening Premier League game at Stamford Bridge given he won't have had a proper pre-season with Liverpool.
Either way, Lavia's arrival would represent another exciting addition to Jurgen Klopp's squad, both for the upcoming season and for many years to come.
Of course, he's still raw, and there will be areas of his game with plenty of scope for improvement as he continues to grow and develop – but his potential is tantalising.
If and when Lavia arrives, though, a crucial question arises: will Liverpool still move for another midfielder this window, or will they settle with what they've got for the upcoming campaign?
The midfield numbers game

Purely in terms of personnel, Liverpool are inarguably lighter in midfield than they were at the end of last season.
In Henderson, Fabinho, James Milner, Naby Keita and Alex Oxlade-Chamberlain, five senior midfielders have departed (not including Fabio Carvalho and Arthur Melo) and only two have been brought in.
However, when assessing the depth of Liverpool's midfield options, it's perhaps more useful to focus on minutes played as opposed to the number of players.
In 2022/23, Fabinho (3,534 minutes) and Henderson (2,556 minutes) racked up the most game time of Liverpool's midfielders across all competitions.
All being well, it's reasonable to assume that Alexis Mac Allister and Dominik Szoboszlai will more than adequately replace those minutes in 2023/24.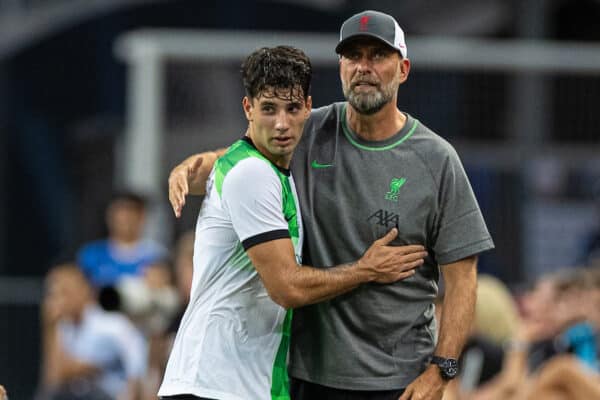 Milner, Oxlade-Chamberlain and Keita, meanwhile, actually only accumulated just over 2,300 minutes (equivalent to 25 full games) between them, which is almost exactly the number of minutes Lavia played for Southampton last season.
So, while Liverpool may be two players down, it's likely that between Mac Allister, Szoboszlai and Lavia, they'll have covered the minutes lost by the five senior midfield departures.
It's also very likely that Curtis Jones will accumulate substantially more than the 1,153 minutes he played last season, which ought to be factored into the equation, too.
If everything goes to plan both in terms of injuries and form, there is a scenario in which it could all work out absolutely fine if Liverpool go into the new season with just three new midfielders.
The issue is, it wouldn't take very much to go wrong before the options begin to look worryingly thin.
It's worth remembering that both Stefan Bajcetic and Thiago are on the recovery trail from lengthy injury lay-offs and could take quite some time before they get back up to full fitness again.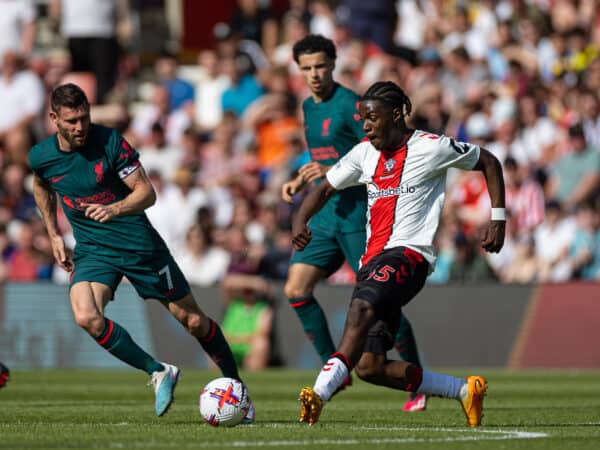 So, if we put an asterisk next to both of those two for now, that would only leave Mac Allister, Szoboszlai, Jones, Lavia and Harvey Elliott as the remaining midfield options (besides Trent Alexander-Arnold in the hybrid right-back role) – only one of which is a specialist defensive midfielder.
Sure, Mac Allister and Jones might be able to drop back into a deeper role from time to time, but both players are best utilised higher up the pitch where they can connect with the front three.
It might work out fine against certain types of opponents as a short-term fix, but you wouldn't want to see it for a prolonged period of time.
All it would take is an injury to Lavia for Liverpool to suddenly be back down to zero senior defensive midfielders – and that's assuming that Lavia gets up to speed relatively quickly, which is by no means a certainty.
Nor is it fair to expect a 19-year-old to come in and suddenly fill the defensive midfield void on his own.
Another unnecessary gamble

Rewind to the start of this summer transfer window, and the general consensus was that Liverpool needed to sign three midfielders.
What no one accounted for was two Saudi Arabian clubs successfully luring Henderson and Fabinho away for astronomical amounts of money, significantly disrupting pre-season preparations and drastically increasing the scale of the rebuild required.
There was already a very strong case to sign Lavia before any of the news emerged around Henderson and Fabinho given how poorly both players performed for large chunks of last season.
Time and time again, Liverpool were sliced through with ease last season, often by so-called inferior opponents, in no small part down to a lack of dynamism and intensity in the middle of the pitch.
Had Henderson and Fabinho stayed, Lavia would have provided strong competition without the burden of immediately becoming a nailed-on starter week in, week out.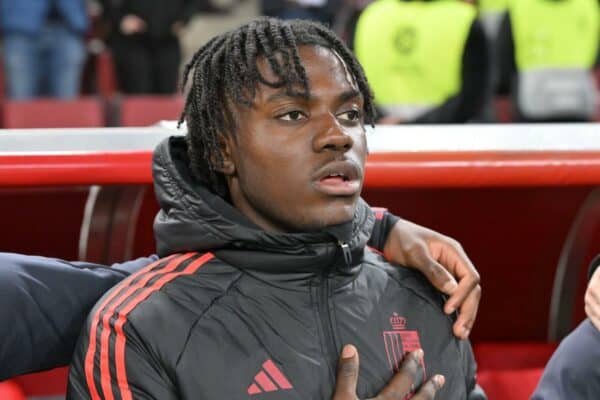 Given the unexpected exits of Henderson and Fabinho, Liverpool would be running the risk of leaving themselves dangerously thin on the ground if their midfield rebuild stops with Lavia.
Bringing in another midfielder alongside the Belgian would not only reduce the pressure on Lavia to hit the ground running immediately but also mitigate the impact of any potential injury issues which may arise.
In two of the last three seasons, a decisive factor in Liverpool falling well below expectations was the decision not to address key positions in the squad and prepare for the possibility that certain things might go wrong.
In 2020/21, the decision not to replace Dejan Lovren and go into the season with only three senior centre-backs very nearly cost Liverpool a top-four finish.

Last season, the decision not to strengthen the midfield was a major contributor to Liverpool missing out on Champions League qualification.
One would hope that lessons have been learned from those campaigns and that Liverpool don't repeat the same kind of mistake by trying to cut corners this time around.
It could be Manu Kone or Khephren Thuram – both strongly linked earlier in the window – or a bolt from the blue that catches everyone by surprise like Szoboszlai.
But finishing the transfer window by bringing in one more midfielder (and a left-sided centre-back) after Lavia could be the difference that means Liverpool are capable of mounting a serious challenge on all fronts.
This brand new version of Klopp's Liverpool is rapidly taking shape, and there are loads of reasons to feel optimistic about this fresh start – but there's still serious work to be done.