Dominik Szoboszlai has revealed the words of advice he received from former teammate Erling Haaland upon signing for the Reds earlier this summer.
Szoboszlai made the move to Anfield at the beginning of July when Liverpool triggered a release clause in the midfielder's contract with just hours to spare.
During his time at RB Salzburg, the Hungarian struck up a close bond with Haaland, who announced himself on the global stage by scoring 29 goals in just 12 months for the Austrian side.
The pair have followed similar career paths, with both moving to the Bundesliga to join RB Leipzig and Borussia Dortmund respectively before later winding up in the Premier League.
As Szoboszlai prepared for his switch to Merseyside, he received a message from his ex-colleague with words of advice ahead of plying his trade in England.
"Erling and I are still close; we message each other and we talk when either of us has time. I live near to him now so we'll probably have some dinners together," Szoboszlai told The Athletic.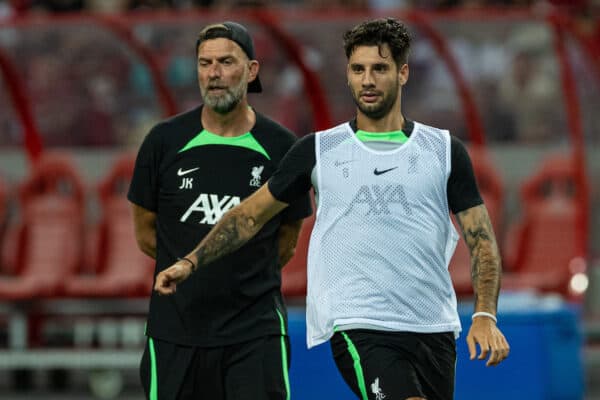 "Before I joined Liverpool, he just said: 'Get ready!' But he knows I'm ready. He told me it is a crazy league and that I'm going to love it."
In signing for the Reds, the 22-year-old joins one of Haaland's fiercest rivals and will have to compete with his old pal if he is to lift major honours at the club.
Szoboslai acknowledges the animosity between the two sides and says he is looking forward to experiencing that on the pitch for Liverpool for the first time this season.
"I'm not surprised by how well he has done at Man City. I knew what he could do and how much work he puts in. He's an unbelievable player," he continued.
"I know all about the rivalry between Liverpool and the Manchester clubs, but I'm ready. That's why I've come to Liverpool. I want to see how it feels when I'm playing in those games."