Liverpool have not been discussed as contenders, for the top four, maybe, but the title? Not so much. But is there a sense of the 2013/14 season in the air?
The Reds have started the season with 13 points from an available 15, a buoyant start but one that has not been without drama and the need for late comebacks.
It has somewhat changed the rhetoric around Liverpool and the belief from fans for what is possible this season, and an unlikely tilt at the title cannot be ruled out.
"I think we could win the league this season, I wasn't saying that months ago," Paul Cope said on the This Is Anfield's podcast with The Late Challenge, alongside Gareth Roberts.
The pair acknowledged Jurgen Klopp's side need to be lucky with injuries, especially in defence after failing to add anyone in the transfer window, but there is growing momentum and belief.
"I wonder about this season, and I was like you, I looked at it before a ball was kicked and said, 'I don't think we challenge for the title this season'," Roberts said.
"Now I think, with a strong wind, with a bit of luck around injuries, could this be one of those unlikely title challenge seasons? Who thought in 2013/14 we were going to go for the title?
"Then it happened, and we loved it. We were on this journey and it just kept rolling and rolling, and already it's rolling here, isn't it?"
The 2013/14 tilt at the title was an exhilarating ride that ended in despair for a team built on quick sand, but as Roberts says, "while you're on this run of 16 unbeaten in the league, who knows? Surely you don't rule it out at this stage."
Liverpool amassed 84 points in that season under Brendan Rodgers and with Man City, again, setting the standards, the margin for error is so small, and the Reds have already been tried and tested.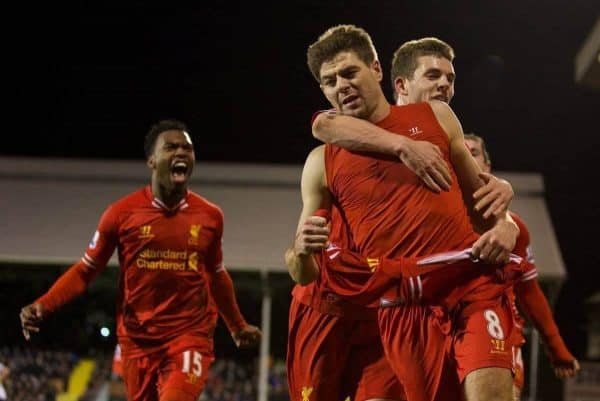 It is that emotional investment in games that Liverpool need to be aware of, Cope explained: "I'm with you with all of that and I do think we're the type of club that can catch a wave and ride it.
"The counter-argument to that is, we're already expending a lot of energy to win football matches. If you look at the way title sides, when we won the title, that's not how we won.
"I think Carragher and Neville both said it, Arsenal were celebrating winning games like they won the title half way through the season and Carragher went 'you just can't maintain that level of emotion'."
City themselves have also needed to summon their comeback powers this season and they could be due some bad luck, and, for Roberts, Liverpool have to be ready if that moment arrives.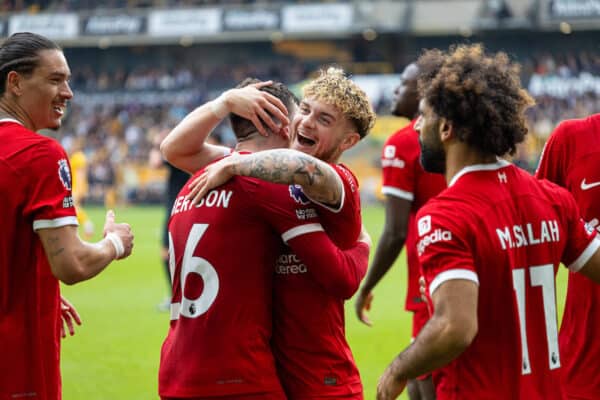 "They [City] might have bad luck, they've got all the money in the world, they're bending rules and all the rest of it, but they could still just have things that can happen in football," Roberts said.
"Liverpool have to be ready for if that happens. You can have unlikely titles, who thought Leicester would win the league?"
Indeed!
And Cope raised a note-worthy point when it came to City, saying: "I do think there are more sides in the league now who could take points off City, it'll be interesting when City have to play us, Arsenal, Spurs now and Brighton.
"I think all of those sides could take points off City. We all need to gang up on them, if we can all chip away at them when we play them, it keeps them in the pack."
---
Paul Cope and Gareth Roberts were speaking on a new show from This Is Anfield and The Late Challenge Podcast.
There is a live show that airs each Monday at 5pm (UK) on This Is Anfield's YouTube, with our second show each Wednesday (UK).
You can also listen as an audio show, here.