Liverpool fought back from a goal down for the third time in their last four games on Saturday, with Andy Robertson crediting a system change.
Against Bournemouth, Newcastle and now Wolves, the Reds have three times gone 1-0 behind before fighting back to take all three points this season.
It will be a worrying trend for Jurgen Klopp, but the positive remains the spirit and quality of his side to overcome adversity.
Speaking to TNT Sports after the game, Robertson – who scored to make it 2-1 in an eventual 3-1 victory – credited the manager's shift in formation for the win.
"I can tell you some of it probably, but not all of it!" he joked when asked what was said between players and staff at half-time.
"Look, we obviously weren't at the races [in the] first half.
"You can come up with excuses with lads travelling the world and things like that, but at the end of the day, you have to be ready to play the game.
"I think it took us 45 minutes to get into it. Wolves were the better team, they created the best chances, put us under pressure, we made too many mistakes.
"But second half we came out, changed our formation slightly, went to a kind of 4-4-2 and I think it worked.
"We started pushing people higher up the pitch and I think we dominated the second half, probably got what we deserved out of the second-half performance."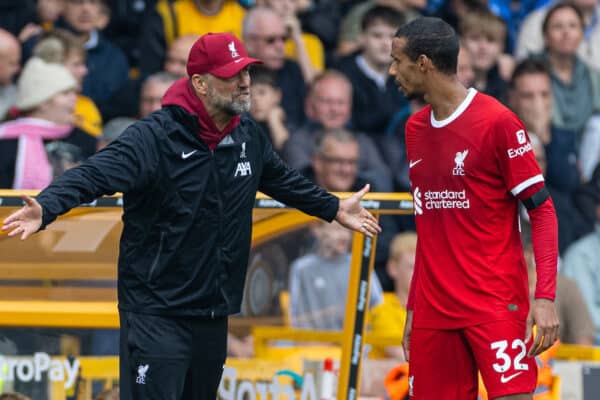 In his post-match interview with TNT Sports, Klopp also recognised the switch and how it "changed pretty much everything."
"We couldn't change five times at half-time, so we thought we'd change the system and one player," he explained, with Luis Diaz replacing a struggling Alexis Mac Allister.
"It gave us a bit more speed up front, natural speed, and we had the control of the game better.
"We changed pretty much everything at half-time and that worked out pretty well.
"The first half was really bad and the second half was really good. Do I want to see that every week? No. But for today, I take it."