Jurgen Klopp has revealed that an inability to offer guarantees over regular playing time was behind Jordan Henderson's surprise Liverpool departure.
The club captain brought an end to a 12-year stint at Anfield this summer as he moved to join Reds legend Steven Gerrard at Saudi Pro League outfit Al Ettifaq in a £12 million deal.
Henderson has since explained in an interview with The Athletic that his decision to depart came down to the feeling that he was unwanted, saying of the manager and owners: "If one of those people said to me, 'Now we want you to stay', then we wouldn't be having this conversation."
However, Klopp somewhat contradicted that claim when speaking to reporters on Friday, insisting he had been keen for the midfielder to remain on Merseyside.
But the German felt that his refusal to make any promises regarding Henderson's role following a midfield rebuild is what ultimately led to him seeking out a new challenge.
He said: "Hendo said the truth, in all departments, that's how it was.
"We had our talks and I told Hendo I wanted him to stay but we had to talk in these conversations about the possibility of not playing regularly, I told him we bring in players and stuff like this.
"You don't have these talks when about the positives and say, 'Hendo, you will play'.
"I cannot have a talk before a season and tell a player they will have 50 games this season, 100 percent, because I don't know that, it all depends on performance. And if Hendo had performed, he would have had maybe 50 games, absolutely possible.
"But in the specific situation with the relationship we had, I thought it was important that we speak about everything, which means what happens if…
"Because Hendo is a fantastic player, I will love him forever, super guy, but he's not great when he's not playing, let me say it like that. Milly was like that when I arrived here and Lucas Leiva was like this.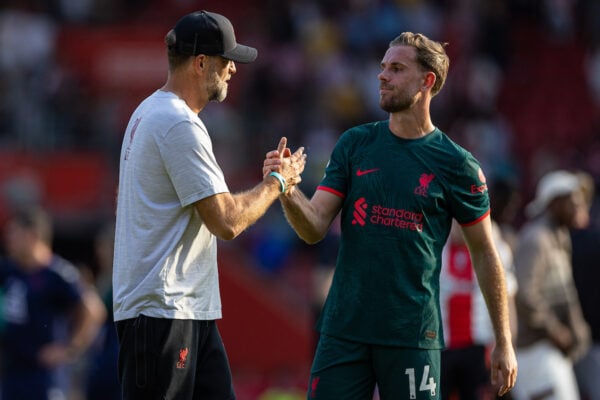 "You always thought they are great guys but then the moment they see the line-up and they are not involved they turn into Jekyll and Hyde, it's unbelievable.
"That's Hendo's problem, so you have to talk about that.
"He was my captain for seven-and-a-half years, so I had to talk about that because I don't want to wake up one morning and need to lock horns with each other because he thought he would start and I tell him he isn't.
"Obviously [for] Hendo that meant, 'Okay, he doesn't want me here'. I understand it 100 percent but we clarified that.
"But anyway, what he said is that if I would have told him: 'Hendo, stay here, you will be the main man in midfield', he would have stayed, that's the truth.
"But I couldn't say that, as much as I wanted him to stay, I couldn't say that. So that's why it was better that Hendo moved on.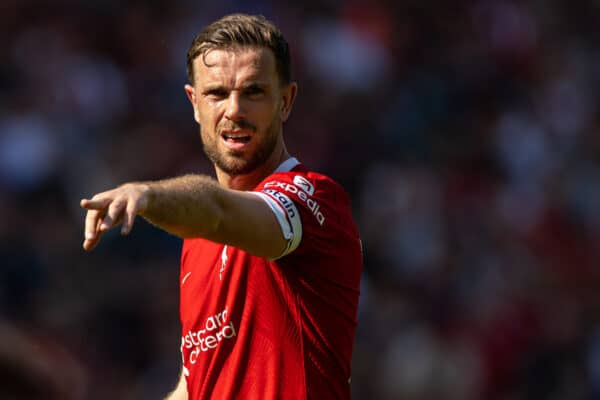 "There's not a bit of bad blood or whatever. He is the captain of the most successful team this club saw in the Premier League era and rightly so, he's a sensational player.
"I wish him only the best and, when he comes here, from my point of view he gets a real farewell, everything, there's nothing to misunderstand from that point of view."