After reacting angrily to his name being chanted during the win over Bournemouth, Jurgen Klopp has asked fans to refrain from singing his song again this weekend.
The manager has been vocal on a number of occasions about his preference for support to be focused on those on the pitch during games.
It didn't stop fans showing their appreciation for the manager during the 3-1 victory in the first home game of 2023/24, despite there still being around 15 minutes left on the clock.
Ahead of Aston Villa's visit on Sunday, Klopp has sent "a polite request" to supporters not to sing the song at Anfield while reiterating his "gratitude" for the love shown to him by The Kop.
"The first thing I have to say about it is I absolutely love [the chant]," insisted Klopp in his Aston Villa programme notes.
"I say this because I do not want there to be any misunderstanding. I love that the song exists. I love that it is sung. And, more than anything else, I am humbled that the supporters who I love want to sing it when they come to Anfield. Just thinking about it gives me goosebumps.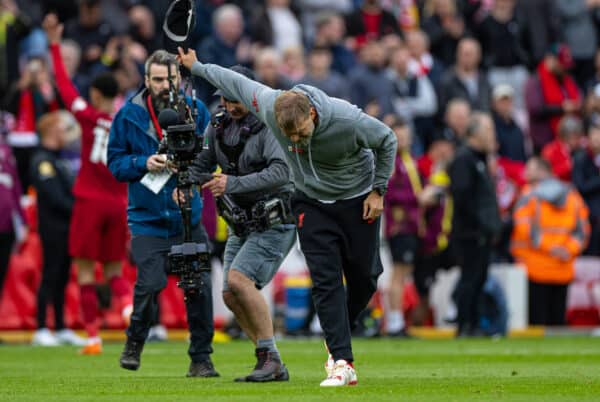 "The only exception I make – and it is much easier and much better to do it in these notes than it is in the heat of a game – is that I would love it if it became a song for after matches are finished.
"During games I want all of the support to go to the players. I want them to feel your backing and I want you to urge them on and keep them on their toes.
"I know it is not for me to tell you when you should sing which song, so this is just a polite request."
The last line is significant in that it comes after some responded to his touchline antics against Bournemouth by arguing that fans have the right to express their support in whichever way they see fit.
It was a topic that was discussed on our brand-new 'Live at 5' show, where Gareth Roberts recognised some of those retorts from the Liverpool faithful.
Roberts said: "You've got to acknowledge the fact that lots of people online are saying 'he doesn't get to dictate to us what we sing.'"
Whether or not the crowd choose to honour Klopp's plea remains to be seen, with the song still regarded as one of the most popular choices typically heard on a matchday.
The Reds are hoping to make it three consecutive wins as Unai Emery's side make the trip to Anfield to head into the international break with 10 points from a possible 12.
If Klopp gets his way, the encouragement from the stands will be directed towards the pitch, rather than the dugout, during Sunday's clash!