Liverpool did it the hard way once again but three second-half goals proved more than enough to topple Wolves and end the 12.30 kick-off hoodoo.
The international break over, an early start to kick us back off and a comeback was needed after just seven minutes. It's like they never left.
Hwang Hee-chan's opener was all too easy and preyed on the Reds' lethargic performance, with Jurgen Klopp's personnel choices – Alexis Mac Allister and Joe Gomez – questionable at the very least.
The second half, thankfully, brought an early equaliser from Cody Gakpo as momentum shifted to Liverpool and with further changes the Reds put the result beyond doubt.
Andy Robertson with a superb finish and Harvey Elliott finishing it off, and all the while Mohamed Salah walked away with two assists.
From sluggish to triumphant, club football really is back.
Phew! Half-time changes proved key…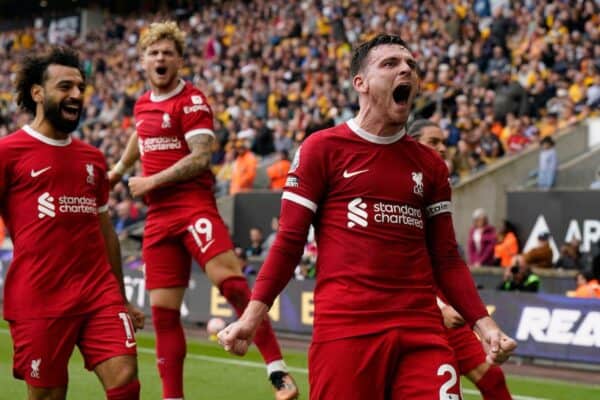 Three goals in the second half came after needed system and personnel changes, this Liverpool team love to keep us on our toes:
For as poor as Liverpool were for spells in the first half, once it was 1-1, it was impossible to imagine Liverpool not winning.

That's the most exciting thing about this new "year one" Liverpool – their inevitability. #WOLLIV

— Harry McMullen (@mcmulhar) September 16, 2023
My word I love this team. They're such a gaggle of assholes who go from aloof dickheads to ferocious chaos merchants. A squad of cats.

— B (@NTXZO) September 16, 2023
No way we come back like that last season. Strangely, the first half performance mirrored that at Molineux earlier this year. Proof Liverpool are a work in progress but the reaction is telling.

— Aaron Cutler (@aaron_cutler) September 16, 2023
Delighted with that. First half was appalling but hardly surprising with most of a second choice defence and half the squad going to Saturn and back during the week then having to play in that slot but second half performance, proactive subs and setup all superb. Deserved win.

— Dan (@Dan23_92) September 16, 2023
That was a masterful second half by Szoboszlai. Took control of midfield. Jones looked much better in a withdrawn role. And delighted for Quansah. Got better as game went on.

— Paul Grech (@paul_grech) September 16, 2023
Well, a game of two halves ?

Never in doubt ?

Quansah had a good accomplished game. Szoboszlai was boss ??

That also puts the 12.30pm kick hoodoo to bed pic.twitter.com/RA3ugfg27o

— ZAGKAG (@ZAGKAG1811) September 16, 2023
"What a comeback. Some mentality monster parallels to the 2-1 comeback win against villa in 2019 (we were similarly poor in the first half).

"If we sort out the defence and put on a quiet run together till the Christmas break, we can dream, can't we?" – The_fan in TIA comments.
"We were lucky to still be in the game at halftime, but to be fair every team in football needs a bit of luck sometimes.

"Am so happy that unlike last season, we are able to fight against the heavy mud and chase wins. Another halftime masterclass by Klopp. On to the next game." – Roe Johnson in TIA comments.
There was an unrelenting pressure on Wolve's box that built and built that reminded me of our side of a few years ago whenever we went a goal down.

The first half I saw so often last season.

Feels like we're remembering what our identity is.

— Red (@TaintlessRed) September 16, 2023
Whatever Klopp said at half time, it worked. The belief was back, the effort was back, they didn't look like a side that had never played together before.

A lot more like Liverpool under Klopp, basically

— Jim Boardman (@JimBoardman) September 16, 2023
But Klopp's first-half choices were rightly questioned…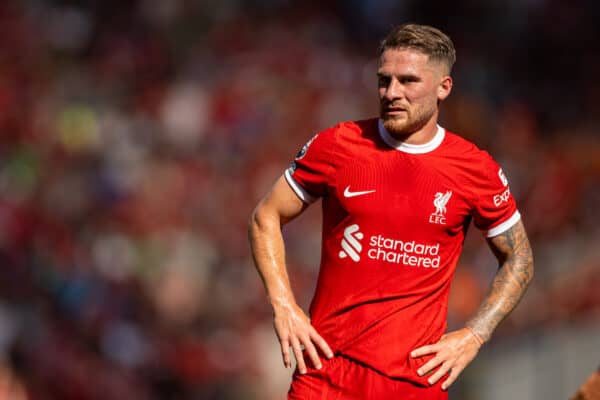 While the win will rightly be celebrated, Klopp's choice to start Gomez as though he was Trent and play Mac Allister was, rightly, questioned. Thankfully, tweaks were made:
Gomez has been effective from right back at times, with some decent crossing in him. It makes no sense at all to push him into central midfield. He isn't remotely similar to Trent!

Forcing something that evidently won't work. Bizarre.

— Matt Ladson (@mattladson) September 16, 2023
Would love to know why Alexis Mac Allister started today after needing breathing apparatus in order to play in Bolivia this week.

Played 85 minutes in altitude, flew 6,000 miles back to the UK, didn't train and now playing like this.

Not his fault. Wataru Endo on the bench.

— Jack Lusby (@LusbyJack) September 16, 2023
Joe Gomez gets confidence from some impressive outings at centre-back, then they throw him into this completely different role.

— James Nalton (@JDNalton) September 16, 2023
I think if we are going to play with a 6 we need to trust Endo or Bajetic in there. Alexis is a class act in possession but he's not an instinctive DM. He's been caught in a few games in a position that he wasn't recruited to fill. Needs to affect play higher up pitch. #LFC.

— Si Steers (@sisteers) September 16, 2023
None of this makes sense. Gomez shoehorned into Trent Role, a fatigued as fuck Mac Allister starting. Early games make Klopp dumb

— nate (@natefc) September 16, 2023
Watching Mac Allister here, you think he'd played 12,000 feet above sea level about 50 hours ago, and then flew 6,000 miles to get home. Funny that.

— Josh Williams (@DistanceCovered) September 16, 2023
Mad that plan B is asking Gomez to be Trent when a) he's not Trent b) he's got enough to worry about defensively, and then when he tries to be Trent he is crossing balls in to a striker who is never there because he drops deep ?

— Craig Hannan (@C_Hannan7) September 16, 2023
A first start and a composed one, Quansah was rightly praised…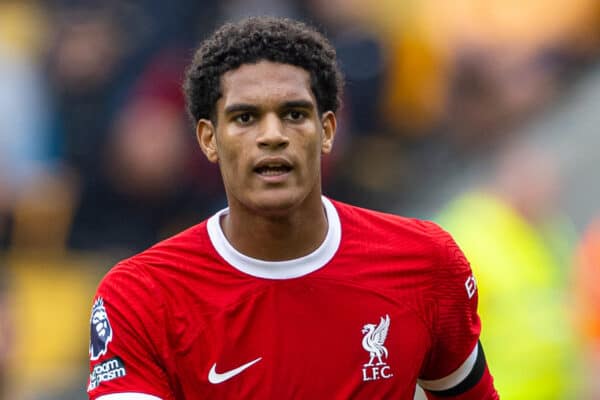 As first starts for Liverpool go, Jarell Quansah was composed when others around him were not and he's surely due a few Klopp hugs:
Can be proud of himself today, Jarell Quansah. More assured and confident than some of his senior colleagues.#LFC #WOLLIV

— Neil Jones (@neiljonesgoal) September 16, 2023
??????? Jarell Quansah definitely showed promising moments for #LFC today.

– Most passes completed while he was on the pitch (78)
– 3/3 tackles won
– 7 clearances
– 5/8 duels won
– 4 recoveries
– 2 interceptions

Always a tough ask to cover for Virgil van Dijk no matter who… pic.twitter.com/tQqqylfDiy

— Bence Bocsák (@BenBocsak) September 16, 2023
#WOL 1-0 #LIV (via @StatsZone): Nothing too fancy but it was 40 minutes before Quansah misplaced a pass. pic.twitter.com/rTTlT6L6xX

— Andrew Beasley (@BassTunedToRed) September 16, 2023
Super second-half from Quansah. Was okay in first with some nice flanked passes but made some impressive interventions in second. One particularly nice moment when he let his man run on, took a risk to step out the line and won the ball. Been so patient waiting for chances. pic.twitter.com/0XvdDpEklo

— Lewis Bower (@LewisBower2021) September 16, 2023
Quansah has been excellent.

— Leanne Prescott (@_lfcleanne) September 16, 2023
Really impressed with Qansah today. Shown he is more than capable of stepping in when needed

— keith costigan (@KeithCostigan) September 16, 2023
Big result for #LFC after that interesting first half ?

Jarell Quansah a big plus considering how poor everyone around him was 1st half.
Harvey Elliott excellent from the bench again. #WOLLIV

— Jamie Carragher (@Carra23) September 16, 2023