Trent Kone-Doherty was training with Liverpool's under-18s squad when he got the surprise call-up to join the first team, as he has recalled this week.
Prior to the Reds' trip to Newcastle in the Premier League, 17-year-old winger Kone-Doherty was spotted with the senior squad at the AXA Training Centre.
It was a rare sighting of the Irishman alongside the first team, training with the likes of Mohamed Salah, Luis Diaz, Cody Gakpo and Darwin Nunez.
And it came as a surprise for Kone-Doherty himself, who was already warming up with the U18s elsewhere at the training ground when he got the call.
"I was actually doing the warmup with the U18s and then I got told I had to go up to the first team to train," he told the club's official website.
"I was walking [up] kind of fast, just smiling. I was really happy and thankful.
"Because it came so fast, I didn't have too much time to think.
"I went up and it was a really good experience. I really enjoyed it and I'm just thankful for the opportunity."
Working alongside his namesake, Trent Alexander-Arnold, Kone-Doherty joked that there had been some confusion: "They were calling me Trent but a few of the players were laughing because we kept getting mixed up!"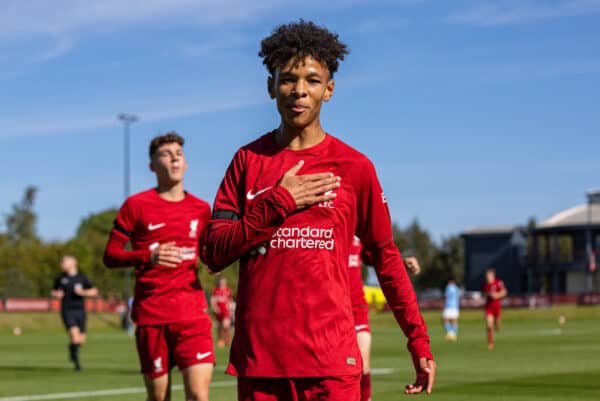 Kone-Doherty was, unsurprisingly, not part of the Liverpool squad to travel to St James' Park, with Ben Doak making the bench with Nunez and Jota.
Instead, he featured in a 2-0 victory over Derby U18s, though already this season he has been tested at under-21s level, where he has needed to employ his "fearless" attitude.
"I feel like I play my best game when I play fearless, to be honest," the teenager continued.
"I try to just back myself no matter who I'm playing against. I think my dad kind of drilled it into me when I was younger.
"Any time I got the ball when I was young, I used to just try to dribble [past] people.
"It's something that's just kind of stuck with me and I think I play my best when I'm playing fearless."
That fearlessness will work in Kone-Doherty's favour whenever he is next called up to first-team training, as there is no mercy when it comes to senior football.