After a strong start to the season, it has been revealed that two guest speakers, including an Olympic gold medallist, helped inspire Liverpool's players and staff.
Summer training camps are a time to build fitness, bond as a team and take part in activities that the football season's schedule doesn't allow for.
As part of Liverpool's pre-season preparations, they turned to two guests who spoke from experience about getting the best out of yourself, and one in particular was "appreciated by the squad," reported journalist James Pearce.
In The Athletic, Pearce revealed that the triathlon great, Jan Frodeno, and British businessman Kevin Roberts were invited to talk to players and staff.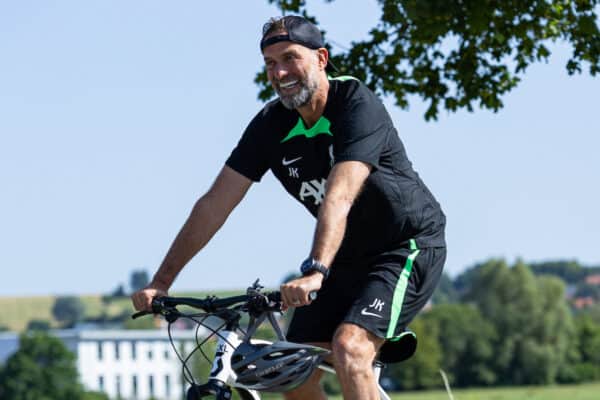 Having won gold at the 2008 Beijing Olympics, Frodeno moved into Ironman events and became world champion on three occasions before retiring last weekend.
Pearce wrote: "Frodeno had been invited to speak to the squad about his medal-laden career and the devotion required to stay at the top for so long.
"He talked about pushing your body to its limits and the mental resilience required to keep going when fatigue kicks in.
"Frodeno's input was appreciated by the squad."
As a former CEO of Saatchi & Saatchi as well as Pepsi Cola Canada, Roberts may seem an unusual guest at first.
However, in the past he has worked with England's cricket team and New Zealand's rugby union side to help drive them on.
Originally from Lancaster himself, Roberts visited the AXA Training Centre to hold a workshop with Jurgen Klopp and "senior coaching, medical, fitness and operations staff," the Athletic's report explained.
"The aim was to establish how they can create the best possible environment and ensure everyone feels valued and able to perform to the best of their ability. Those present were encouraged to speak openly."
It is impossible to know whether these speeches have any tangible effects on individuals, but they can't harm Liverpool's chances.
Given the Reds' ability so far this season to overcome setbacks during games, it is entirely possible that the guests have been just one of many contributing factors to Liverpool's strong start to the campaign.