Thousands follow Liverpool across Europe every season, but have you ever wondered who was the first?
It is almost impossible to definitively say who was Liverpool's first away supporter in Europe, but Anthony Dunn of West Derby could stake a good claim to the title.
His story involves tea with Bill Shankly and the Liverpool team, a late hotel change and a chat with Roger Hunt.
Unfortunately, Tony Dunn isn't around to tell his story anymore, but his son, David, has made sure to pass the tale on.
Travelling solo to Nantes


Tony Dunn is pictured to the right on this photograph, in the players' lounge with his newborn daughter, wife and John Barnes in 1989.
It was 1960 and Liverpool were taking part in the Anglo-Franco-Scottish Friendship Cup or, to put it simply, a friendly tournament.
Bill Shankly's team travelled to play Nantes on August 11, in front of around 3,000 supporters, just one was Red.
That man was Tony, whom his son, David, believed hitchhiked his way from Liverpool to Northern France. David told This Is Anfield: "I'm not sure he told his parents his final destination but somehow he got from Liverpool to Nantes the day before the friendly was planned.
"He had booked into one hotel but when he found out the team were staying somewhere different, he checked into their hotel instead."
When he arrived at the Stade Marcel-Saupin, Tony found he was the only person in the away end.


Tony Dunn's son, David, is pictured as a child on this photograph with his uncle Peter in 1989.
After watching Liverpool beat Nantes 2-0, with goals from Roger Hunt and Kevin Lewis, "Shankly came over to him to ask him to join the team for dinner," his son continued.
"Dad obviously gleefully accepted. I remember him talking about sitting with Hunt, who had joined the summer before, but I'm not sure who else was at the table.
"I also have no idea whether he got a lift back with the team – knowing Dad, he probably insisted on getting back the same way he came!"
Later that year, Liverpool beat Nantes 5-1 in the home leg, with Hunt again on the scoresheet, a sight that would become very familiar over the next 10 years.
Nantes 0-2 Liverpool – August 11, 1960
Starting XI: Slater, Moran, Byrne, White, Leishman, Wheeler, A'Court, Melia, Lewis, Hickson, Hunt
Despite the match being somewhat of a friendly, the Liverpool Echo reported: "After Lewis' goal, the game became ragged and both sides were penalised for over-robust play."
A season ticket and Shankly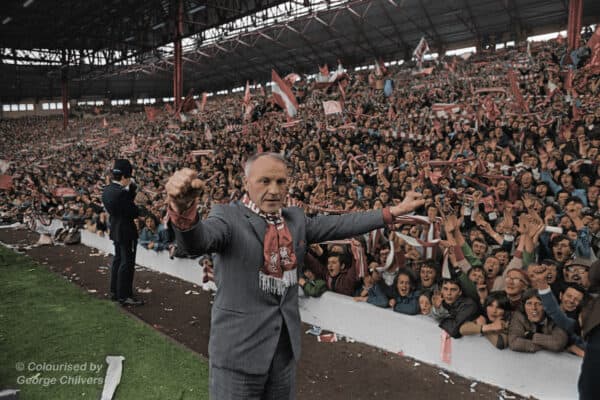 Mr Dunn was a Liverpool fanatic as a youngster and was gifted a season ticket for his 15th birthday, ahead of the 1959/60 season. That ticket is still in the Dunn family.
Tony would still have been just 15 years old when he met Shankly, and his son told us his dad's recollections.
"He said he was lovely, quite soft spoken and obviously impressed at the effort Dad had gone to," David said.
"Shanks had built a real rapport with the supporters and Liverpool in general. At the time, the city was in terminal industrial decline, and the hope and confidence that Shanks gave Scousers is something he talked about a lot."
Shankly often had that affect on people, to lift their spirits with his own.
Dunn would go on to become a match sponsor in later years and, in the 2000s, he and his story were featured in a documentary about the great Scotsman.
Whether Tony Dunn really was Liverpool's first away supporter in Europe is tricky to say decisively, but he certainly had the right to claim it.