Liverpool had to wait until June 2020 to end their Premier League hoodoo, but the wheels were set in motion almost eight months earlier.
When you win the league by 18 points and at record-breaking speed, it throws open the debate about precisely when and where it was 'won'.
It feels preposterous to even suggest that a 2-1 win at Villa Park as early as November can be welcomed into that conversation, but it was certainly a catalyst and the nature of how the campaign unfolded backs that up.
It was a season that was halted for three months for a global pandemic and the squad were in a hotel rather than on a football pitch when it was mathematically secured.
Nothing about Liverpool's title-winning campaign could remotely be considered normal.
The Reds had been more devastating in seasons gone by, but never had they been as measured and indestructible as they were in 2019/20.
Liverpool arrived at Aston Villa with the swagger of champions despite being less than a third of the way into the season.
Liverpool XI: Alisson; Alexander-Arnold, Lovren, Van Dijk, Robertson; Henderson, Lallana, Wijnaldum; Salah, Firmino, Mane
Mentality monsters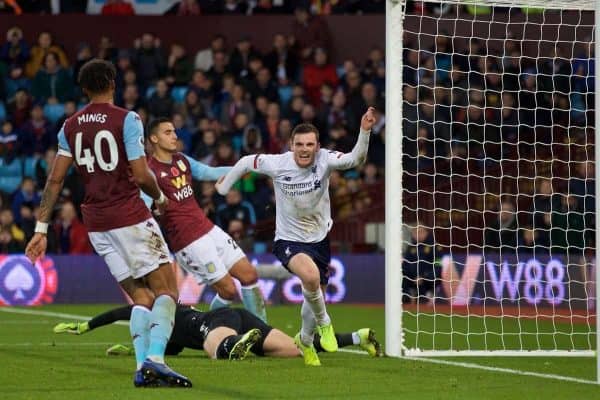 Fans had been stung too many times before to even allow themselves to dream about the prospect of ending the three-decade-long wait for the title, but the players were bulletproof in their approach.
They had no time for superstition or to allow the weight of history to burden them.
An early Trezeguet strike was never going to knock Liverpool out of their rhythm, even if it took over an hour's worth of further football to forge a breakthrough.
The Reds hadn't lost a game in 10 months to that point but they had lived through more than their fair share of close shaves.
Dean Smith, the Villa boss at the time, was not prepared to let his side surrender the result without a fight.
They showed great resilience and composure to keep Liverpool out, with a brave piece of Tom Heaton goalkeeping denying the eventual match-winner Sadio Mane from close range.
Roberto Firmino was also denied in the first half by a contentious offside decision, further dispelling the tedious cries from rival supporters that the introduction of VAR was helping the Reds towards the holy grail.
The eventual breakthrough came from an unlikely source and with just three minutes of normal time on the clock.
Andy Robertson inexplicably found himself at the back post to meet Mane's excellent cross from the far side.
Robertson and Trent Alexander-Arnold had been indispensable in Liverpool's relentless surge, but the equaliser was a reverse of the goals we had become accustomed to seeing as provider turned converter.
There was an inevitability about the winner. Jurgen Klopp knew it, both sets of supporters knew it and, most importantly, the home team knew it.
The roles were more conventional as Alexander-Arnold swung in a last-gasp corner for Mane to head home before bedlam ensued in the away end.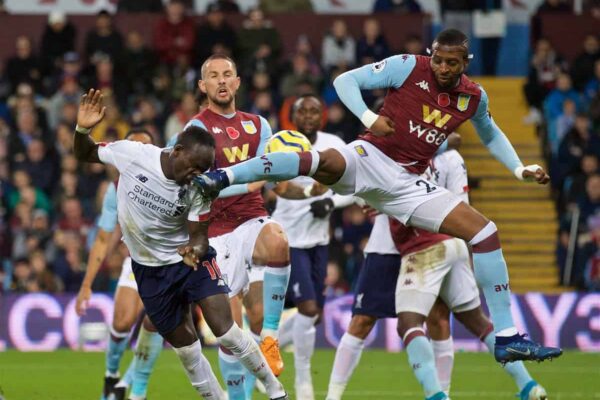 Nobody really wins league titles in November, but the Reds sent an emphatic message to their counterparts that they weren't going anywhere.
One of those counterparts was Pep Guardiola, who is preoccupied with Liverpool at the best of times but couldn't resist a dig at the Senegalese forward after having his Saturday night ruined by the Reds for what was just one of many occasions that season.
"It's happened a lot for Liverpool in the last years [scoring late on]. It's because he's a special talent," said the ever-gracious Spaniard.
"Sometimes he's diving, sometimes he has this talent to score incredible goals in the last minute. He's a talent."
Sliding doors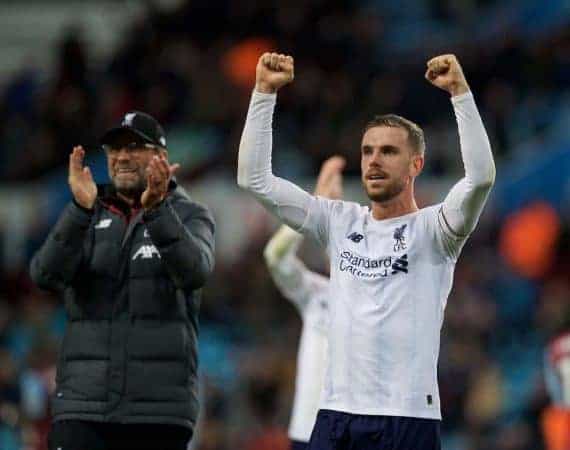 How can a game in November in a season where one team finished so comprehensively ahead of the rest be deemed such a pivotal moment?
Momentum is everything in football and Liverpool's belief that nothing is beyond them until the final whistle has been built from evidence rather than simply blind faith.
The visit of Man City just eight days after the trip to the midlands loomed large and failure to rescue a point, let alone a victory, would have handed the then champions a huge psychological gift at the worst possible point.
Guardiola's side arrived at Anfield licking their wounds rather than with their tails up, still seething from the sucker punch they received upon hearing of the dramatic turnaround.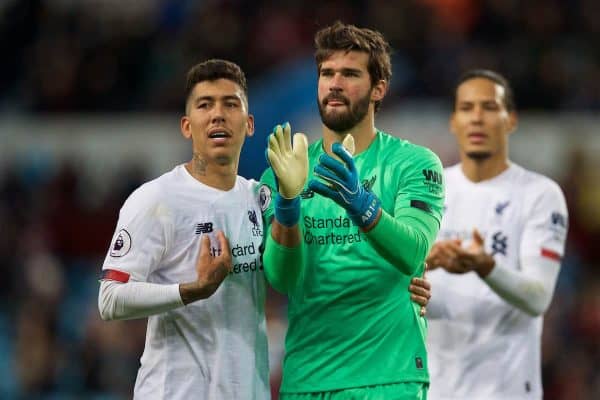 A win away at Liverpool after the Reds had fallen to defeat against Aston Villa would have put Man City on top of the pile with almost a third of the season played.
Things could have been so different.
Confidence breeds confidence and Liverpool felt capable of taking the spoils no matter how bad things got and with their collective backs to the wall.
Reaching 97 points and still falling agonisingly short in 2018/19 didn't deter the Reds, it simply served as a dress rehearsal for becoming the most dominant champions of all time.
Winning 26 of the first 27 games in a league season is something we might never see the likes of again and is an achievement that got cruelly lost in the pandemic-enforced wait to cross the finish line.
Every fan has their own moment in which they allowed themselves to believe it was happening, but that late comeback at Villa Park was when the Reds showed the rest of the country how unstoppable they truly were.