Liverpool will be tested by a dangerous West Ham side at Anfield this weekend, with Andy Robertson's battle with Jarrod Bowen potentially a key battle.
The Reds won 3-1 away to Wolves last weekend, leaving it late to secure all three points, and it kept up their excellent start to the season.
Next up for Jurgen Klopp's team is Sunday's visit of a West Ham who are also impressing, sitting in sixth place in the Premier League.
While their 3-1 loss at home to Man City highlighted their limitations, this is set to be a real challenge for Liverpool, especially after Europa League duty three days earlier.
With kickoff edging closer all the time, This Is Anfield's Henry Jackson spoke to West Ham fan and podcaster James Jones (@ByJamesJones) to preview Sunday's clash.
West Ham sit sixth in the table – how optimistic are you?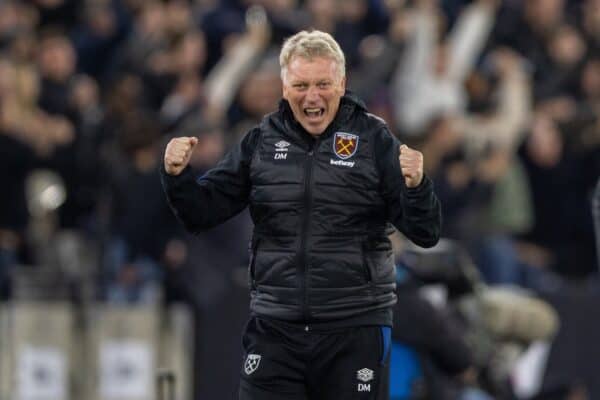 I'm beginning to be really optimistic. There were some concerns that there might be a bit of a hangover from winning the Conference League but we've seen absolutely no signs of that.
If anything, we've seen an improvement in performances, and even the defeat to Man City uncovered a lot of positives that we can be encouraged by.
Whether we can sustain this level of form all season is another thing, but our optimism is a lot better than it was immediately after the opening weekend draw at Bournemouth.
As for Sunday, I'm trying not to be too optimistic. Our record at Anfield is awful – just one win in 60 years!
That said, I think we're good enough to take something back to London with us.
The fact we went to Brighton and won just a few weeks ago is proof that we're a decent side against teams who like dominate possession.
Who do you see as the Hammers' key players?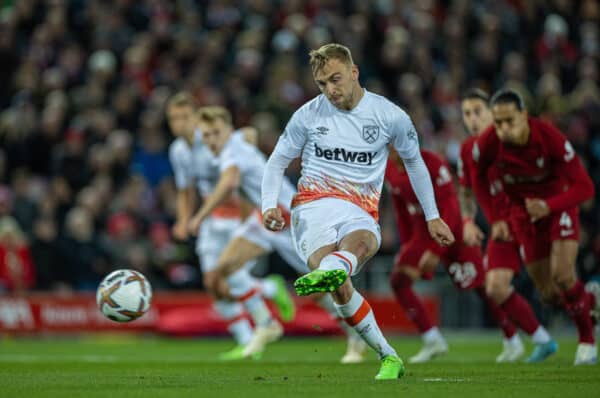 All eyes are understandably on Declan Rice's replacements, and while James Ward-Prowse has won all the plaudits with two goals and three assists in his first four appearances, Edson Alvarez has given us some real steel and composure in defensive midfield that has perhaps gone unnoticed up to now.
He had to be subbed off in the second half against City and immediately after he was replaced, they started winning more in midfield and finding more space in the final third.
It was after then that they scored their second and third goals to win the game. It really highlighted how important, albeit understated, Alvarez has already become for us.
Elsewhere, Jarrod Bowen has started this season like a man possessed.
It's almost as if he's thriving off the fact he scored the winner in a European final and is the subject of increased transfer speculation.
He's going to be a handful all season and will be a huge player for us provided he is fit on Sunday.
What's one thing you'd change at West Ham currently?

The striker situation. Michail Antonio has started the season well, but it's unsustainable to go through yet another season only relying on him to lead the line.
We sold Gianluca Scamacca in the summer, which didn't come as a surprise because he didn't really suit Moyes' system, but there was very little attempt to replace him with someone who does.
After so many years of failed striker signings, surely there has to be one man on this planet other than Antonio who is capable of leading the line in a David Moyes system?
Away from the Hammers, which team will surprise us in 2023/24?

Before a ball was kicked I was looking at Burnley as a potential surprise package, but so far that hasn't really materialised.
Apart from them, I think the only real surprise is Man United getting worse – how can one club that enjoyed so much success in the past just continue to go from one disaster to another without ever showing any signs of progress?
It's absolutely mental.
Which Liverpool player would you most want at West Ham currently?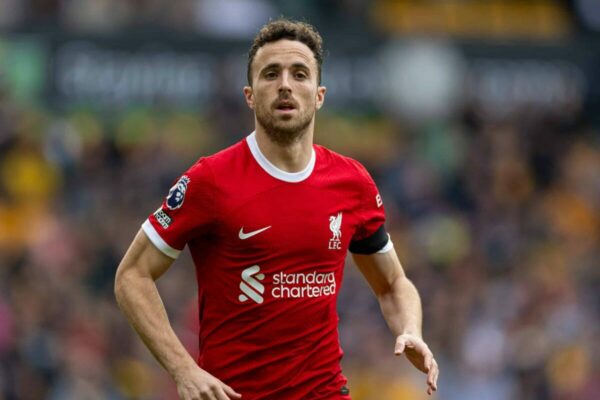 Quite a few, as always. I've always loved Diogo Jota, though.
He would add so much to our attacking play and I would love to see him linking up with the likes of Bowen in the final third.
He seems to love scoring against us as well, so him playing for West Ham would put a stop to that!
What's it like visiting Anfield as an away fan?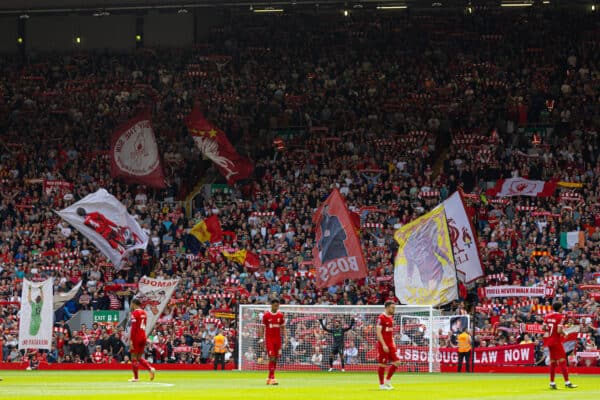 I have never actually been to Anfield, so I can't speak on first-hand experiences.
That being said, I have always wanted to go, though, just to witness You'll Never Walk Alone in all its glory.
Looking ahead to Sunday, where will the key battles take place?

Well, Liverpool are going to have all of the ball and we will be looking to catch you on the counter-attack, exactly like we did at Brighton.
This means we will be relying on the pace of Bowen and Mohammed Kudus', if they both play, for this to be as effective as possible.
I do feel like Bowen can really get the better of Andy Robertson, though, and if he does, we will have a chance.
Finally, what's your prediction?

I'm going Liverpool 2-2 West Ham.
It has been five years since we were last thrashed at Anfield (4-0), which is a surprise, considering it used to happen often.
I think our form going into this will give the squad the confidence that they can take something away with them.