Pep Guardiola has displayed sympathy towards Liverpool following the incorrect offside call given against Luis Diaz during Saturday's 2-1 defeat away to Tottenham.
The Man City boss is the latest Premier League manager to have been asked for his thoughts on the controversial VAR error which led to the Colombian being denied a legitimate goal.
Diaz looked to have opened the scoring in the first half despite the Reds being down to 10 men after Curtis Jones' sending-off.
The PGMOL later acknowledged that a "significant human error" had caused the goal to not be awarded by the officials.
Speaking ahead of his side's trip to RB Leipzig in the Champions League, Guardiola highlighted the need for change and insisted that footballers must play the "leading roles" in matches rather than the referees.
"They will have to find a system where the main roles are the players and the game itself," Guardiola told the media, as quoted by Manchester Evening News.
"In all the countries, not just here. The referees and the VARs are the leading roles. And the Oscar goes to. They have to make a step back, be more humble and leave the players to do what they have to do, and they will be better."
Man City have been in direct competition for trophies with the Reds throughout Guardiola's tenure in England, making his show of support a significant one in the ongoing battle for improvement.
The VAR audio from the incident was released by the PGMOL following a formal request from Liverpool to do so, a sign that putting pressure on the authorities can pay dividends.
Guardiola admitted he is "not a professional" and therefore doesn't have the resolutions but conceded that his Premier League rivals had "suffered the big consequence" of the refereeing shortcomings.
"I understand completely how upset Liverpool must be in that case," he continued.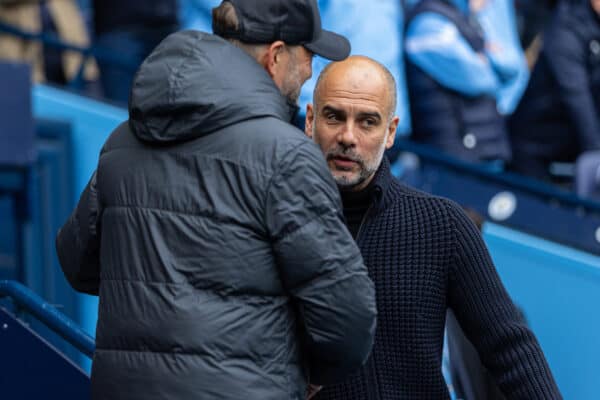 "I am not a professional at [refereeing]. I rely on the people and we have to apply it as best as possible. I am not involved and I don't care.
"Everyone knows they made a mistake and Liverpool suffered the big consequence of that. In this type of game, it is so important. But, no worries, the consequences will dictate the players and the managers."
The audio footage from the process revealed that VAR Darren England had noticed his error in confirming that the check was complete and VAR Hub Ops Executive Oli Kohout's advice to delay the game could also be heard.
It leaves everybody connected with the football club no less frustrated, but it could represent a step forward as far as holding officials to account for their mistakes in the future is concerned.