Visiting Anfield is a special experience, whether you're a seasoned regular or a first-time visitor to the famous home of Liverpool FC.
One of the most famous stadiums in world football, Anfield has an aura and uniqueness that's increasingly rare in the modern era of generic stadiums.
Not every Reds supporter is lucky enough to go to games regularly, but taking it for granted if you are fortunate to make the trip would be a crying shame.
Below you'll find advice from Liverpool supporters, season ticket holders and journalists, on what to do when you visit Anfield – whether it's your first time or 100th time.
---
Embrace The History & Culture Of The City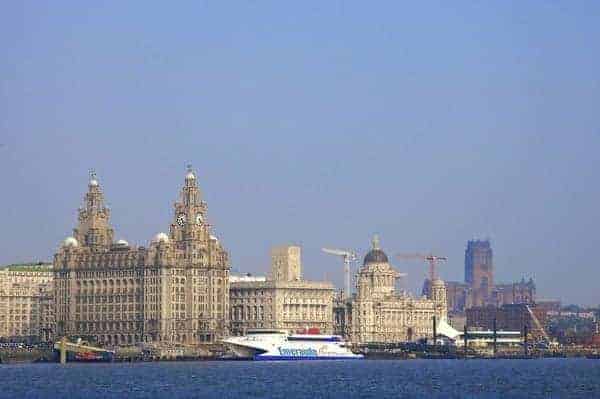 Go to the city centre first; go and learn what Liverpool is as a city, that it's a port city built on immigration. A city built on working-class struggle, principles, solidarity, hardship.
A city that experienced the kind of poverty it's impossible to imagine if you haven't experienced it. A city that was built on people standing up for what they believe in when it matters most.
Go and see the River Mersey. Go to the slavery museum, because Liverpool hasn't got a perfect past, and learn about its black community, its Chinese community, its Irish community, its Welsh community.
Spend as much time as you can understanding our history and what makes us what we are.
On matchday, go to the stadium as early as you can. Go and speak to those who get what Liverpool is. Speak to the lads who sell fanzines, who have been here forever.
Speak to the people who collect for food banks, who understand poverty. Make donations, support them and help them in any way you can.
Go the Hillsborough memorial, not as a tourist but as someone who wants to pay their respects and understand what that was. The impact of seeing those names is huge.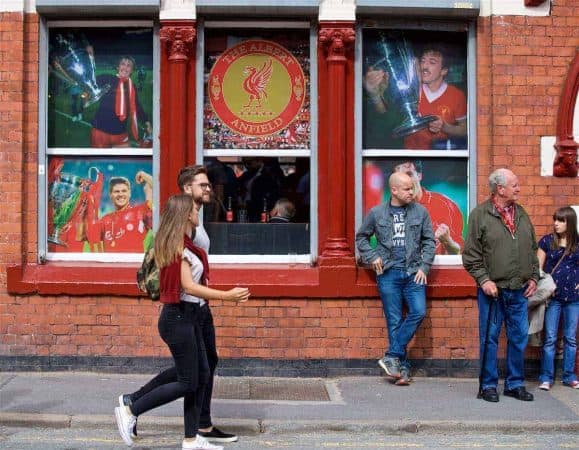 Go to the pubs and get to know the locals and their humour and what they are about. The more you understand Liverpool people and their struggles the more you will become part of the club.
The more you know people the better you feel. The more you feel part of things. Liverpool is a welcoming community and there's no better place for a day and a night out.
Matchday here starts first thing in the morning and ends last thing at night, so go and be part of it.
Tony Barrett (Head of Club and Supporter Liaison at LFC) – @TonyBarrett
---
I think those visiting Anfield for the first time these days make up a large proportion of the numbers attending a game. Unfortunately, they've more often than not been brainwashed by the TV companies and think there's a format they should adhere to which is far removed from the real thing.
I'd tell anybody making their Anfield 'debut' to know what made Anfield famous and that's not just the team. My Liverpool roots came from my mother's side of the family and although we didn't live on Merseyside the doctrine she instilled in me made sure I knew what Liverpool, the city, was all about long before I was old enough to travel on my own.
If I travel abroad, even for a few days holiday, I like to find out about local culture, those coming to Anfield should try and do the same but sadly some don't.
John Pearman (Red All Over The Land) – @TheFanzine1
---
"Get there early"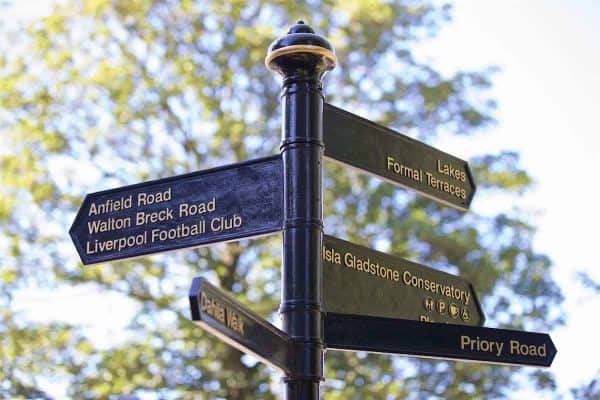 Get there early and have a stroll around the ground. I love that buzz and sense of anticipation you can feel around the place on a big matchday.
James Pearce (Journalist) – @JamesPearceEcho
---
Get there early, have a good look around, talk to people, take photos, and write down or record your experiences while you remember them.
Matt Smith (Presenter) – @msmith850
---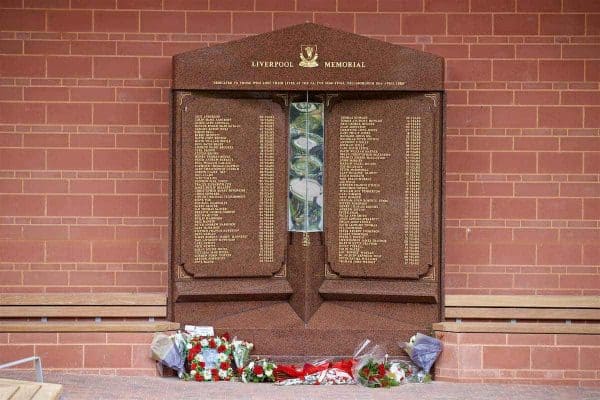 I'd suggest they get there super early as the atmosphere builds over a few hours. I'd also suggest they go to the Hillsborough Memorial now situated in the Main Stand to pay their respects to the 96. Then have a good walk around the stadium as the new Main Stand is impressive.
Also check out the local pubs and get a few pints in as there's usually a good atmosphere before the game. If they have time maybe even book an Anfield Tour with the club itself, they're not too expensive and I've taken a few Anfield Index contributors on them if they've visited for the first time.
If you really have time you should come even earlier and get yourself over to the docks too—they'll not be disappointed!
Gags Tandon (Anfield Index) – @GagsTandon
---
"It's important to support the local businesses"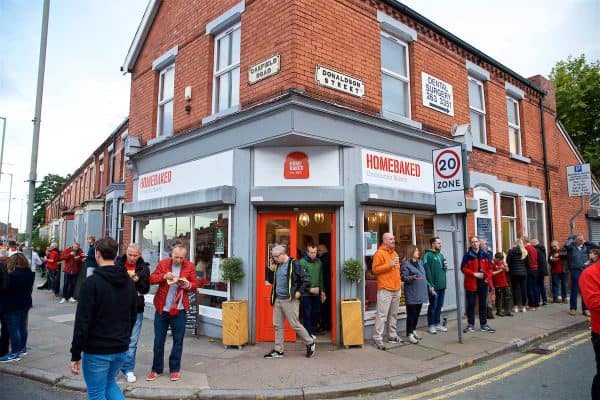 Regarding food, visit Home Baked, a fabulous non-profit community bakery across the street from the Kop. They do great vegetarian pies, jam scones, cakes, and their coffee is fabulous too.
Most of the photographers go to the Sing Fong chippy. When I do I always get their Salt and Pepper chips. If you haven't tried them then you've been missing out!
I think it's important to support the local Anfield businesses. I hate the burger vans that drive in on a match-day. The Anfield bricks and mortar businesses need to survive every week when there's no football on, so to see other companies come in and take business away from them really saddens me.
My advice to any supporter visiting Anfield would be to go and buy their pre-match food and drink from the local businesses and put the money directly into the Anfield economy.
Then get into the ground early, soak up the history of the place, get your singing voice ready and back the team for 90 minutes. It's easy to go and sit there expecting to be entertained, but as as Liverpool fan you're the 12th man (and woman). You have a job to do also!
And don't leave early. Stay to the end. You might need an extra 20 minutes in the car to get home, but the team need your support right until the end, whether it's 1-1 or we're cruising to a 5-0 win over the mancs.
Dave Rawcliffe (Photographer) – @propagandaphoto
---
"DON'T buy a bloody half-and-half scarf"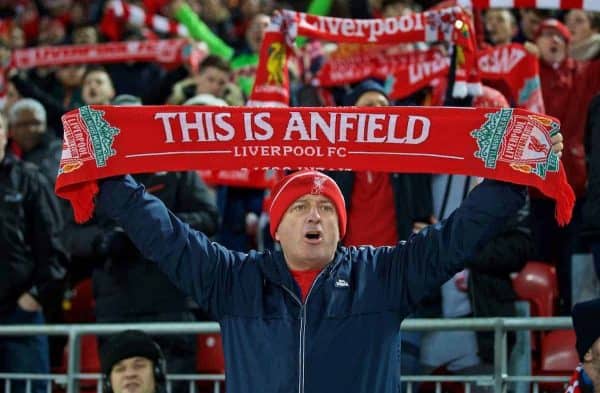 Get down there early! I've been going to Anfield for 27 years but I still enjoy getting down early on occasion and doing a full lap of the ground, taking in the atmosphere, the sights and the sounds, and having a pint of course!
It's also a good excuse to nip off for a pie at Homebaked just over the road from The Kop (the Shankly pie is an absolute belter). If you've got time to do a couple of pubs around the ground I'd do that too as there's a very different vibe and different groups of people in each one.
Do all the other stuff as well – get a pin badge, buy the Red All Over The Land fanzine on sale around the ground. Just, whatever you do, DON'T buy a bloody half-and-half scarf. They're shite! You support The Reds. Wear a red scarf.
And do sing and back the team. Anfield's a better place when that happens and everyone who goes through the turnstiles can play a part.
Gareth Roberts (The Anfield Wrap) – @robbohuyton
---
A pre-match wee is a must, haha!
In general I would say to take the day for what it is and not dwell too much on the touristy side of taking selfies etc., as it can take away from the experience.
And don't ever, and I mean EVER, buy a half-and-half scarf—as you may be strangled with it!
Daniel O'Sullivan (Supporter)
---
Don't buy a half-and-half scarf. Ever. And don't press the disc on the bottom of the new pint glasses they have in the Main Stand upwards (although tell your unsuspecting mate to give it a try and stand well back!)
Chris McLoughlin (Matchday programme writer) – @TheKopMagazine
---
"Sing, shout and get behind the lads"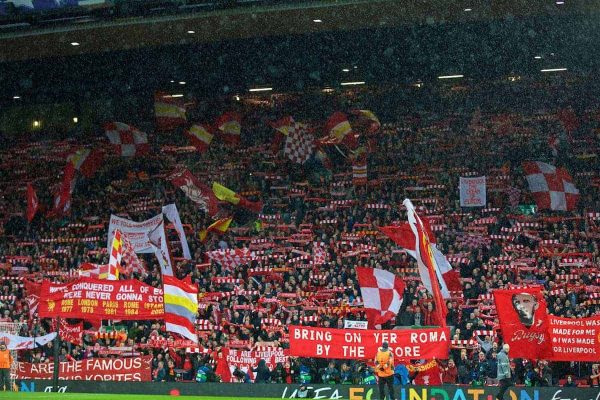 Understand that this isn't any old football ground. This place has a unique history and more than that its own distinct character and personality. Soak that up and be part of it.
Take your pictures before kick-off. Once the whistle goes put your camera away. If you're watching the game through a lens, you're not really watching the game.
Above all: sing, shout and get behind the lads on the pitch; the time for moaning is in the car on the way home or in the pub, never during the game.
That's more than one piece of advice, but I stand by it.
Jeff Goulding (Author) – @ShanklysBoys1
---
Soak it up. Chat to everyone. If you don't know all of the songs, find a pub and have a sing song.
Basically enjoy it, being at Anfield is a privilege, but it's a place where you're meant to have a laugh. If you go to Anfield and it's not the best day of your year, you're doing it wrong.
Paul Machin (The Redmen TV) – @ThePaulMachin
---
"Be more than just an observer"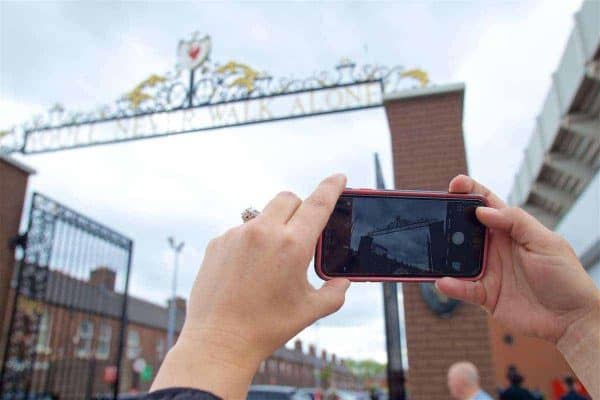 I'd advise to walk around the whole ground. I think the Main Stand is really impressive so, even if your ticket is for somewhere else, have a look.
It helps project the size of the club.
Richard Jolly (Journalist) – @RichJolly
---
Soak in everything because it is an incredible experience. Watch, sing, cheer, and enjoy. Be a part of the whole experience rather than a bystander.
I know that some people think ill of out-of-town supporters but please do not judge us or generalise us. You cannot fault us for taking pictures because for many, it's a once-in-a-lifetime experience. I am sure if we lived there, we wouldn't be taking selfies or videos.
Rick Olivares (Journalist) – @rickyolivares