10 disastrous quotes of Roy Hodgson's LFC reign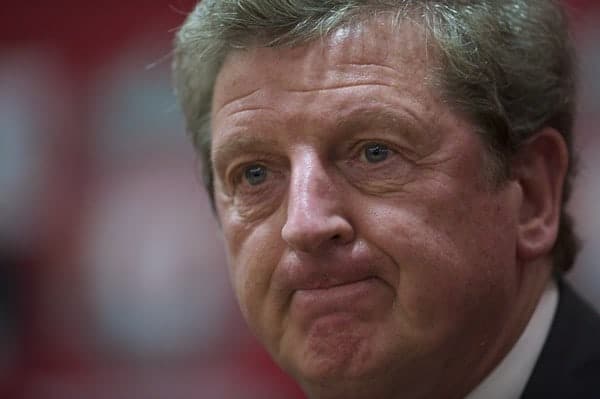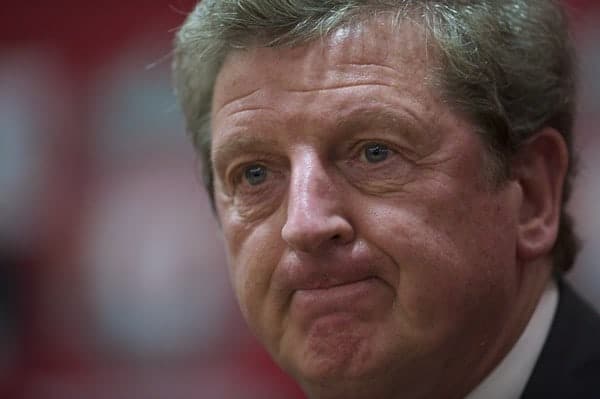 Definition: A Royism is an inexplicable decision, quotation or action made by Liverpool manager Roy Hodgson. Royism's were first detected in July 2010 and have multiplied precariously ever since. Execution of a Royism can leave the subject open to animosity and ridicule.
Below is a list of infamous Royism's, complete with analysis on their content, meaning and effect.
No.1: Post-match reaction to a 2-0 derby defeat
"From what I saw I thought we dominated the second half totally. I thought the shape of the team was good today; the quality of our passing and movement was good. We didn't score goals and Everton did but I refuse to accept that we were in any way outplayed or any way inferior. I watched the performance and the second half was as good as I saw a Liverpool team play under my management that is for sure."
This is perhaps the most notable Royism to date. In the wake of a crushing derby defeat, whereby his side were totally and utterly outplayed, Hodgson emerged to lavish praise on his team. Added to his jocular reaction upon the final whistle, this example underlined his ill-fated reign to that point. His peculiar tale-of-the-tape not only enraged Kop supporters but ignited a debate as to whether he had well and truly cracked-up. How in any way, shape or form can a 2-0 defeat at the hands of your rivals be deemed acceptable? Moreover 'good' as Hodgson himself put it. To describe the display as woeful would have been stupidly kind, as the reds laboured like Phil Mitchell on crack. If anything this interview was a sad indictment on himself. If this effort was truly the the best he had gifted us by October it said little for his stewardship to that point.
No. 2: On Fernando Torres being linked with Manchester United
"I don't think Fernando Torres will be the only striker they target, and I don't think that we will be the only club that will be worried their striker can be targeted. I am not naive to believe there won't be any danger and we will never lose a player like Torres, I understand these things can happen."

Article continues below

In at number two in this painstaking countdown was the bizarre effort to conjure-up an unthinkable transfer. Fernando Torres is to Liverpool what breasts are to Katie Price, by far the best feature of a butchered model. Given the efforts he himself had made to convince Torres to stay the previous summer, this press conference seemed all the more unusual. Kopites across the globe were still chuckling at the announcement of Wayne Rooney's transfer request, only to be halted by their own manager forwarding Torres as an ideal replacement! Beam any true reds fan into the hot-seat when that question was posed and they would have scoffed at the nature of such a ridiculous proposal. Not Roy. Instead of defiantly announcing Torres would decamp to Old Trafford over his dead body, he simply added weight to the clamour. This again confirmed that Hodgson was far from immersed into the culture of Liverpool, as a club and city.

No. 3: Defending the indefensible

"Unbelievable. What do you mean by that? In 35 years, how many clubs have I had? What do you mean do my methods translate? They have translated from Halmstads to Malmo, to Orebo to Neuchatel Xamax, to the Swiss national team, so I find the question insulting. To suggest that because I have moved from one club to another, that the methods which have stood me in good stead for 35 years and made me one of the most respected coaches in Europe don't suddenly work is very hard to believe."

Oh Roy. A defiant stance against all those questioning your tactics was a bad move, particularly a day before a home defeat at the hands of Blackpool. An overly cautious set-up – whether it home or away – may well work for mid-table sides hell-bent on survival, but they do not 'translate' to one of Europe's elite clubs. Liverpool should be attacking the likes of the Tangerines and Birmingham, overpowering them with their sheer class. Instead, your sides set-out to stifle and counter-attack (ever so occasionally). It may be forgivable if results were forthcoming but when a relegation battle looms it is disgraceful. Surely a coach with such experience should be capable of adapting to his environment, as opposed to cocooning himself in such a single-minded fashion. The Kop are famed for their knowledge of the game and we desperately crave a more adventurous style. Why totally ignore our views with seeming contempt?

No. 4: Where does Meireles play again?

"He (Meireles) had two training sessions and played on Thursday night and he played again on Sunday so it is very early for me to make strong judgements about where his best position is. The work we do on the training field will show me how best to use him."

The aforementioned quote is so funny it could have come straight from the Frankie Boyle annals. So Roy sanctions a £10.5 million deal with no idea where he intends to play the arrival? Unbelievable. The initial uncertainty has been evidenced ever since, with Meireles appearing behind a lone striker, in a defensive midfield role, on the right, the left … Stick him between the sticks and he'd steal the Mr. Versatile tag from Jamie Carragher. Has Hodgson ever heard of Wikipedia? Championship Manager even? He must have had some idea as to what type of player the Portuguese was? Please God tell me he did. Meireles was this season's marquee signing but his progress has been hampered by the manager's indecision on where to play him. This Royism was highly embarrassing.

No. 5: Criticising the ownership protest

"Those people (protestors) aren't making my job any easier"

To be fair to Hodgson later backtracked on this and defended those involved but his initial reservations proved how out of touch he was with an embattled and meaningful campaign. The likes of the Spirit of Shankly had dedicated years to removing the cancerous Tom Hicks and George Gillett. Nonetheless, that time and effort was dismissed as 'unhelpful' by the Liverpool manager of all people. It is hard to envisage his predecessor projecting such ignorance. That is because Rafa Benitez was completely woven into the fabric of all things LFC. He understood the importance of the ownership issue and what it meant to the supporters. Sometimes he went a little over the top and allowed it to interfere with his management but at least we knew he cared. This Royism would have alienated many of the hardcore support.

No. 6: Attacking Rafa Benitez

"I think you can pay an awful lot of money for poor players and you can pay not very much money for very good ones – it is all to do with how good your scouting and your eye is. There are a lot of things here that the club has got to get right. We have got a lot more expensive failures on our list than good players that we have brought in for next to nothing."

As the previous point outlined, Rafa Benitez was a very popular figure amongst supporters. Admittedly, his final season eroded a great deal of backing for his management style but he left with the best wishes of all fans. Roy's veiled attack on the man he succeeded then represented a grave case of misjudgement (again). Hodgson continually bemoans the lack of quality within his ranks but that is as much his fault as it is Benitez's. Rafa did not sign Christian Poulsen or Paul Konchesky. He did not allow Alberton Aquilani (a £20 million signing) to leave on loan. In fact he left a squad that still included Steven Gerrard, Fernando Torres, Javier Mascherano (since sold), Pepe Reina, Aquilani, Dirk Kuyt, Glen Johnson, Carragher and Daniel Agger. Those players would walk into most Premier League sides. Add Joe Cole to the mix and again the root cause of our symptoms stem to tactics.

That group could 'outplay' all-comers if given an adventurous mandate. Perhaps Roy should look closer to home. His value for money jibe can also be reflected. Rafael Van Der Vaart joined Spurs for £8 million, yet Hodgson acquired Meireles and Poulsen for a combined £15 million. Also, as petite a transfer kitty he may have had the lack of enforcements in attack was scandalous. Hodgson had an entire summer to identify support for Torres but failed to attract anyone. The likes of Peter Odemwengie and Moussa Dembele went for smallish sums. This duo are by no means world beaters but they are competent enough and examples of back-up we criminally ignored.

No. 7: Criticising Glen Johnson (publicly)

"He's the England right-back and, if he plays like that, one would expect him to come back in when he's fit. But then he'd have to play like the England right-back and up to now, to be quite frank, he's not performed – very often at least – to the level I'd expect of him. You would have to ask him 'do you think you're playing like the best right-back in the country for your club?' If he says yes, obviously we will have to agree to differ."

Can anyone recall Sir Alex Ferguson or Arsene Wenger openly criticising one of their key players in this manner? Managers do not do this, it is a cardinal sin. Let's not pretend Johnson has excelled this term, he has been poor on occasion but to slate him in the media is cruel and unprofessional. A united front is paramount if a team is to achieve anything in football. Johnson would have felt like an outcast reading this and maybe even considered his long-term future. No one could blame him. Hodgson's wording here is in a similar vain to one David Brent, casting him as a bumbling figurehead out of touch with his own staff.

No. 8: Misinterpreting United rivalry

"I've been involved in some big derbies in my career and you know how much they mean to the fans. It compares with Inter v Juventus. The Milan derby was a big occasion but the derby d'Italia was the real killer one, as it were."

As everyone knows, Roy loves to remind us of his past ventures. His time in Italy is second only to his stint at Craven Cottage and this quote saw him compare derbies quite excitedly. This was a critical bugbear as Liverpool against Manchester United gazumps both of those fixtures in terms of importance. Added to his great affection for Fergie this did not bode well for the clash at Old Trafford. For me, and a lot of supporters, even his beloved Sir Alex, this match is THE biggest in the footballing calendar. I do not want to have it weighed against Inter v Juventus. I want fighting talk ahead of the crunch, not whimsical anecdotes about how Taggart is 'not a Liverpool man.' This again proved that Roy is out of touch with us, the supporters.

No. 9: Failing to defend Torres immediately among 'dive' claims

"I didn't think it was necessary to say it because it was insulting people's intelligence. For me, it was one of Alex's inflammatory little digs to make his victory even sweeter and our defeat even harder and that's part of the game."

Better late than never Roy but I doubt Torres would have appreciated the delayed endorsement. Ferguson laid down the gauntlet for an old-fashioned war of words here, given the infuriating antics of Nani on the day. Sadly, Roy cowered away and laid low for a week. He should have defended his player outright and chastised the winger for his disgusting play-acting. Torres must have been dismayed at the lack of internal support and questioned his relationship with Hodgson from that moment.

No. 10: Fulham Comparison

"At the moment arguably one or two of the players that you are suggesting are very different to the Fulham players' maybe are not playing any better than the Fulham players played. Journalists work on names and not on performances. You watch people play and you base your judgement on their name and not necessarily what they have actually done on the day of the game."

Roy Hodgson talks of Fulham in the same vain as I discuss Kylie Minogue. A starry-eyed longing for the perfect union; or reunion in his case. Fulham have been mentioned so often in connection to Liverpool this term I'm half expecting to be redirected to Fulham.com whenever I connect to our official website. Here, Hodgson again critiques his squad quite unkindly. The point is our so-called superstars are no better than the ranks he abandoned last summer. With all due respect to Fulham that is a ludicrous statement. Would any of their players make it into our first team? Zoltan Gera at a push, another a push.. and a shove. Perhaps Danny Murphy in the wake of injury. Otherwise, no. A bad workman always blames his tools. As stressed earlier on in the piece Hodgson still has a top squad at his disposal but seems unaware of how to exploit it. Only when he breaks free of his own limitations will he be able to fully embrace the challenge of managing Liverpool.

For the time being he appears clueless. Expect him to deliver far more Royism's than trophies before his tenure ends.

Share:

Fans Are Reading

Fan Comments

Comments are retrospectively moderated. Some could be subject to delays before publication. They must obey the

comment policy

. Comments load below.

Please only discuss the article above. General chat can be made on our forums at forums.thisisanfield.com